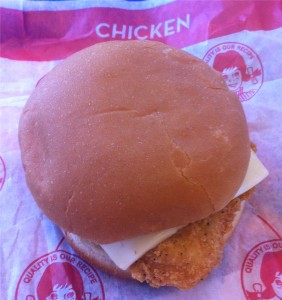 Please welcome special guest reviewer Robert (Not Bob).  A little while back, GrubGrade broke the news that Wendy's had some new items in test markets. One of these items was being tested in the Dallas area. My friend Robert lives around there, so I asked him if he would try it out and write a review for me. To my astonishment, he actually did! Enjoy this sneak peak of what may someday come to a Wendy's near you!
To me, Wendy's seems to be the "Red Haired Step-Child" of fast food chains. They've even acknowledged this by choosing a red haired, and presumably gap-toothed, hayseedish-looking child as their mascot.
Unlike your usual reviewers, I'm not a habitual frequenter of fast food restaurants. But the 3 or 6 times a year I do consent to go to one, I never even consider Wendy's. Hell, they can't even make their hamburger patties the right shape.
A quick look at the Wikipedia page for Wendy's tells me that it's the third largest hamburger chain after McDonald's and Burger King, which surprises me, because I personally can't find anyone that'll admit to frequenting their establishment. As for myself, I honestly think that the last time I visited one was about 20 years ago, when I was dirt-poor and in college, and discovered their cheap-and-surprisingly-good chili. Most of the people I talked to about Wendy's seemed to share the same opinion, which is "They have a couple of things that are pretty good, but when I want a burger, I go elsewhere."
At this point, I'll pause to point out that the sole qualification I have for writing this review is that I live in North-Central Texas, where Wendy's is test marketing a couple of new menu items.
Like every other chain, Wendy's is rolling out a spicy chicken sandwich. Since chipotle is the "go-to" spicy of fast food, they've jumped on that bandwagon too, resulting in the "Spicy Chipotle Crispy Chicken Sandwich".
The first thing I noticed when I stepped into a local Wendy's is that the average age of their patrons appears to be hovering around the 65~70 mark. Maybe that's the secret of their success. The geezers don't want to dodge the kids at McDonalds and they don't want to associate with the potheads at Taco Bell, so they've made Wendy's their destination restaurant. Hey, they actually have "Old Fashioned" as part of their subtitle, so that may actually be the market they're playing for.
The second thing I noticed was that my target sandwich is a 99-cent item and has a companion menu item, the 99-cent Spicy Chipotle Jr. Cheeseburger. I decided to take one for the team and try them both. I also decided to give their much-hyped Natural-Cut French Fries with Sea Salt a shot, so you get a bonus review, even though it's a review of something that's been around for six months.
Let's take a look under the hood of the Spicy Chipotle Crispy Chicken.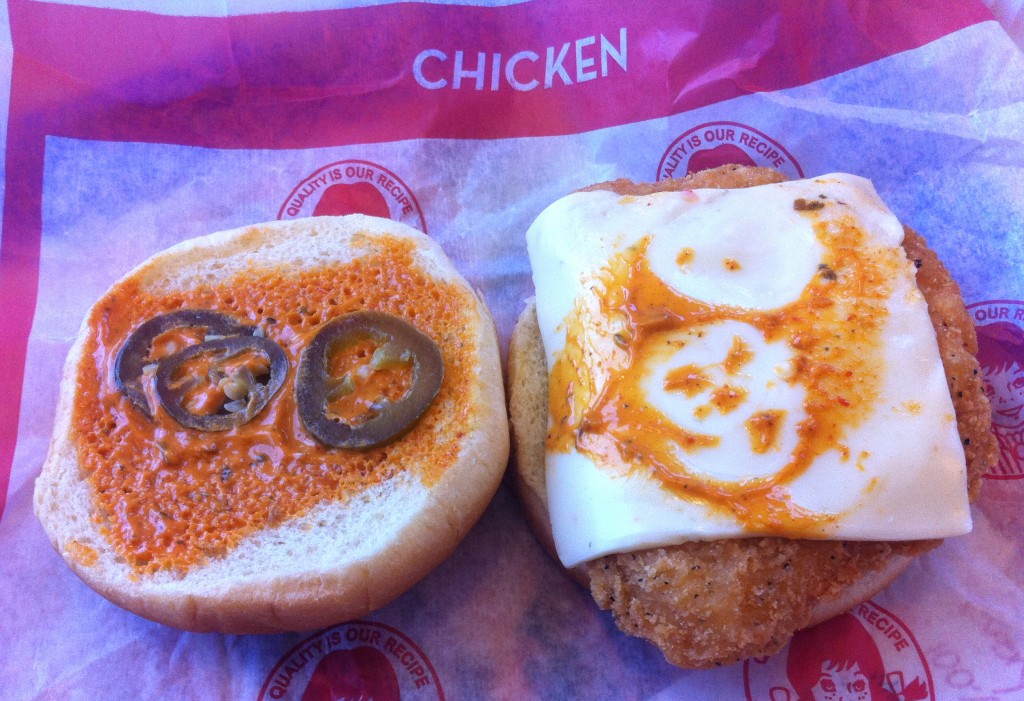 As expected, there's the orange-y chipotle sauce that shows up so often on "spicy chipotle" fast food items. A quick by-itself taste test reveals that it's not as spicy or tangy as most. In fact, it appears that the main thing it brings to the party is "orange". The chicken looks to be a standard, un-spicy pre-formed patty and the cheese is maybe white American or Swiss.
The real surprise is the jalapeños. Didn't see that one coming. As a food item billed as "chipotle", it's supposed to get it's spicy from a sauce or seasoning from dried, smoked jalapeños, not from fresh or pickled ones.
After tasting the sandwich, I can say that it's a good thing they're there. The chicken patty itself is fine, although you'd never mistake it for the vastly superior chicken of Chik-Fil-A. As expected, the sauce really didn't add much spice, just kept the overall sandwich from being overly dry. Even in that function it didn't do very well, since its application was a little sparse for my taste. The jalapeños, however, held up their end of the bargain and added a decent amount of bite. Much like the presence of Patrick Warburton in a substandard kiddie movie, they made a mediocre offering palatable, even mildly enjoyable.
Ok, time to look at the Spicy Chipotle Jr. Cheeseburger, which features the exact same ingredients, but with the weird square patty instead of the chicken.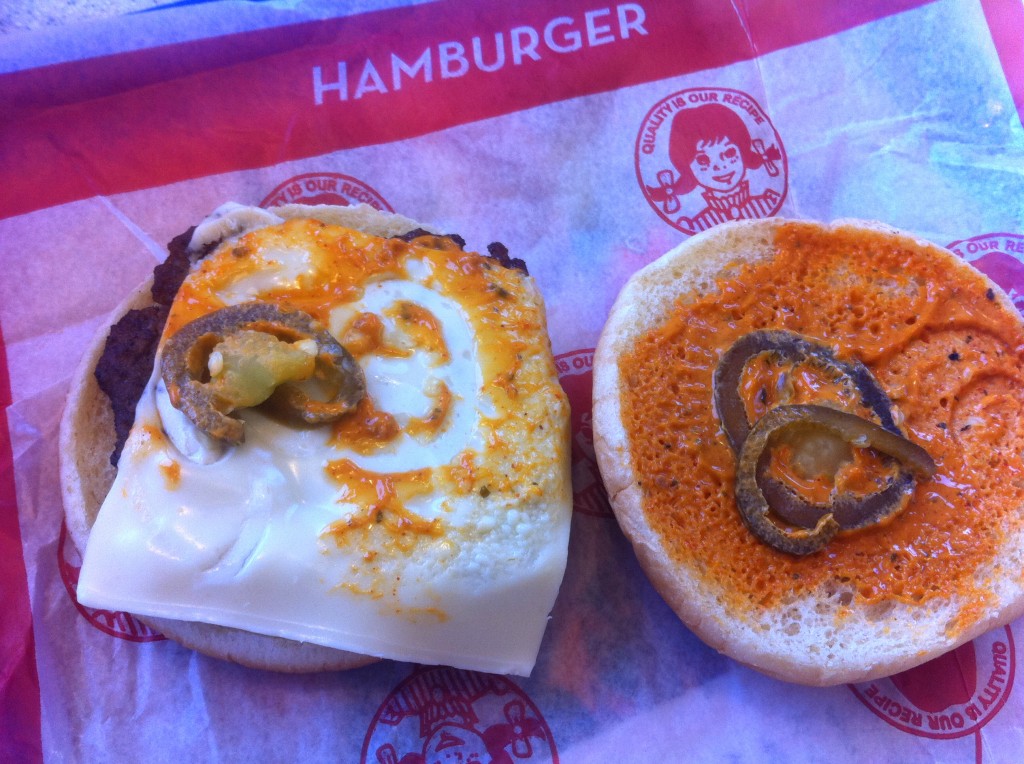 After only one bite I finally, instantly understood why Wendy's hamburger patties are square.
It's a warning. Like the brilliant colors on a poison dart frog, it's nature's way of saying "Don't Touch". The meat had an unhealthy, "off" taste that seriously made me unable to even taste the jalapeños, let alone the bland chipotle sauce.
Shuddering at the memory, I cleansed my palate and moved on to the Natural-Cut French Fries with Sea Salt.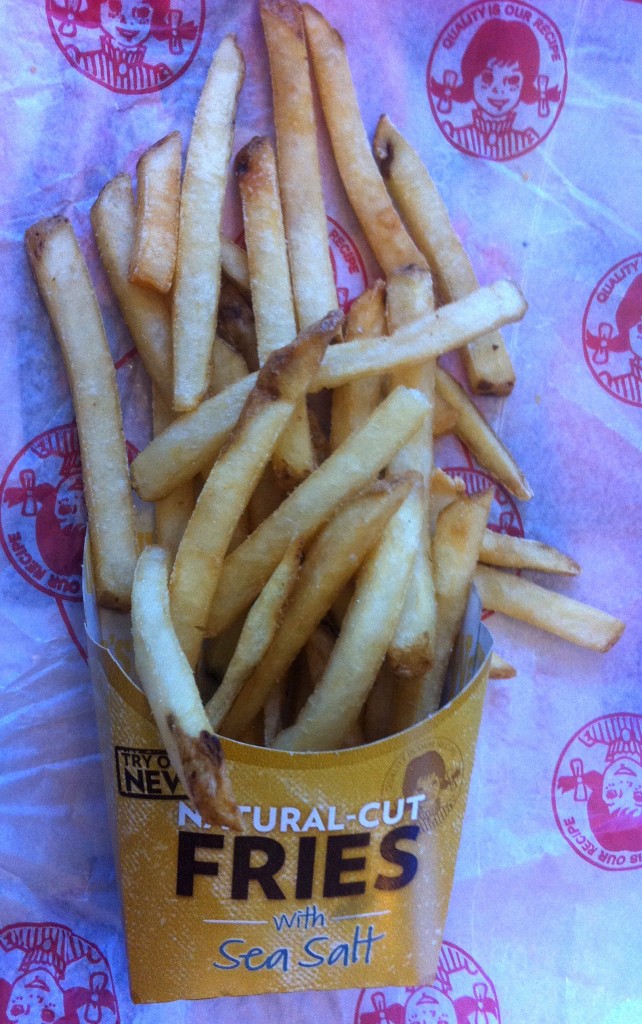 I'm not a big french-fry eater. I honestly think they're an over-rated side, and that their success is mostly due to their portability and America's love affair with salt and dipping food into other food.
However, I must say, these were some pretty tasty fries. The left-on skin gave them a hardier, more potato-y flavor than you usually get out of a fast food fry, and the use of sea salt instead of table salt was noticeable, if only slightly. Wendy's got it about right on these.
In conclusion, I'll say that the Spicy Chipotle Crispy Chicken is a fairly decent offering for a 99-cent value-meal item (even if it's name is a lie) and the Natural-Cut French Fries with Sea Salt live up to their name. However, the Spicy Chipotle Jr. Cheeseburger is literally uneatable, due to the nasty-tasting beef that Wendy's apparently uses. However, if you decide to try any of them, I recommend bringing along this if you actually want to taste anything that even vaguely resembles chipotle.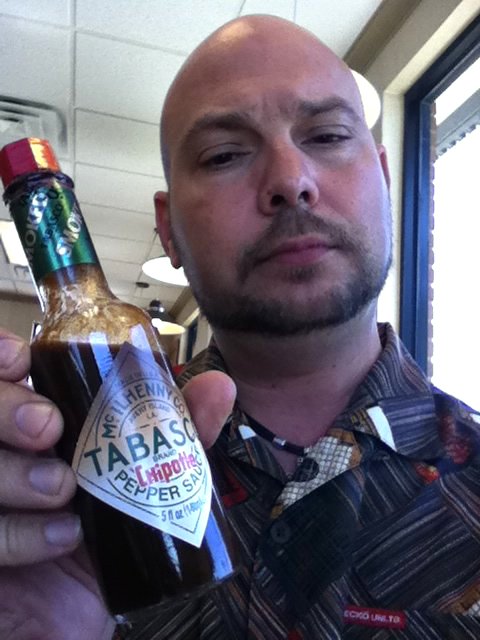 Spicy Chipotle Crispy Chicken Sandwich

Score: 3 out of 5 surprise jalapeños
Price: 99-cents
Size: 1 sandwich
Purchased at: Wendy's, Fort Worth, Texas
Nutritional Quirks: Sauce apparently more ornamental than functional.
Spicy Chipotle Jr. Cheeseburger

Score: 1 out of 5 poisonous amphibians
Price: 99-cents
Size:1 burger
Purchased at: Wendy's, Fort Worth, Texas
Nutritional Quirks: Square hamburger patties preferred by the geriatric.
Natural-Cut French Fries with Sea Salt

Score: 4 out of 5 Lot's wives
Price: 99-cents
Size: 1 value-size container
Purchased at: Wendy's, Fort Worth, Texas
Nutritional Quirks: Sprayed with sodium acid pyrophosphate, dusted with dextrose corn sugar and boiled in oil containing dimethylpolysiloxane.  Oh, and there's presumably some sea salt in there somewhere.