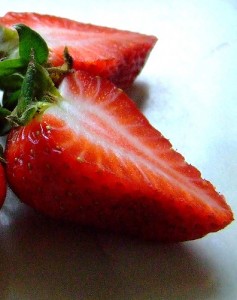 When I think Wendy's, I don't exactly think fancypants. But their new Berry Almond Chicken Salad sounds fancypants as hell. From Wendy's website:
"Picture fresh berries—plump, tangy blueberries and succulent, sliced, California strawberries—resting on a bed of freshly-chopped romaine and iceberg lettuce, which is tossed with a brightly colored spring mix boasting exotic-sounding greens, like Lolla Rossa and Tango. Surrounding the berries are California almonds roasted with sea salt, shaved natural Asiago cheese and a warm grilled chicken breast."
Fresh berries? Almonds roasted with sea salt? Shaved Asiago? A bunch of green stuff I've never even heard of?! Who thought the day would come when a fast food company introduces me to new foods. Surely, it is the end of days.
I have to give it to Wendy's though. They went balls to the wall on lavishness, and you can tell they know it, giving a little wink and a nod with the phrase, "boasting exotic-sounding greens". I would have loved to be in that brainstorm meeting.
"Hey, let's put chipotle on yet another menu item!"
"Fuck that, let's blow everyone's minds. Two words: Lolla Rossa."
Available in Full Size and Half-Size portions, the former has 450 calories and 16 grams of fat, and the latter contains 270 calories and 12 grams of fat.
Couldn't find any pricing info, but I'm guessing it will probably be outrageously expensive. Dusting of gold flakes will cost extra. I could call my local Wendy's, but I prefer to think a fast food joint is selling a fancy-schmancy salad for $15.
The Berry Almond Chicken Salad is only available until summer ends, so go out there and get it. Let me know what Tango tastes like!