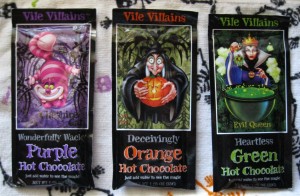 Kids love food that is a color it isn't supposed to be. My mind immediately travels back to Pop Qwiz, a microwave popcorn that came in various un-popcorn colors like red, green, and what should always be your favorite unnatural food color, blue. It also came in yellow, which is weird, because you can do that with butter. But hey, there was also purple, so I will forgive Pop Qwiz. For those of you too young to remember Pop Qwiz, here's a commercial, and get off my lawn.
The second thing I remember is Heinz ketchup, which made some cah-RAZY colors like green, purple, blue, and teal. Teal? Most kids probably don't even know what teal is. This was in 2000, at which time I had (mostly) grown out of my desire to eat foods of inappropriate colors, but I do remember my grandfather bought a bottle of the green stuff. Just because. I tip my hat to his spirit, since it's obvious a little bit of him rubbed off on JFB.
Pop Qwiz disappeared long ago and Heinz stopped making the colored ketchups in 2006, presumably leaving millions of children without the opportunity to eat extra food coloring while their parents roll their eyes.
But fear not! (Or be afraid, it is the season for it.)  Just in time for Halloween, and possibly only for Halloween, I present to you Vile Villains Hot Chocolate! Not a hell of a lot of info about them on the Internet, but I gather they're only available at Walgreen's, and they come in three colors: Wonderfully Wacky Purple, Deceivingly Orange, and Heartless Green. The chocolate remains the same, but the colors are Halloweenolicious.
This is a Disney Joint, so we've got three villains from their vast library of evil beings. I'll talk briefly about each and show you the all-important pictures, but since the chocolate is the same in all three, we'll check that out at the end.
Wonderfully Wacky Purple Hot Chocolate
Okay, I have objections right off the bat, here. Really, the Chesire Cat? First off, he's not even a villain. Second, I suppose he could pull off representing purple, but isn't there someone who would really embody the spirit of purple? Any guesses? Motherfucking MALEFICENT from Sleeping Beauty, that's right! Only one of the awesomest Disney villains ever! SHE TURNS INTO A MOTHERFUCKING DRAGON. Wasted opportunity.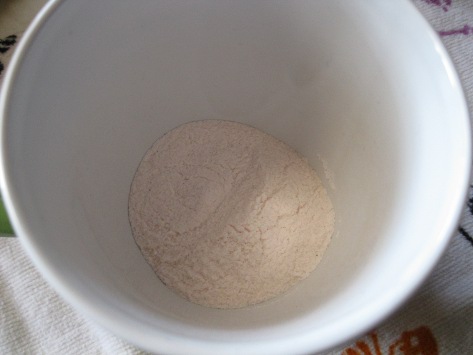 Oddly, all the powders look generally the same. I was expecting purple powder, but this is what I got. But hey, kids like shit that changes colors just like they like food that is oddly colored, so…bonus?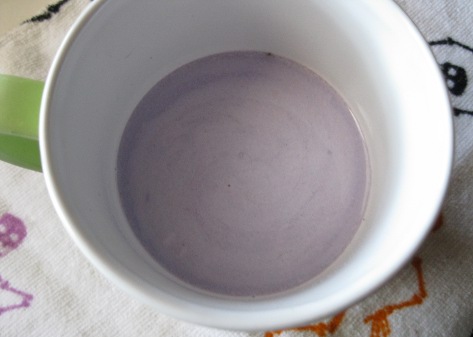 The hot chocolate itself was a little more pastel than I would have liked. Lavender is not that spooky. I had a heck of a time taking the photos because, as you can see, it gets that film on top that masks the true color of the liquid, but you can generally see it around the edges. I later realized I could have let it cool down and that probably would have fixed the problem. But done is done. Deal with it.
Deceivingly Orange Hot Chocolate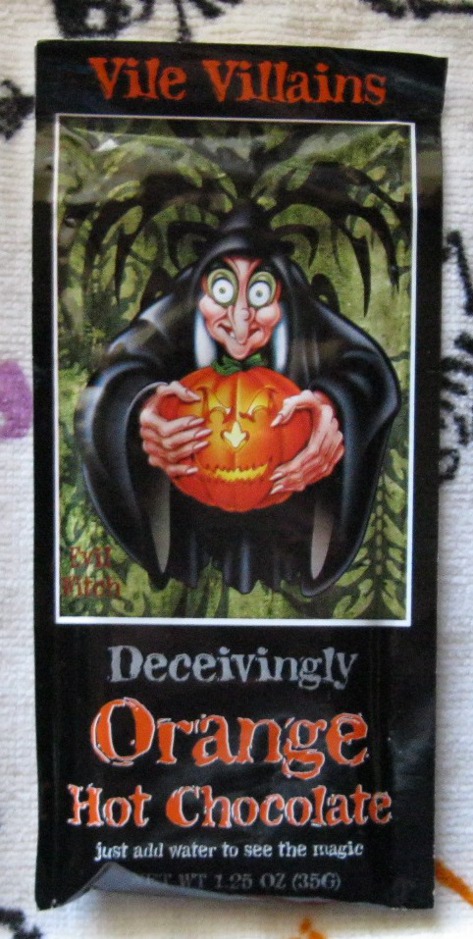 Here we have the Evil Queen from Snow White, disguised as a witch. She gives Snow White a poisoned apple in the story, but here she appears to be presenting a Jack o'Lantern, apparently to tie in with the orange color. I have to say, if Snow White had been given a pumpkin, the story would have turned out much differently, unless she decided to toast the seeds and eat them I suppose.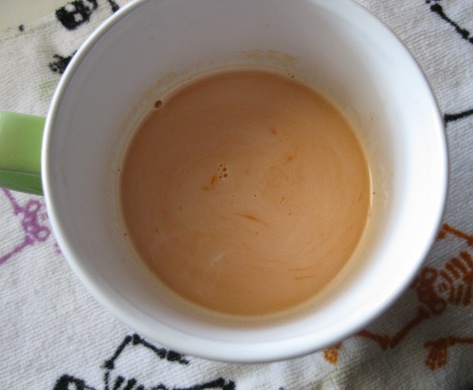 Deceivingly Orange is a strange name. Out of context, it makes little sense. Oranges are not so deceiving. You pretty much get what you're asking for out of an orange, unless you bought a grapefruit by mistake, but that's your own fault. In this context, Deceivingly Orange means several things – first of all, nobody expects their hot chocolate to be orange, and second, the poisoned apple is deceiving. Except now it's a pumpkin. Why not.
I'm not a big fan of orange as a color, but I guess this one delivers the most Halloweeny of all the colors. Purple and green are great backup colors for Halloween, but if you're going to go Halloween, you know you have to go black and orange. The black is surprisingly absent, but at least orange has a backup team.
Heartless Green Hot Chocolate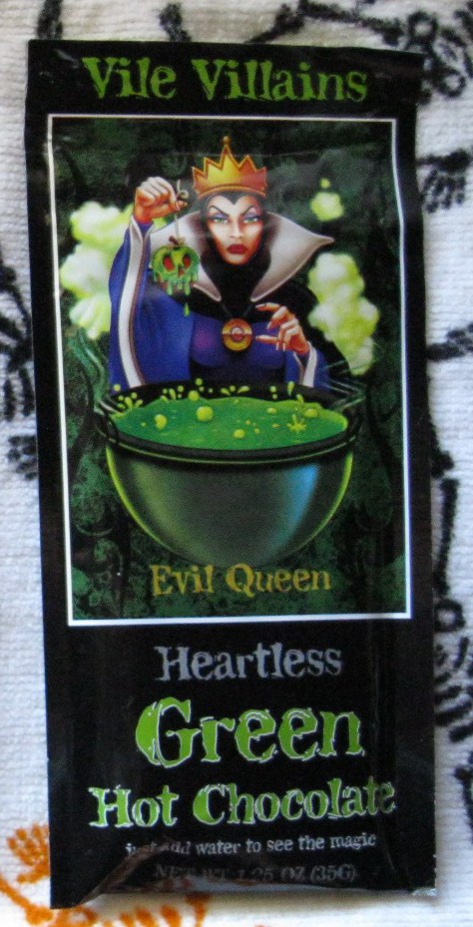 Here we see the Evil Queen from Snow White in her natural evil form. With that bubbling green cauldron, she feels the most natural of the three. I am, however, a little miffed that two of the three Vile Villains are from Snow White. There are a bazillion Disney villains; do we really have to dip into the same pumpkin bucket twice?
Also, she's holding the poisoned apple. Where the hell was the continuity director on these things?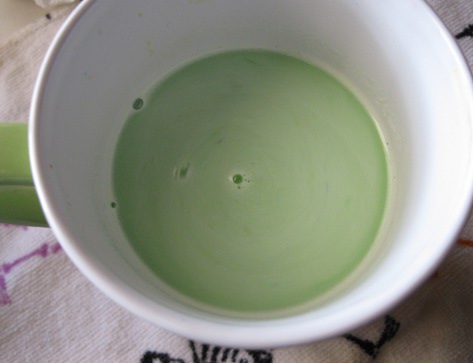 Much like with the purple hot chocolate, this drink's color is disappointingly pale. It does look a little sickly, however, which could be considered in the spirit of Halloween, but I would have liked to have seen a deep, dark green. Same with the purple.
Now then, to the hot chocolate flavor itself. I ran into a problem right off the bat: Vile Villains Hot Chocolate does not contain any chocolate. No cocoa powder, nothing. Now, I understand the fundamental reason for this; cocoa is brown, and that would effect the color of the drink. I understand with the orange and the green, but if they had made the purple darker, couldn't they have gotten away with adding some cocoa? And what about black? It seems like it would have been easy to incorporate cocoa powder into that. But hey, I wasn't on the hot chocolate development team; who knows what hurdles they went through before they settled upon these choices.
Oddly, despite the absence of actual chocolate, the Vile Villains do possess a ghost of hot chocolate taste. The basic ingredients are sugar, nonfat dry milk, and non dairy creamer. This makes for a very sweet drink, and I think it's the creamer that makes it taste a bit like hot chocolate.
My mom (who lovingly sent me these when I couldn't find them at my local Walgreen's) thought they were awful due to the lack of chocolate flavor, but I found them passable as a hot, sweet, milky drink. Then again, I may or may not have enjoyed a few sips of flavored creamer in my past, so perhaps I'm not quite right in the head.
In the end, the execution of packaging and coloring didn't sit quite right with me, but I think kids would enjoy drinking hot "chocolate" that comes in a spooooky package and nontraditional colors. Temperatures are falling, Halloween is in full swing, and a hot sweet treat would probably satisfy most young palates. Adults will probably find the lack of chocolate flavor disappointing, unless they really enjoy the taste of non dairy creamer. I appreciate the effort to create a cool Halloween product, but Disney's Imagineers could have put a little more thought into it. (Note: I doubt the Imagineers had anything to do with this product; I just wanted an excuse to use the term "Imagineers".)
Vile Villains Hot Chocolate: Wonderfully Wacky Purple, Deceivingly Orange, and Heartless Green
Score: 2 out of 5 totally kick-ass Maleficent dragons that should have been on the purple package
Price: Freeeeeeeee! (Thanks Mom!)
Size: 1.25 oz. package
Purchased at: A Walgreen's somewhere in Southern California
Nutritional Quirks: No chocolate in the hot chocolate. Perhaps the largest quirk of all time.