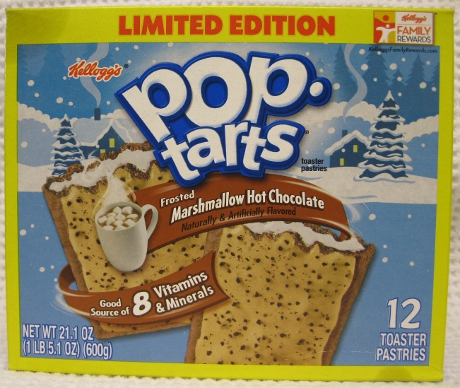 It's that time of year to break out the fleece blankets and fire up the furnace. Well, for some of you, you've already had your fair share of cold and disastrous weather; for me, I just turned on the heater for the first time in about nine months, releasing that disgusting but all-too-familiar odor that I can only imagine is caused by the burning of accumulated dust and pet hair. Mmmm, the smells of autumn.
Of course, no cold and dreary day curled up in your Snuggie watching that Hoarders marathon would be complete without a cup of hot chocolate. Hot chocolate does not discriminate by age; whether you're young, old, or experiencing a mid-life crisis, you can always enjoy a cup of hot cocoa without anyone judging you.
In fact, you can even add marshmallows and nobody will bat an eye. How often do adults get to do that, minus being at a bonfire? Marshmallows in your hot chocolate? Accepted, even encouraged. Marshmallows in your cereal? Grow up, dude. You're being immature. Or you're an Internet food reviewer.
Of course, you can't always have hot chocolate and marshmallows at your fingertips. …Well, actually, I suppose you can, thanks to one Swiss Miss. But Pop-Tarts wants to make sure you have it in edible form with their Limited Edition Frosted Marshmallow Hot Chocolate Toaster Pastries.
Props on the packaging, first of all. Completely holiday-neutral while still conveying a winter wonderland, which means you can enjoy these Pop-Tarts from now until Kellogg's comes out with a Valentine's Day Limited Edition Red Velvet Cake Pop-Tart. Man, I should be in marketing.
We've got a mug of hot chocolate, steaming hot and inviting as snow falls around it; quaint houses in the background with smoke rising from their chimneys while trees struggle to handle the weight of the snow on their boughs. It's simplistic, yet idyllic, unless you find isolated cabins in the woods to be ominous, in which case – what's really burning in those fireplaces?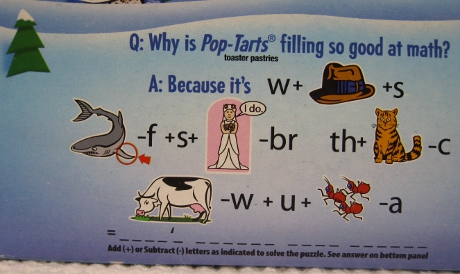 The fun doesn't stop on the front, however. On the back of the box, there's a rebus puzzle! As I child I loved these puzzles, and I can imagine entertaining myself with this one while waiting for my Pop-Tarts to pop out of the toaster.
I'm a little rusty at these, but let's give it a try!
"Q: Why is Pop-Tarts filling so good at math?"
Well, my first and most obvious answers would be a.) it's not, because it's a toaster pastry filling, or b.), because it has become sentient and its screams should be heard any second now as I unknowingly commit homicide on a sugary filling that has feelings and a knowledge of math.
But I'll play along anyways! Let's work it out step by step:
"A: Because it's"
1. W+ fedora +s…okay, so first word: wfedoras. That was easy. I'm not sure what a wfedora is, but sometimes you have to solve the whole thing to get the big "aha!" moment.
2. flipper -f +s+ reluctant bride -br: lippersreluctantide. Sounds like some sort of pesticide…not sure where we're going, here.
3. th+ crazy-eyed feline -c: thazy-eyed feline. What's thazy? Sounds kind of like lazy, and we all know cats are lazy assholes. Thazy assholes.
4. heifer -w +u+ hive mind colony -a: Wait, there are a lot of letters here that don't belong in the first place. That's odd. I'll try again. cow -w +u+ assholes -a: coussholes. Hm.
"A: Because it's wfedoras lippersreluctantide thazy-eyed feline coussholes."
Man, these puzzles are harder than I remember. I guess it could also be "Because it's whats inside that counts." Hoooooooo, boy. Watch out, Laffy Taffy; Pop-Tarts is gunning for you. Don't be gettin' thazy on your jokes.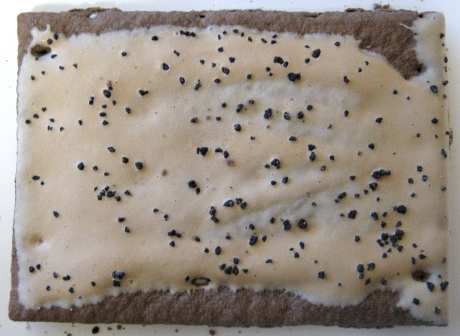 Going off of looks and the box, I guess the marshmallow is supposed to be the filling and the frosting is the…hot chocolate? It's obvious that the pastry itself is chocolate, but chocolate and hot chocolate are two different things. There's also what appears to be an Oreo-like crumble on top of the frosting, which I am all for. I've always been of the opinion that unfrosted Pop-Tarts are lame, frosted Pop-Tarts are where it's at, and frosted Pop-Tarts with some kind of extra topping are the crème de la crème of P-to-the-Ts. Sorry; I got tired of typing Pop-Tarts.
Cold P-Ts are sad, and we're dealing with a flavor that is specifically meant to warm your mouth and your cockles, so I threw mine in the toaster oven. I don't own an actual toaster because it turned out my last one was possessed by Satan.

The box said to toast the pastry on the lowest/lightest setting. It came out not quite as warm as I wanted, so I popped it in there for another few seconds.
I have to say, I was not expecting a whole lot from Marshmallow Hot Chocolate Pop-Tarts, but I really enjoyed these. The chocolate pastry was chocolatey without being overwhelming, the frosting really did seem to have an essence of hot chocolate, and the crumbles added just a tiny but of chocolate crunch.

The real star here was the marshmallow filling. Warm and gooey, it was spot-on marshmallow goodness. It was like Kellogg's had found a supply of The Stuff, minus part where it takes over your brain and all that. There wasn't so much that it overwhelmed the flavors of the pastry and the frosting, but not so little that you were left with little more than a pastry with frosting. As Goldilocks would say, it was just right.
When I was eating my Limited Edition Pop-Tarts Frosted Marshmallow Hot Chocolate Toaster Pastry, I really did feel like I was eating a warm, gooey, chocolatey winter treat. If you try these, you'll be doing yourself a disservice if you eat it cold. My one complaint is that I could only eat one at a sitting, because these pastries are, unsurprisingly, very sweet.
Take that minute or two to warm it up, pour yourself a mug of coffee, settle down in your Forever Lazy, and enjoy!
Limited Edition Pop-Tarts Frosted Marshmallow Hot Chocolate Toaster Pastries

Score: 4 out of 5 thazy coussholes
Price: $2.89
Size: Box of 12 toaster pastries
Purchased at: Target
Nutritional Quirks: Got a sweet tooth and want to have not one, but two of these Pop-Tarts? Get ready for 38 grams of sugar in your face!