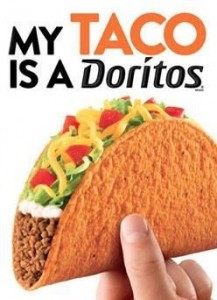 Taco Bell is finally unleashing the monster.
Way back in April of last year, the news broke that Taco Bell was releasing the Doritos Locos Taco in test markets. Unfortunately, I didn't live anywhere near one of them. But on March 8, they will be making this…thing available nationwide.
What is the Doritos Locos Taco? Well, basically it's a regular Taco Bell taco with one ridiculous addition – a taco shell made out of Nacho Cheese Doritos. You can also get a Supreme Taco, which basically just adds chopped tomatoes and sour cream to a regular taco. With a Doritos shell
If you can't wait to find out what a Dorito and a taco taste like together, Doritos is doing a "Hometown Tweet-Off", wherein the person who gets the most retweets by Tweeting using the hashtags #DoritosLocosTacos and #Contest will get a visit from the Taco Bell Truck, which will give out Doritos Locos Tacos to the winner and their probably bewildered neighbors.
Sources: GrubGrade, Fast Food Maven