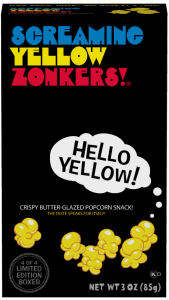 SNEAK PREVIEW ALERT! Screaming Yellow Zonkers will not be in stores until May 15, so don't run out looking for them until that date!
Screaming Yellow Zonkers! Popcorn is something I seem to remember from my childhood (like Pop Qwiz), but don't recall ever trying (probably because I was too busy eating Pop Qwiz). According to Wikipedia, which is the only real source of information I could find, so take all this with a grain of salt, Zonkers (I am dropping the exclamation point from now on since it's annoying to have every word after that get auto-capitalized) were first introduced in the late 1960s. According to me, that was a run-on sentence.
For what seems like an innocuous snack food, Zonkers has quite the interesting history. Instead of pasting the entire Wikipedia article here, get off your Internet ass and read it yourself.
It seems they always had a sense of humor, and it seems they've kept that tradition alive, which just tickles my knickers. These days, food packaging is either THIS IS HEALTHY AND A SERIOUS MATTER or THIS PRODUCT IS SO FUCKING EXXTREEEEEME IT WILL LITERALLY BLOW YOUR MIND STRAIGHT OUT THE BACK OF YOUR HEAD. A little tongue-in-cheek is refreshing. Enjoy these commercials from the 1970s(?) and 1980s(?)  I especially like the latter; when was the last time you saw someone convulsing on the ground to advertise for a product?
Case in point: the top of my box says, "open here, but don't get mouthy with me!" Get it? MOUTHY? Man, I'm the only one who appreciates a good pun anymore.
Zonkers were discontinued in 2007, but now they're making a comeback! Which is obvious, since I am reviewing them. In true Zonkers fashion, on the side of the box they explain their absence:
"You may have noticed that have BEEN GONE for a while, and you can blame Bill for that one. He's one of those bottom of the box KERNELS that's missing some of his BUTTERY GLAZE, if you know what I mean. He decided that we needed to get out of this box and go on a trip to 'FIND OURSELVES'. It was somewhere between here and there we had our A-HA MOMENT. We had it good, really good, so we came SCREAMING BACK to the good life!"
Damn that Bill. I bet there wasn't a kernel of truth to his entire story. I hope they popped him right in the face.
Sorry, I'm being really corny.
Now that's how you rock some puns.
ANYWAYS. Zonkers came back in four limited edition retro-looking boxes, and here they are! (You can see an example of an old school box on the Wikipedia page I referred to earlier that none of you clicked on.)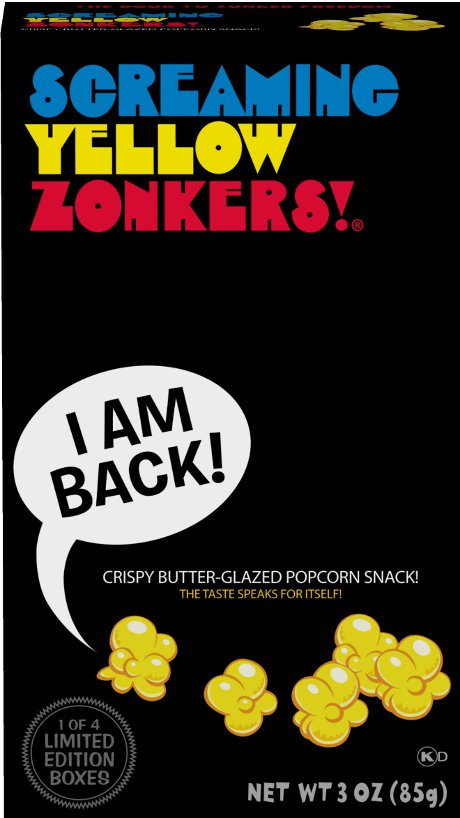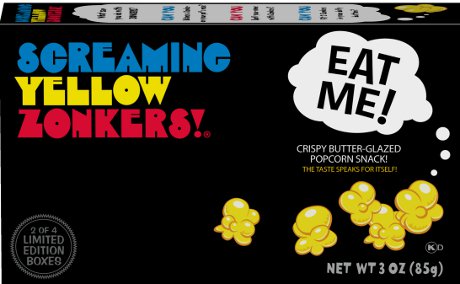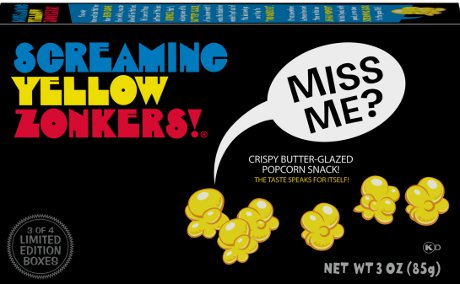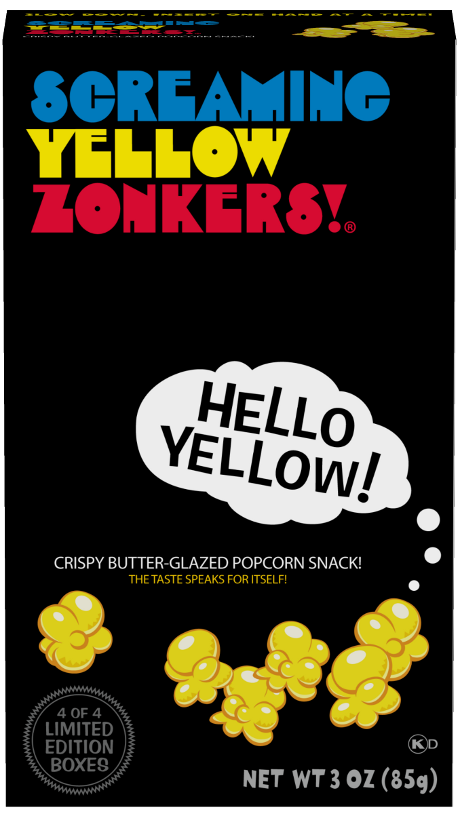 I wound up with limited edition box #3.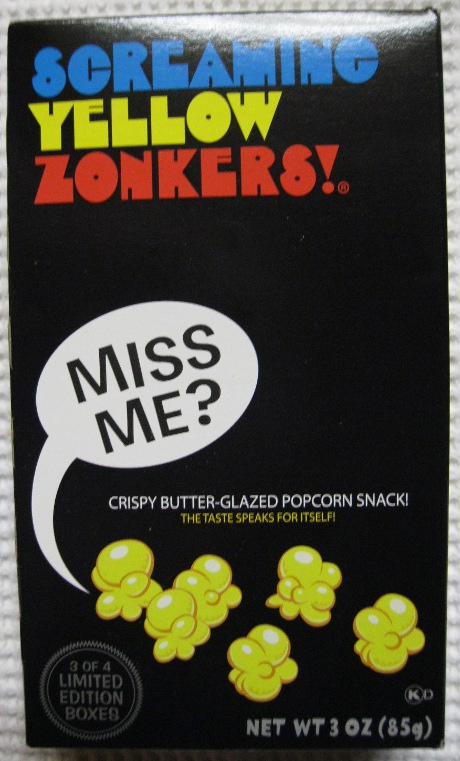 I'm happy with my box. I think it's the most sinister-sounding. I imagine my box of Zonkers hovering around my house for days. I catch glimpses of it in the window, but think my eyes are playing tricks on me. Then, late at night, as I'm watching a rerun of Golden Girls, it suddenly bursts through my front door, eyes wild. "Did you MISS ME, baby?" It says, right before it violently stabs me 17 times, laughing maniacally the whole time.
Screaming Yellow Zonkers should be happy I'm not on their marketing team.
I should probably get to the actual product at some point. Given that "Screaming Yellow Zonkers" gives you zero clue as to what the actual product is, the box goes on to describe the product as "crispy butter-glazed popcorn snack!" Zonkers loves exclamation marks.
I'm not sure exactly what a Zonker is, but these little guys are certainly Screaming Yellow. This is not a color that occurs in nature. The glaze just adds to the unnaturalness. I feel like I should be repulsed, but I'm really not. I've eaten blue popcorn before. How many times am I going to reference Pop Qwiz in this review?
Considering I hadn't viewed those commercials before I ate Zonkers for the first time, I was surprised to find that there was quite a bit of sweetness to them. I suppose I shouldn't have been, but I'm dumb, whatever. It's impossible to not immediately think of Cracker Jacks when you eat them. They feel exactly the same in your hand – glazed and a little sticky.
They also taste remarkably similar; take out the nuts and exchange caramel coating for butter coating, and there you have it. There's really no better way to describe them.
The taste combination of butter and sugar is disconcerting at first, and yet I found that I kept eating them. After my mouth accepted the combination, I actually started liking them, until my sugar limits kicked in. The glaze also gives them a nice crunch, which I liked. It feels like one of those snacks you sit down with in front of the tv, and before you know it, you've eaten the entire box and consumed 360 calories.
Would I buy again? (Or in this case, use my own money to acquire.) Probably not. I like popcorn, and I like butter, but I don't have much of a sweet tooth, and Screaming Yellow Zonkers are pretty damn sweet. While I accepted the combination of butter and sugar surprisingly easily, I can see how it would not sit well with others. I wish they could have been butter-glazed without the sugar, but I'm pretty sure you can't glaze anything without using sugar, so I guess I'll just have to wait for some sort of futuristic non-sugar-glaze technology.
While I didn't like the sugar, I have to give props to the Zonkers marketing team for their excellent sense of humor. It's not going to make me like the popcorn any more than I did, but I appreciate their efforts nonetheless.
If you like sugar and you've always wished Cracker Jacks had no nuts and tasted like butter, then you'll like Screaming Yellow Zonkers. Unfortunately, they don't come with a surprise toy. I only ate Cracker Jacks as a child because I was hoping for some temporary tattoos.
Screaming Yellow Zonkers will be available exclusively at Walgreen's nationwide, so don't search your local grocery stores fruitlessly, because you'll only be met with heartbreak.
Required disclosure: my box of Screaming Yellow Zonkers was provided to me as a free sample by ConAgra Foods. As always, I remain objective and often insulting.)
Screaming Yellow Zonkers!
Score: 3.5 out of 5 sticky fingers. I hate having sticky fingers.
Price: Free sample, but you can score a box for $1.00
Size: 3 oz. box
Purchased at: Sent to me, but you can find them exclusively at Walgreen's nationwide
Nutritional Quirks: That shade of yellow does not occur in nature.