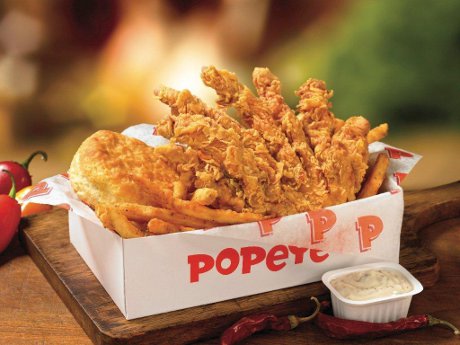 I first wrote about Popeye's Rip'n Chick'n back in July of last year; I never got around to reviewing it, probably because of time or real life or something stupid like that. Well, now it's back! Here's the official description:
"Rip'n Chick'n is a boneless chicken breast marinated with a blend of spicy peppers, then hand-battered, breaded and cooked. The chicken breast is sliced into pull-apart strips that are easy to rip and dip. This portable treat is served with cool buttermilk ranch dipping sauce for $3.99 and available as a combo with Cajun fries and a biscuit for just $1 more."
I'm not an angry person, but if I need to take out some aggression, I think I'd rather do it on food as opposed to, say, my bathroom mirror. It also sounds a lot more tasty and a lot less painful.
GrubGrade actually reviewed Rip'n Chick'n last year, and while it's hard to tell from the promo photo above, apparently it looks eerily like a monster hand, which makes it all the better. Who doesn't want to rip off and then consume monster fingers? If you don't, something is wrong with you.
Rip'n Chick'n is only back for a limited time, so if you want the chance to rip and dip (as opposed to grip and sip, which is a very different thing), head over to Popeye's soon.