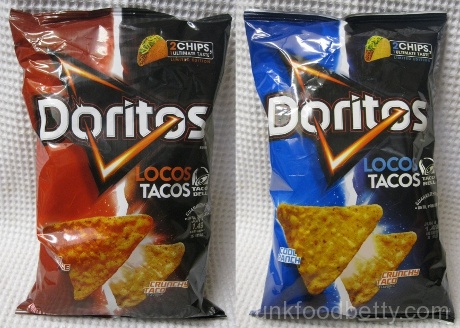 Doritos Locos Tacos Taco Bell Nacho Cheese Crunchy Taco and Cool Ranch Crunchy Taco Tortilla Chips are quite possibly the most meta snack to ever hit the chip shelves. They are Doritos, based on fast food tacos, which have the shell of a Dorito.
I think we can all see where this is going. Taco Bell Doritos Locos Taco Taco Bell Doritos Locos Taco… it will be the Möbius strip of food that will eventually take over Taco Bell's entire menu and choke the chip aisle. It will be the undoing of humanity.
…Okay, maybe I'm getting a little carried away. But I think we can all agree that this is getting ridiculous.
Like the Taco Bell Doritos Locos Tacos, the Doritos Locos Tacos Taco Bell Tortilla Chips come in two flavors: Nacho Cheese Crunchy Taco and Cool Ranch Crunchy Taco. Doritos loves to do the "two flavors in one bag" thing, so this is right up their alley.
Doritos Locos Tacos Taco Bell Nacho Cheese Crunchy Taco Tortilla Chips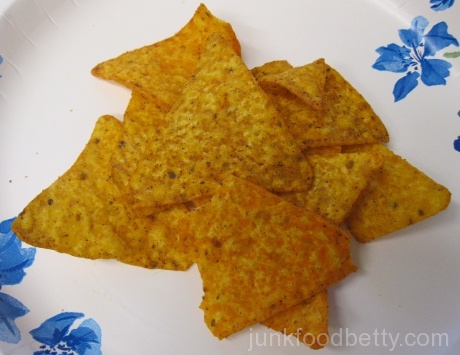 Upon opening the bag, my olfactory senses were overwhelmed with the smell of taco seasoning. Like opening a pack of McCormick's seasoning you'd add to some ground beef for "Tuesday Taco Night" with some of those pre-made shells that have a flat bottom so they stand up on their own. Man, I wish I had invented those. Genius.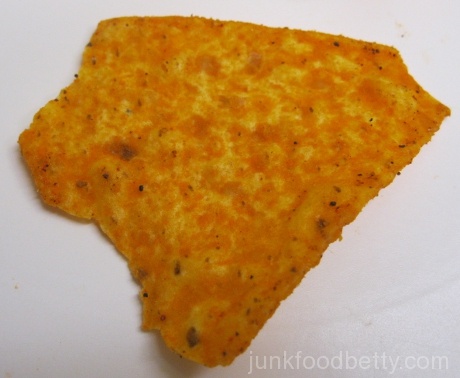 When I tasted the nacho cheese chips by themselves, it was instantly obvious that these are just regular Nacho Cheese Doritos, to the surprise of no one. They got a little bit of taco flavoring due to spooning with Crunchy Taco in the bag. Let's face it; it's like a forced cuddle party. There's gonna be some contact.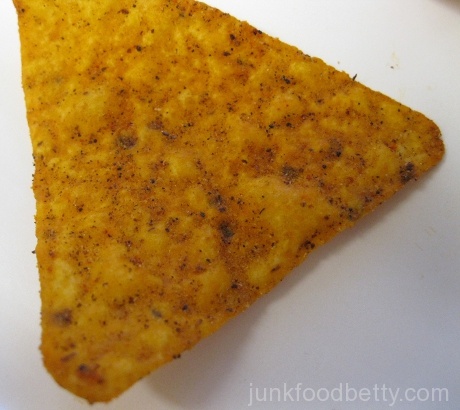 The Crunchy Taco flavor was very powerful. My brain went flipping through its Rolodex (my brain is technologically behind the times) of Doritos flavors, but I couldn't quite pinpoint the flavor powder. It definitely wasn't Taco Flavor Doritos. It was just…straight-up taco seasoning. I can't find another way to describe it.
When eaten together, as I'm assuming God, Doritos and Taco Bell intended, Crunchy Taco overwhelmed the taste of Nacho Cheese. I could, however, get some nacho aftertaste, which did compliment the taco flavor.
Did these chips mimic a Taco Bell Doritos Locos Nacho Cheese Taco? Not even close. But if you want to treat these like Doritos Collisions or the various other Doritos "two flavors in one bag", they're not too bad.
Doritos Locos Tacos Taco Bell Cool Ranch Crunchy Taco Tortilla Chips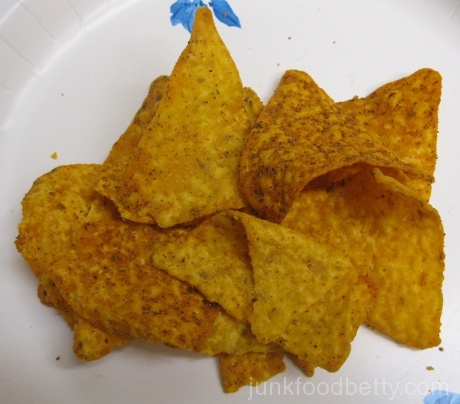 It's difficult to say much more about these Cool Ranch Crunchy Taco Doritos that hasn't already been said about the Nacho Cheese version. Again, that taco seasoning smell was very present.
Also again, there was nothing new about the Cool Ranch Doritos. Like Nacho Cheese, rubbing up against Crunchy Taco resulted in some flavor transfer. I'm starting to wonder about these cuddle parties.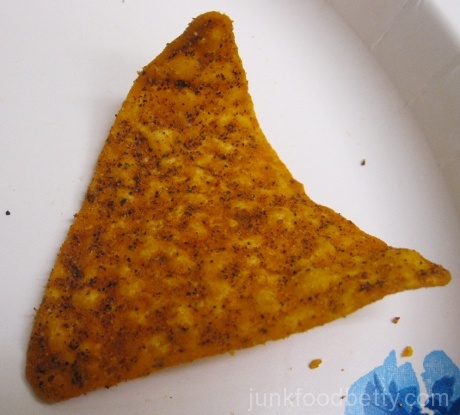 I kept some of my observations about Crunchy Taco Doritos out of the Nacho Cheese portion of this post so that I could say something here besides using the word "again" 20 times in one review.
The fact of the matter is, Crunchy Taco Doritos had too much flavor dust.
Now, usually, I savor the joy of finding those few Doritos that somehow got hit with too much flavoring in their journey from tortilla chip to flavored tortilla chip. In the case of Crunchy Taco, however, it was like every chip had been blasted to hell with the stuff.
Unfortunately, this fact worked against Cool Ranch even more than Nacho Cheese. Eating the two chips together pretty much obliterated the Cool Ranch flavor.
Mark this day in Junk Food Betty history, because I'm about to say something that I may never say again: Crunchy Taco Doritos were actually too salty. I say this with gravitas, because I am a salt vampire, so for me to say something is too salty is borderline insanity.
In the end, both flavor combos suffered from the same fault: Crunchy Taco was too strong, snuffing out the flavors of Nacho Cheese and Cool Ranch. Furthermore, they tasted nothing like the tacos they were trying to emulate in a weird, meta way.
I actually liked the Crunchy Taco flavoring, despite it tasting nothing like a Taco Bell taco, but someone cranked the flavor knob up to 11, which resulted in too much salt and the obfuscation of the flavors it was supposed to compliment.
I usually find Doritos dual flavors uninspired but acceptable, but this was a strange case of flavor overload. I hope that my predictions of a Doritos Locos Tacos Taco Bell Möbius strip don't come true, because that is a weird vortex that I don't want to be a part of.
Doritos Locos Tacos Taco Bell Nacho Cheese Crunchy Taco and Cool Ranch Crunchy Taco Tortilla Chips

Score (Nacho Cheese Crunchy Taco): 3 out of 5 questionable cuddle parties
Score (Cool Ranch Crunchy Taco): 2 out of 5 salt vampires saying "Whoah, too much"
Price: $1.49 each
Size: 3 3/8 oz. bags
Purchased at: 7-Eleven #21821
Nutritional Quirks: I have no evidence to support this, but I believe a fire hose was brought in to spray the Crunchy Taco Doritos. Now that's quirky.