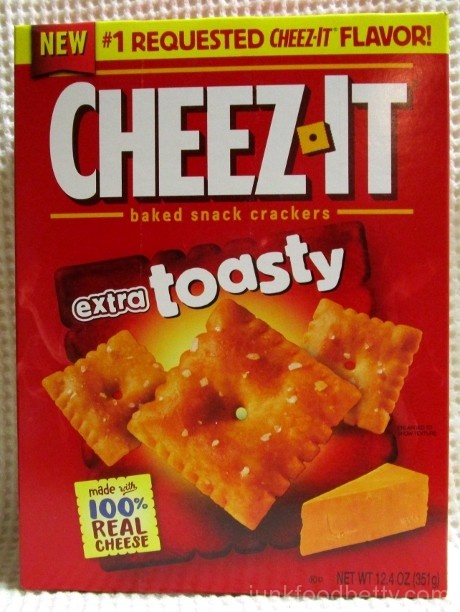 If you're reading this, you're probably in one of two camps right now: you're either saying to yourself, "Fuck yeah, Extra Toasty Cheez-Its! Finally, my dreams have come true!"
Or you're saying, "What the fuck are Extra Toasty Cheez-Its?"
I was in the latter camp until I read this article. Apparently, there's a whole group of people out there who absolutely shit themselves whenever they find a slightly over-baked Cheez-It in their box of regular Cheez-Its.
And because we live in the age of the Internet, these people have been, I assume, emailing, signing online petitions, and generally hassling the crap out of Sunshine to turn these into their own flavor.
Well, congratulations weirdos, you win! Before now, I personally have given zero thought to these particular Cheez-Its. I knew they existed, but not consciously. I ate my Cheez-Its, one would occasionally have a brown edge, I would eat it also and move on with my life, completely unaware that I had just consumed someone's wet dream.
Ew. Sorry about that.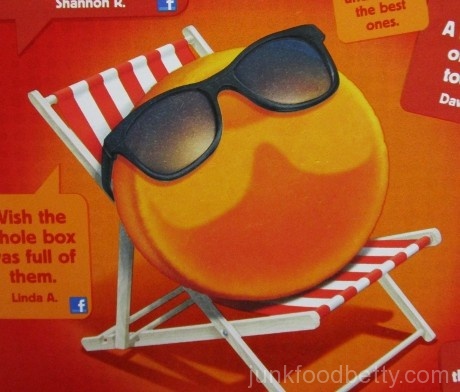 Cheez-It loves to anthropomorphize all of their flavors, and it looks like Extra Toasty is doing a PSA about the dangers of both sunbathing and not wearing sunscreen. Your skin is your body's largest organ, people. Take care of it!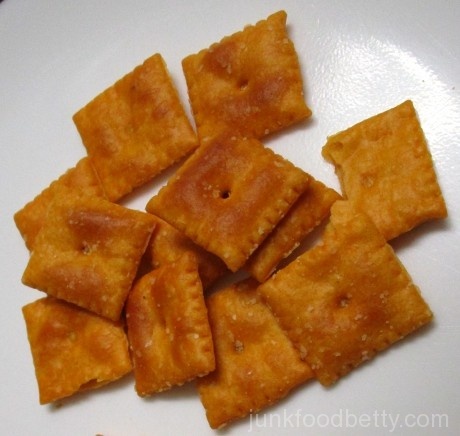 The smell upon opening the box was…actually, there's no flowery way to put it. They smelled like burned cheese crackers. I have no other way to describe them. And they looked appropriately toasty – every cracker had that brown tinge to it.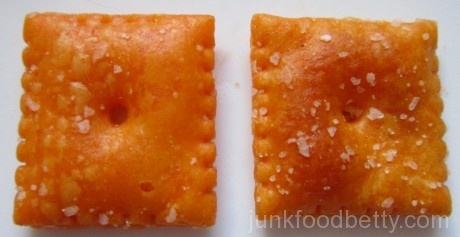 Here's a comparison with a regular Cheez-It, because I can't remember the last time I didn't have a box of Cheez-Its in my house. It's just kind of how we operate. Here you can see the toastiness up-close.
As for the taste, the smell kind of says it all. They taste like Cheez-Its that were left in the oven, or on the conveyor belt, or however they make Cheez-Its, for too long. It's a cheesy cracker with a burnt aftertaste.
It's not so burnt that it's straight-up gross, but the flavor is definitely there. Just a hint of overdone. Just a little too long in the sun.
Which is the whole selling point of Extra Toasty Cheez-Its, and also happens to be my main problem. I prefer my cheesy, salty squares with sunscreen, thank you. (Note to Sunshine: please don't make coconut-flavored Cheez-Its.) I mean, these must be appealing to quite a few people, as it was, apparently, their #1 requested flavor. But to me, they just tasted like a box of mistakes. Not so much that I didn't finish the box, but I'll stick with my Originals. I guess I'm just a square.
Cheez-It Crackers Extra Toasty

Score: 2.5 out of 5 peeling sunburns
Price: $2.79
Size: 12.4 oz. box
Purchased at: Fry's Foods
Nutritional Quirk: There's a lack of quirks here. I was hoping for a "Gotcha!" journalism moment, but Extra Toasty's nutritional information is completely identical to Original Cheez-Its.