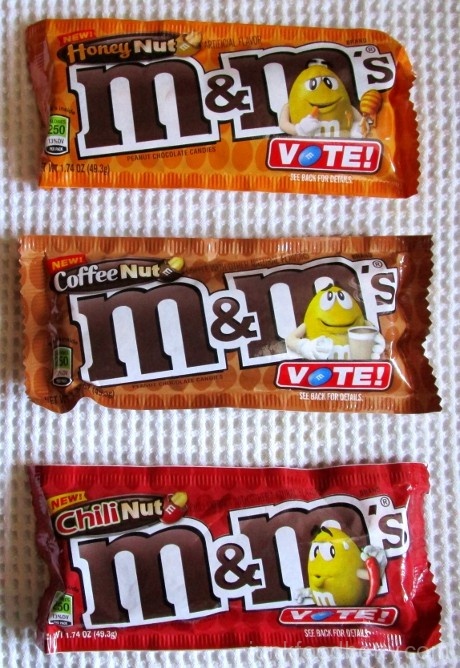 Voting. It's something about 50% of you will be doing come November, statistically speaking. It's something you might have already done, if you participated in the primaries. Or in Lay's Flavor Swap.
It's all the rage, and M&Ms doesn't want to be left behind, so they've created a vote of their own.
Peanut M&Ms haven't gotten the extreme makeover that regular M&Ms have gotten over the years. They've never been turned into candy corn, or claimed to be sundaes. Pretty much the best makeover they can hope for is turning red and green every Christmas.
But now there are not one but three different Peanut M&Ms for you to try! Hooray for Nazi Psychologist J. Jonah Jameson Yellow M&M. (That's your Google project for today. You're welcome.)
Let's break them down.
Honey Nut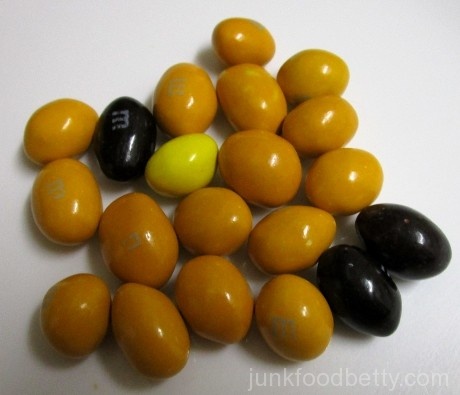 I like what they tried to do with the color motif here, but my bag obviously came out a little lopsided. I think the beige ones are supposed to be honey, and the black and yellow ones are supposed to represent a bee. Except I only got one yellow one.
When I think Honey Nut, my brain automatically goes to Honey Nut Cheerios, a childhood cereal staple of mine that holds up to this day. Could they replicate that taste and even make it better with the addition of chocolate?
In all honesty, my first few Honey Nut M&Ms just tasted like a normal Peanut M&M. After a few more, however, a hint of extra sweetness came through. But that was it. There's no way I would have categorized it as honey. Me and the bee are disappointed.
Coffee Nut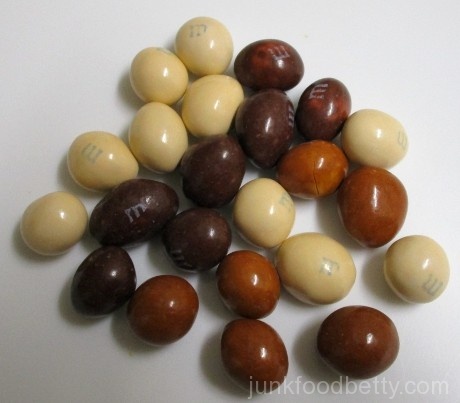 This is by far the most appealing color combination of the three. Sure, it's just browns and cream, but the browns have these enticing speckled patterns, and together they definitely evoke the essence of coffee.
Unlike Honey Nut, Coffee Nut M&Ms had an immediate, distinct flavor. Sort of like a cafe au lait with added nuttiness that came up through my nostrils as I chewed. It wasn't a truly authentic coffee flavor, but it definitely had roasted coffee notes, as well as a creamer-like flavor and a dash of artificial sweetener for good measure. Eating these with coffee made them taste even better.
Chili Nut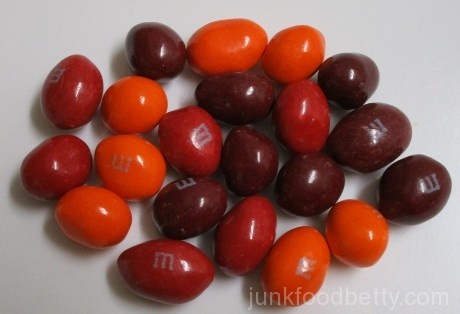 This is what I consider to be the most adventurous of the three new M&Ms flavors. While it's not unusual to pair chocolate with chili, I think it's something that many people may think twice about.
I like the combo of dark red, bright red and bright orange. It's basically a big fat warning signal in candy coating form.
Much like the Honey Nut M&Ms, upon chewing the first few, I felt they tasted like regular Peanut M&Ms. Disappointment washed over me.
But then I swallowed. Oh, damn! These M&Ms have some kick. I mean, I'm not talking snot-levels of heat, but Mars was not shy. Soon not only my throat but also my mouth was coated in a low burn.
The problem, however, is that it seems the chili and the rest of the M&M flavor are completely disconnected from each other. Chili and chocolate can work together, but in this M&M it almost seemed like they were on different pages.
I do have to give kudos to M&Ms for not shying away from the heat, though. Oh, and unlike the previous two flavors that list only "artificial flavors" as the contributing factor to their names, Chili Nut M&Ms include both "spice" and chili extract in the ingredients.
Quite a range of flavors to be had here, from the barely-noticeable to knocking out your taste buds. In the end, it was the one that landed in the middle that I liked the most: Coffee Nut M&Ms. The creamy coffee-esque flavor is obviously a great match with chocolate, and the peanut inside only adds to the profile. I would have liked a little stronger coffee and a little less artifical sweetness, though.
But don't take my word for it – you can vote for your favorite here. You have until June 17, 2016 (sorry, I know this is short notice) to have your voice be heard.
Honey Nut, Coffee Nut, and Chili Nut M&Ms
Score (Honey Nut): 2.5 out of 5 Buzz the Bees
Score (Coffee Nut): 4 out of 5 coffee buzzes
Score (Chili Nut): 2.5 out of 5 burned  taste budz
Price: $1.00 each
Size: 1.74 oz. bag
Purchased at: Walgreens #06177
Nutritional Quirk: Chili Nut M&Ms use actual chili extract, which I thought was neat. Wish they'd done something similar with the other two flavors.