Denny's, I'm starting to fall in love with you. You're a sit-down restaurant, and when most people think of you, they probably think of breakfast with the family after church. Maybe a drunken late-night meal. Moons Over My Hammy.
When I think of Denny's, I think of a restaurant chain ahead of its time. By this point, crazy menu items at fast food joints are old hat. Denny's looked at that and said, "We can do that. We can do that and force people to eat it in public."
I admire that.
Case, or rather, cases in point: mozzarella sticks inside a grilled cheese sandwich and a cheeseburger with french fries and gravy inside.
Denny's isn't resting on their laurels with their Tour of America Menu. They now have a whole new menu called "Let's Get Cheesy!" And it's just what you would think. "Urging everyone to try something a little different with their favorite dairy, the new menu boasts a medley of both traditional and unconventional cheesy choices covering, smothering, oozing and gooey with every dish."
I have an official press release and Denny's-sanctioned promo pictures in my hot little hands, and by golly, I am going to use them. I've decided to showcase them in order of "most normal" to "my God, why is this a thing that exists?" I hope you've taken your Lactaid.
Cheese Please Omelette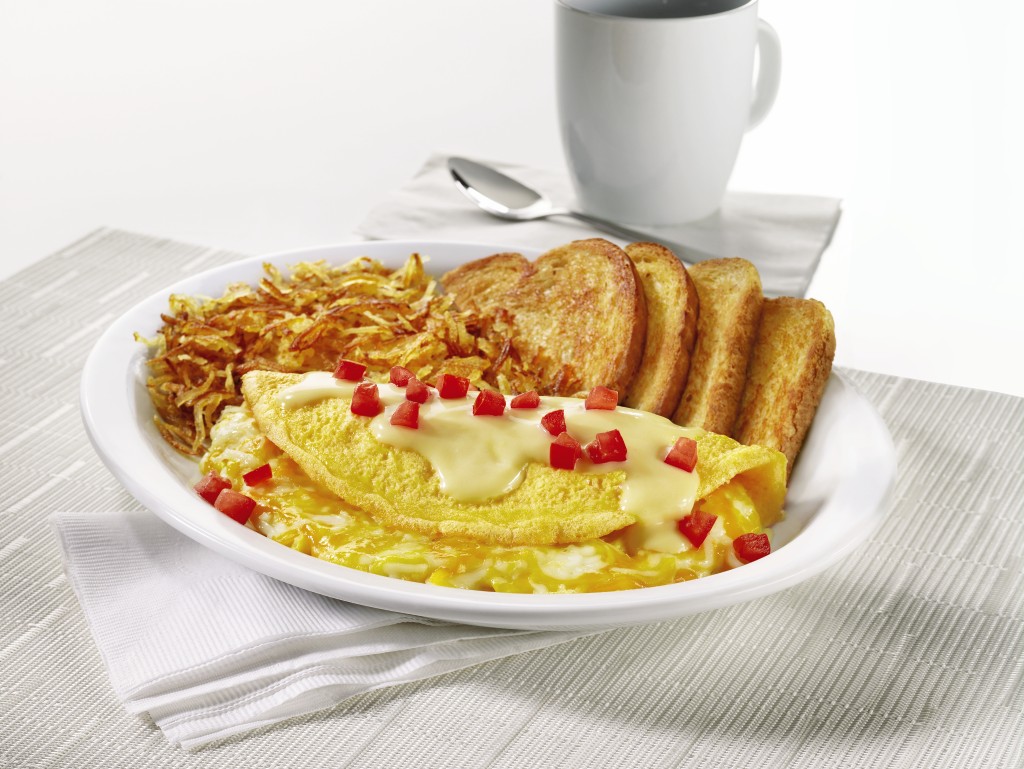 "A three-egg omelette with a blend of cheeses folded in, topped off with a creamy cheese sauce and diced tomatoes, served with hash browns and choice of bread."
Pretty straightforward stuff, here. Looks and sounds quite tasty. Anywhere there's creamy cheese sauce, sign me up.
Say Cheese Sizzlin' Skillet
"A blend of diced cheddar smoked sausage, fire-roasted peppers and onions, grape tomatoes and seasoned red-skinned potatoes topped with shredded cheddar cheese, cheese sauce and two eggs cooked any way you like."
This actually sounds quite delicious, although I have my suspicions about the "cheddar smoked sausage", mostly because I then saw the…
Cheesy Breakfast Sampler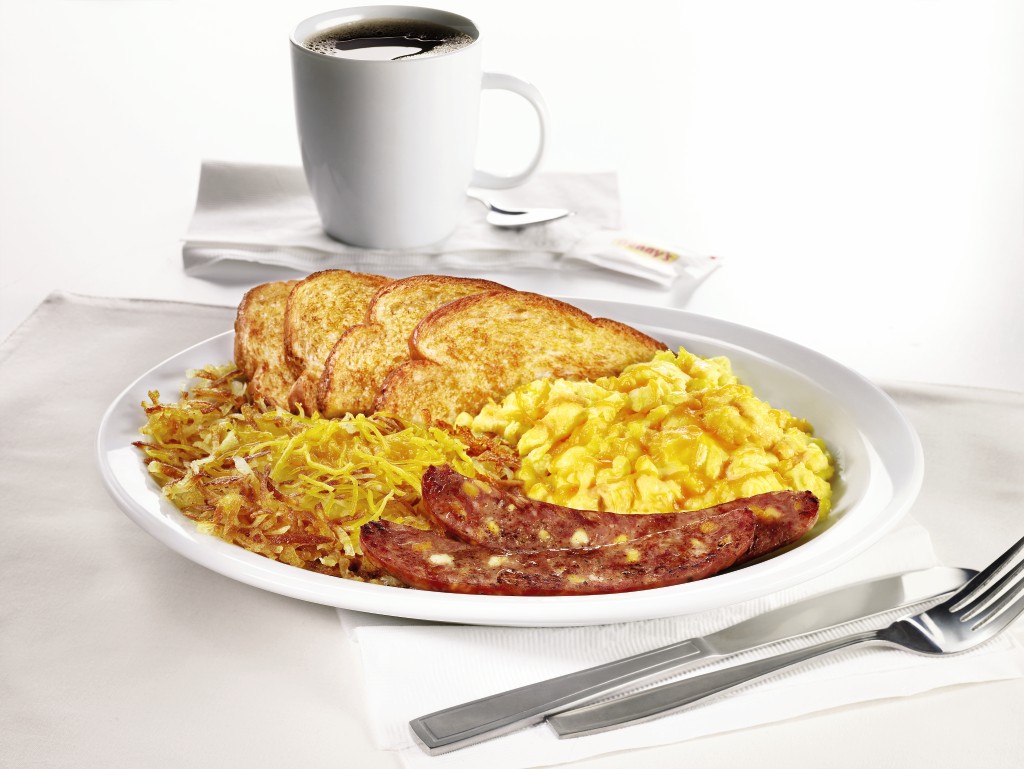 "Featuring a cheddar smoked sausage, two eggs scrambled with cheddar cheese, hash browns topped with melted shredded cheddar cheese and choice of bread."
I know, cheese inside of a sausage really shouldn't bother me at all. And it's probably right up my alley, as far as taste goes. But every time I see something like this, I get all squicked out. Perhaps I had a traumatic incident as a child with some cheese-infused meat product.
Although, the more I stare at the cheddar smoked sausage, the more I want to try it. My palate is always challenging itself, whether my brain likes it or not.
Also, what, no cheese on the bread? C'mon Denny's, you've managed to cram cheese into every other item on the plate, you can't conjure up some cheesy bread?
The Big Cheese Country Fried Steak and Eggs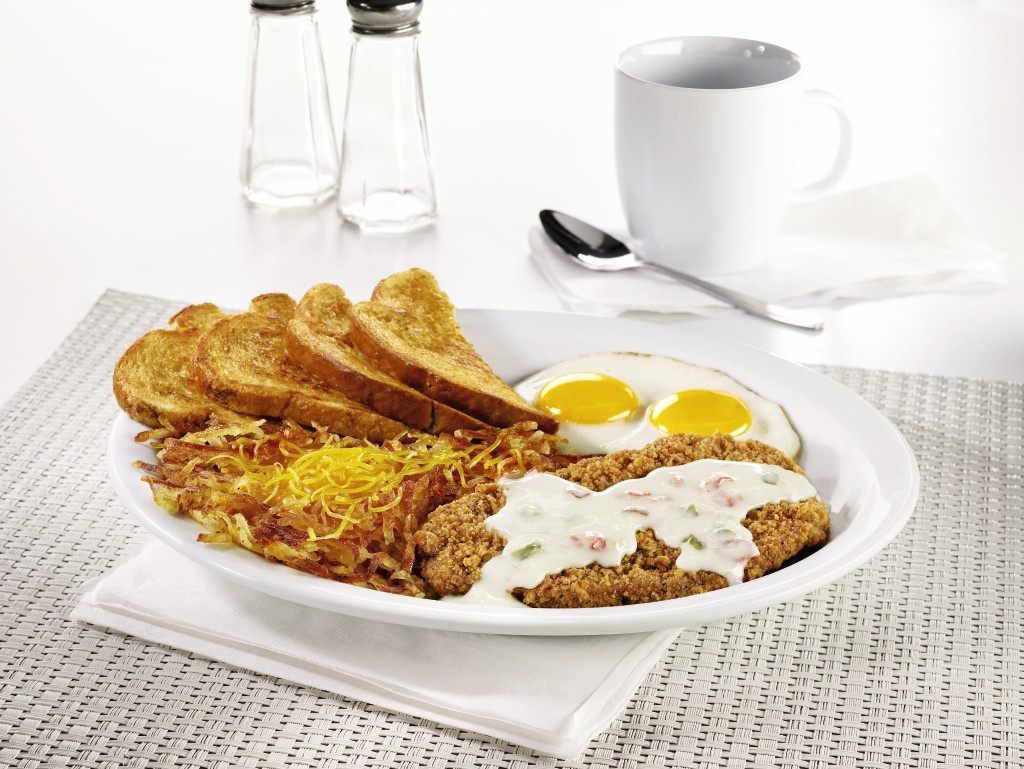 "Featuring a golden-fried chopped beef steak covered in pepper jack cheese sauce, served with hash browns topped with melted shredded cheddar cheese, two eggs cooked any way you like and choice of bread."
Pepper jack cheese sauce on top of a country fried steak may be delicious, but it just sounds (and looks) decidedly unpleasant. Perhaps I'm offended on behalf of sausage country gravy, which is what really belongs on country fried steak. The pepper jack cheese sauce sounds like Denny's is just trying too hard. On the other hand, as we move along, you'll see that they can try much harder.
Winner Winner Cheesy Dinner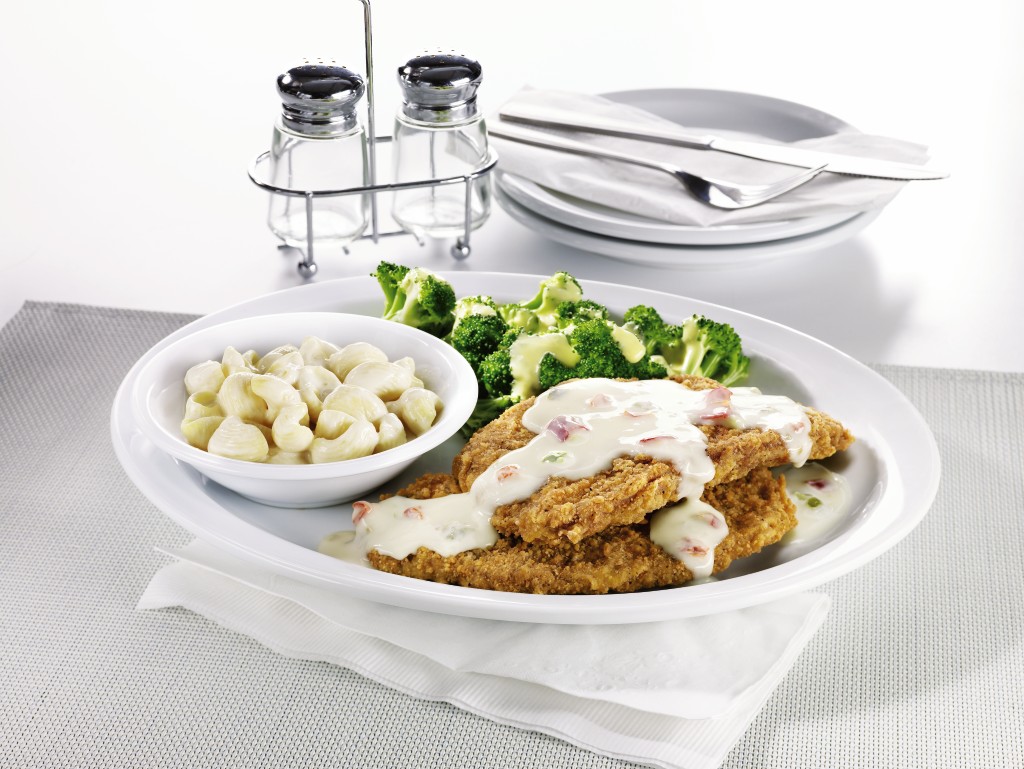 "Two golden-fried chopped beef steaks covered in pepper jack cheese sauce, served with a side of new creamy Mac 'n Cheese, broccoli topped with cheese sauce and dinner bread."
There's two reasons this menu item falls below the Big Cheese Country in my hierarchy. The first is the name. Given, most of these have horrible punny names that are designed to embarrass you as the waitress takes your order, but I find this one particularly offensive. "Winner Winner Chicken Dinner" is a phrase that has been around for quite a while, with origins in gambling or something, but thanks to this douchebag, I can't see the phrase or any cheesy derivative without flying into a rage and smashing everything within arms' reach. I can't have nice things.
The second reason you may have already noticed on the left hand side of the picture, there. "That's odd," you may have said to yourself. "It looks like they accidentally replaced the Mac 'n Cheese with a bowl full of giant maggots."
Unfortunately, you're wrong. That is the Mac 'n Cheese. It scares me. I'm sure they use some sort of white cheese, and that's the end of it, but I think I'd prefer it be neon yellow rather than sickly white. Unfortunately, the only descriptor we get is "creamy". Creamy, indeed.
We're not out of the woods yet, though. We now come to the "outrageous crazy omg wtf Internet sensation" menu item:
Mac 'n Cheese Big Daddy Patty Melt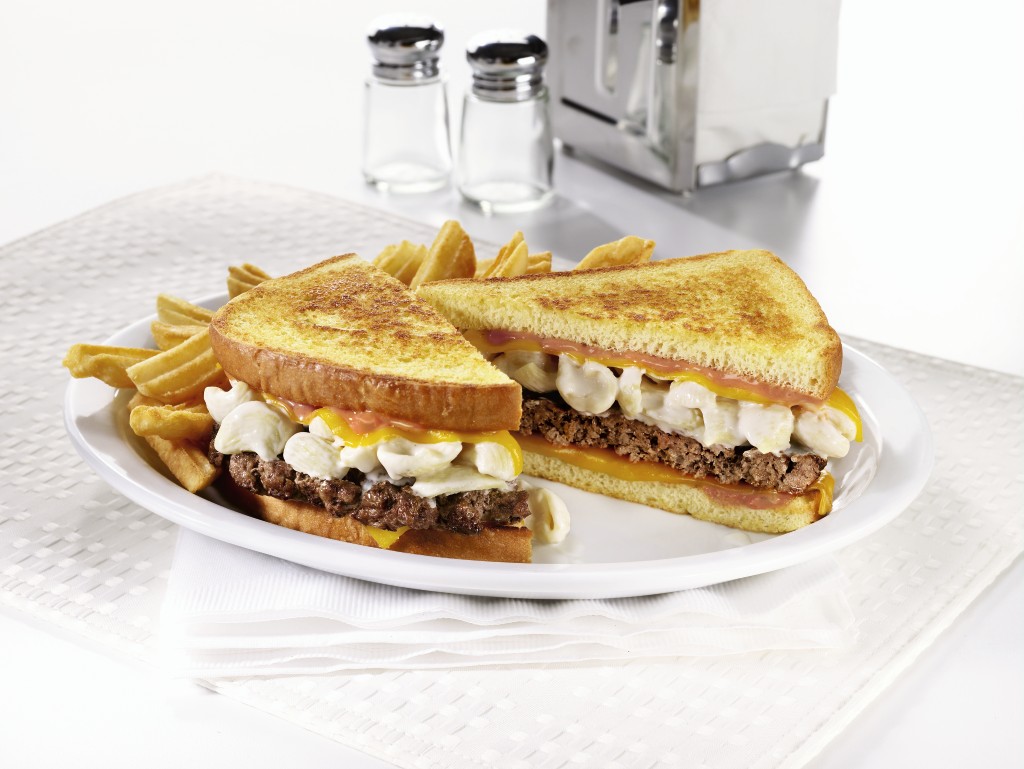 Feast with your eyes. Take a good, long gander. "A hand-pressed beef patty topped with new creamy Mac 'n Cheese, melted cheddar cheese and zesty Frisco sauce on grilled potato bread, served with a side of wavy-cut French fries."
I'm not sure what else to say. Denny's pretty much sums it up. I have seen many sides and snacks stuffed into a sandwich, but this one fills me with particular trepidation. I can't imagine the texture of pasta going well with hamburger. It freaks me out. As if that weren't enough, there's also cheddar cheese and "Frisco" sauce. Taste and texture aside, this sounds like a giant, gooey mess waiting to happen. As if uttering the words "Big Daddy Patty" in public wasn't humiliating enough, enjoy having your face and hands covered in cheese sauce.
It's gimmicky, it's ridiculous, and I want one. Wait, let me rephrase that. I "want" one. Sometimes being a food reviewer is a terrible curse.
Just in case you haven't had enough cheese in your meal, Denny's also has two new sweet and cheesy items.
Strawberry Cheesecake Milk Shake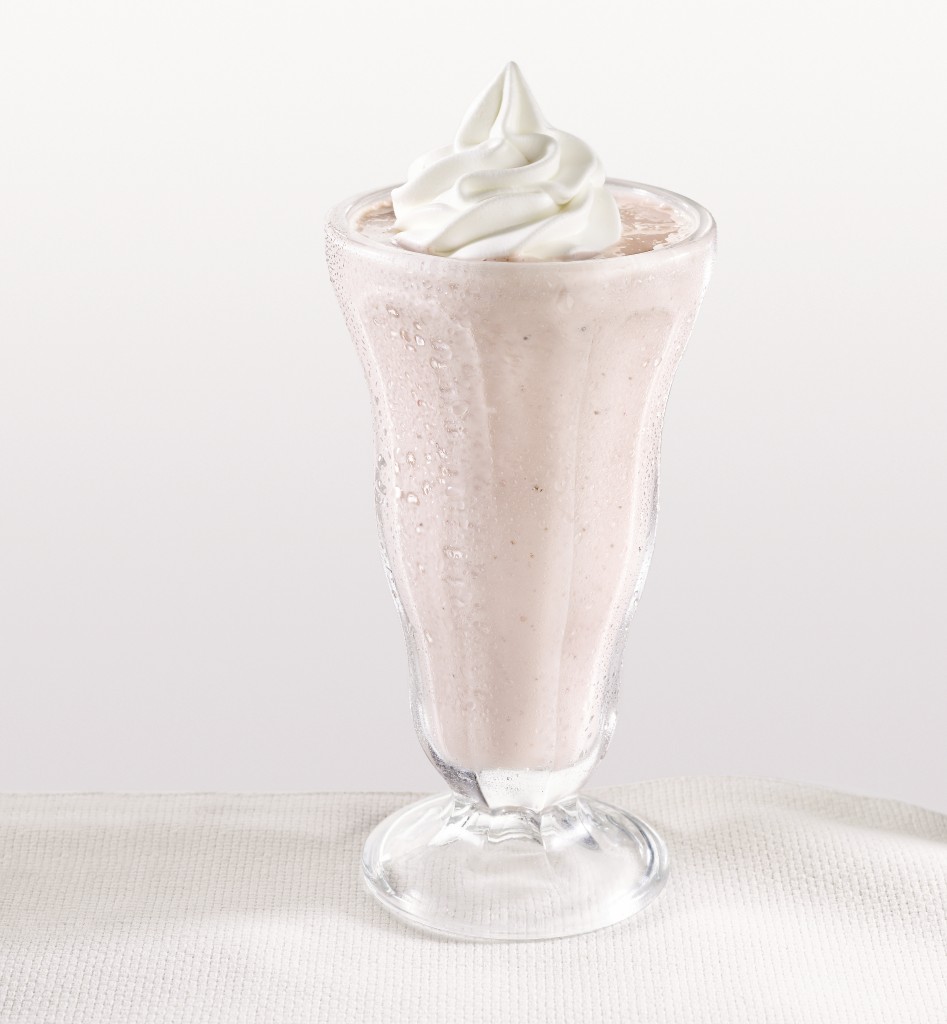 "Thick, creamy hand-dipped milk shake made with vanilla ice cream blended with strawberry topping, cream cheese and real cheesecake. Topped with a dollop of whipped cream."
Cream cheese in a milk shake. Is this okay? I can't tell. I love cream cheese, but I'm not so sure I would appreciate it in a milk shake. I can get behind the cheesecake itself, but cream cheese just sounds wrong. Also, this thing sounds heavy enough that you could order it and skip a cheesy entree altogether.
Strawberry Pancake Puppies with Cream Cheese Icing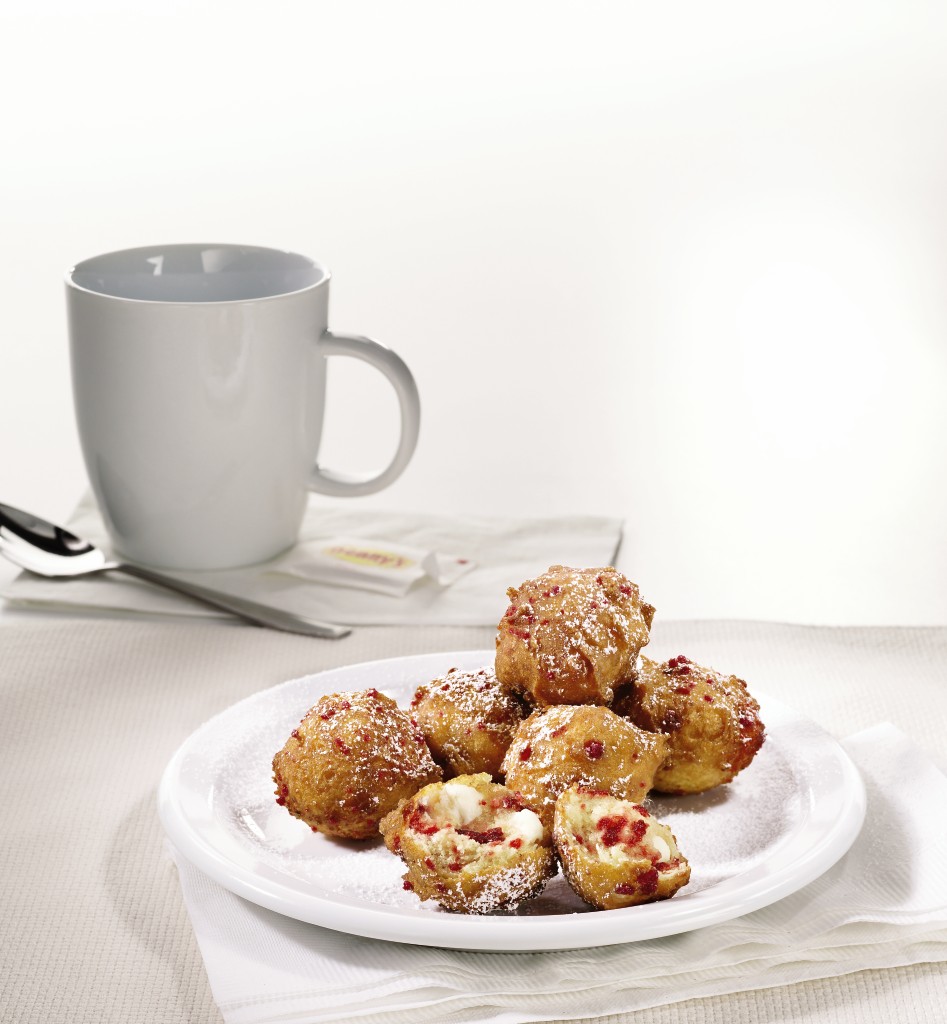 "Six bite-sized round pancakes made with strawberry and white chocolate chips. Sprinkled with powdered sugar and served with a side of cream cheese icing for dipping."
Ow. I think I just got a cavity. While these things sound like sugar overload, I see nothing inherently creepy about them, which is a relief. They actually sound damn tasty, but I could probably only eat one or two before my stomach started protesting. I can't even finish a donut; I don't think I could put down a whole plate of these.
"And if the limited-time menu still doesn't have enough cheese to please you, there's the option to cheese it up even more by adding some extra ooze to any dish for just 69 cents."
"Extra ooze". Not the best phrase I would choose if I were in the marketing business, but after writing this news post, I find it apt. This thing is longer than many of my reviews. I never thought I'd get tired of cheese, but after just writing this review, I feel kind of cheesed-out, and that's no small feat.
What a muenster of a post! You cheddar believe I'm spent. I hope you all have a Gouda day!
Okay there I'm done.
Edit: No, wait, one more thing: why are all the shakers in these pictures empty? Is there a serious salt and pepper shortage that I should be worried about?