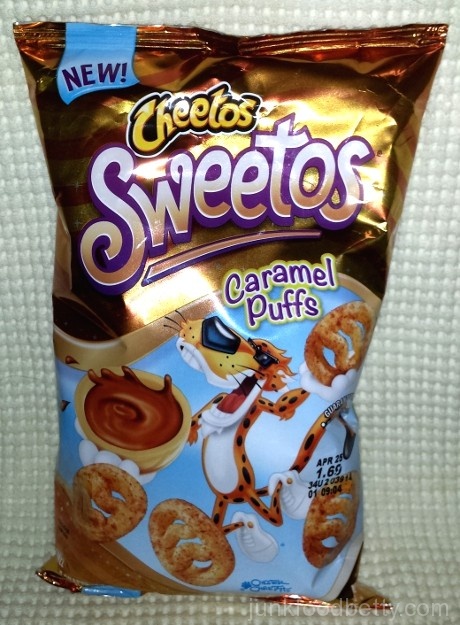 I always love when traditionally savory brands get into the holiday-themed snack game, but man, Cheetos, why did you have to puss out and go sweet on me? I know Frito-Lay has the dark magic ability to make meat-flavored snacks. Couldn't we go ham, as it were? That's an Easter classic!
Okay, sorry to start this review out with a rant. While I didn't get the odd blessing/curse of ham-flavored Cheetos, I did at least get these Cheetos Sweetos. Last year around Easter, Cheetos introduced their first Sweetos flavor, Cinnamon Sugar. Now they're adding Caramel to the line.
Unlike the bag of Cinnamon Sugar Puffs, Cheetos has erased all trace of connections with Easter. Chester is still as maniacally enthusiastic as ever, but gone are the rabbit ears. Now he's crazy for what appears to just be an entire bowl of melted caramel. Cool your heels, bro. That amount of caramel is strictly for making caramel apples for Halloween.
Despite the Easter-scrubbing, for some reason Cheetos decided to keep the Puffs egg-shaped, which seems an odd choice given the lack of bunnies on the package. But at least it makes for a structurally sound Puff.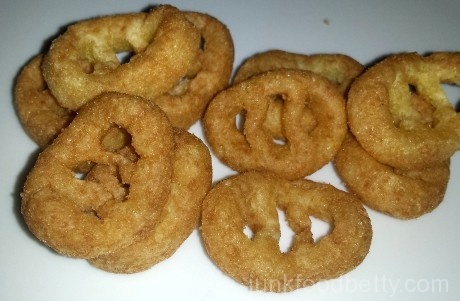 Upon opening the bag of Sweetos, I was struck by the unmistakable smell of Brach's caramel squares. Points to Cheetos for authenticity on that one!
…And, after tasting them, points immediately taken away. Well, let me expound: the Puffs were absolutely true to the smell. Cheetos Sweetos Caramel Puffs have a super authentic caramel taste, and therein lies the problem.
The Cinnamon Sugar Puffs kind of worked because they were evocative of churros, but these just taste like sweet caramel on top of savory corn puff. It's highly disconcerting to both the taste buds and the mouthfeel, because something that tastes exactly like caramel should not have this kind of crunchy and airy texture.
I really thought Cheetos Sweetos Caramel Puffs would just be a sort of "meh" experience, but my mouth has been deeply offended. In fact, now I wish waaaay more that Cheetos had come out with some ham-flavored egg-shaped Puffs. That would be infinitely better than these things. Nailing the caramel flavor turned out to be the actual problem.
Blech, I'm going to go drink some milk now to cleanse my palate. These things stick with you, too.
Oh, and unlike the Cinnamon Sugar Puffs variety, there's no indication on the bag that these are limited edition. So you can not enjoy these all year-round!
Limited Time Cheetos Sweetos Caramel Puffs

Score: 0.5 out of 5 Easter Bunny Chester Cheetahs
Price: $1.39
Size: 2.6 oz. bag
Purchased at: Target
Nutritional Quirk: Contains no actual caramel – just "caramel seasoning" – which makes the authentic taste even more mysterious and, in some ways, insulting?