Amidst all the candy canes and peppermint bark, a surprising new trend has emerged this Christmas as the frontrunner for this season's flavor du jour: hot cocoa. Here are some of the things I've seen new this year that purport to have the flavor of that delicious beverage:
Hubba Bubba Hot Cocoa Bubble Gum
YoCrunch Marshmallow Hot Cocoa Yogurt
Angie's Hot Cocoa Marshmallow Kettle Corn
Herr's Crunchy Cocoa & Marshmallow Corn Snacks
Hot Chocolate M&Ms
Way to buck the trend there at the end going with hot chocolate, M&Ms.
While I'd like to be reviewing some of these items instead of just listing them, I've had a shortage of time and availability. I did manage to review Pizza Hut's Hot Chocolate Brownie over at The Impulsive Buy, however.
When I found these Limited Edition Hot Cocoa Chips Ahoy! Cookies, I was stoked, because I've always liked Chips Ahoy. (I'm dropping the exclamation point from here on out because it just makes things confusing.)
I was even more stoked when I saw the suggestion that I heat for a treat. I've never been explicitly told by a cookie package to warm them up before. Besides, it's cold outside (baby), so I could use a warm, chocolate treat to enjoy along with my vintage icicle Christmas lights.
If you look carefully on the package, these cookies actually have gooey innards that I assumed would melt once heated. I didn't even notice that when I bought them. More anticipation!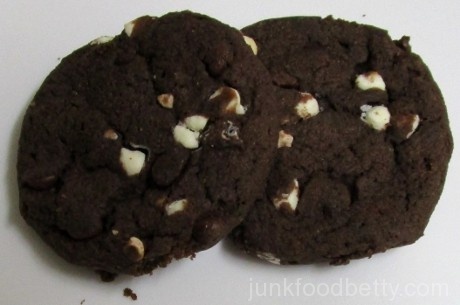 The side of the package instructed me to microwave two cookies on a paper towel for 6-7 seconds on high. Being a good junk food follower, I did just that. My cookies came out barely warm but smelling deliciously chocolately.
But my innards were far from gooey. Ignoring all precautions, I put the next cookies in for a whopping 20 seconds. I watched it from the side of my microwave, half expecting it to explode. It was actually sizzling when I took it out. And yet, pretty much the only thing that hadn't melted was the filling. It did, however, leave an oily spot on the paper towel.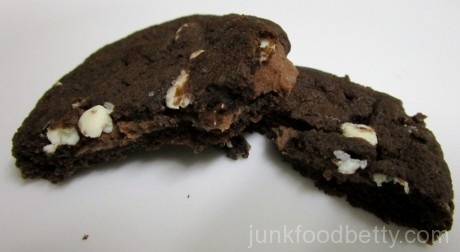 As with many chocolate things that are trying to taste like hot cocoa, these cookies did not taste like hot cocoa. They tasted like chewy chocolate cookies. But there was a distinct marshmallow flavor in there that I think came more from the creamy filling than the little white chips on top.
Hot Cocoa Chips Ahoy Cookies taste just fine straight out of the package, but warming them up goes a long way towards making you believe they actually taste like hot cocoa. While the inside didn't melt even at high temperatures, it added a creamy dimension to the already chewy cookie as well as some marshmallow flavor. I'd recommend 9-10 seconds in the microwave for optimal cookie warmth.
These are a limited edition flavor, so I don't know how long they'll be around, but I suggest picking some up if you see them. I can definitely see munching on these with a mug of real hot cocoa while I open presents on Christmas morning.
Limited Edition Hot Cocoa Chips Ahoy Cookies

Score: 4 out of 5 dangerously sizzling cookies
Price: $2.00
Size: 10 oz.
Purchased at: Fry's Foods
Nutritional Quirk: Contains actual marshmallow! Hooray!