Any Taco Bell employee will tell you that the most difficult part of getting hired on at Taco Bell is learning their bizarre, arbitrary system of weights and measures. A lot of people have a tough time learning that the amount of meat in a Steak Burrito Supreme is a "steak", and that four steaks make a quad*, as seen here. And that doesn't even come close to figuring out how much ground beef goes into a "fraud", or how many jalapenos constitute a "volcano". It's like visiting a foreign country, except everyone speaks English and you can drink the water. So I guess what I'm trying to say is that working at Taco Bell is like going to Canada.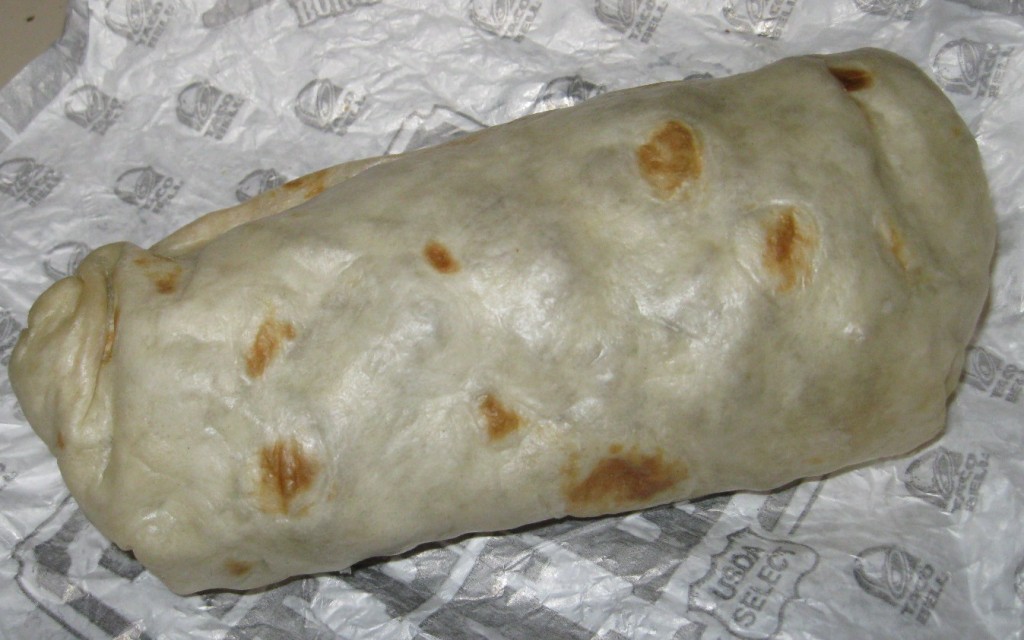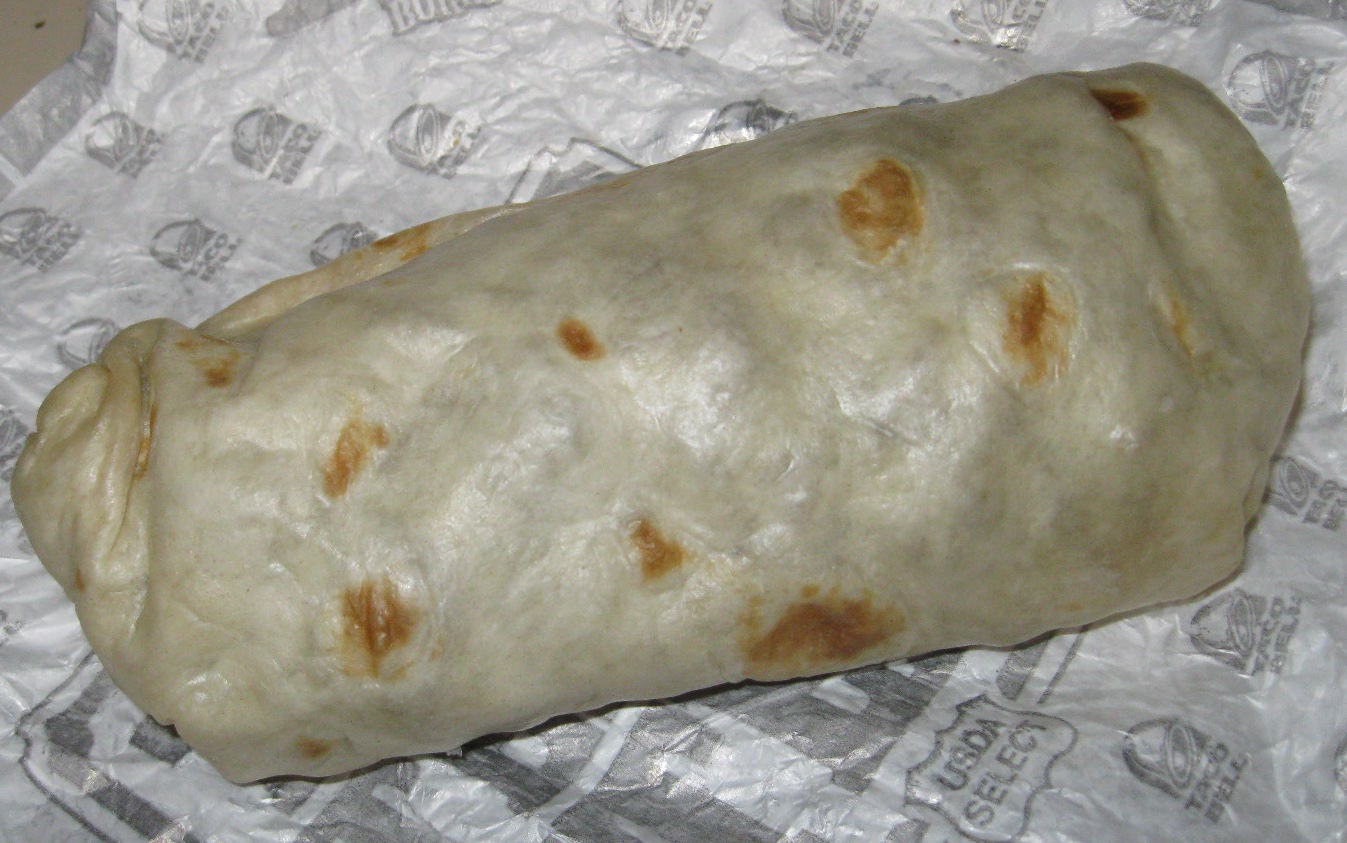 If you're a faithful Junk Food Betty reader or aware of news in any way, you're aware of some recent meat-based controversy surrounding Taco Bell. This was immediately followed by Taco Bell releasing their new, improved steak products, which are advertised as "thicker, tender steak" The timing of this makes me suspicious that this change in product might've been a bit rushed. "LOOK OVER THERE, AMERICA! NEW, IMPROVED STEAK! JUST STOP LOOKING HERE, AT THIS GROUND BEEF". As the flagship item to showcase the new steak, they've launched the Quad* Steak Burrito and Quad* Steak Quesadilla. The Burrito is composed of the new steak, rice, salsa, sour cream (reduced fat for you fat fucks!), and cheddar cheese wrapped in a flour tortilla. It's not an inspiring configuration of ingredients, to be sure, and can even be accused of being boring. However, it does have a lot of steaks going for it.
You may have noticed that this review, and Taco Bell's website, have gotten pretty excited about the use of asterisks. This is to inform you, the consumer, that the Quad* Steak products contain four times the amount of steak as that found in a Steak Burrito Supreme. Except that advertising containing asterisks always makes people think that there's some shady fine print bullshit going on. "What's with the asterisks?" I can hear you thinking. "How many oats and soys are contained in this 'meat'?" But you can rest easy, my suspicious friend. Taco Bell's steak contains no oats, and less than a "kikkoman" worth of soy. There is no legerdemain. Taco Bell just really, really wants you to know precisely how many steaks you're violently cramming into your sauce-stained, gnashing mouth-hole. The answer, by the way, is a quad*.
Upon purchase of the Quad* Steak Burrito, I immediately seized it from the bag and gave it a precise, bouncing heft to determine its girth. Clocking in at a quad* of steaks, I expected the item, about the same size as a Grilled Stuft Burrito, to have the density of a dying star. While not neutronium-heavy, it has a decent mass, similar to a "sob" of onions or a "blush" of beans. Upon tasting, the steak is obviously the star of the show, as the burrito is stuffed to the gills with the stuff. And it's changed, as advertised, into thicker, tender pieces (not they don't use the phrase "more tender", as that would imply it was tender before and I think that's illegal to say). The steak is pretty tender, while still being toothsome, and the pieces do appear bigger. Personally, I felt the flavor suffered quite a bit, likely due to being taken from a different cut of meat. It has a less assertive beef flavor that, while it works alright in this product, may not be able to stand up to some of the stronger ingredients in other preparations. This is disappointing, given my long-standing relationship with the Steak Baja Gordita. I'm sorry, baby. It's not you, it's me. Wait, actually, no. It's you. It's aaallll you.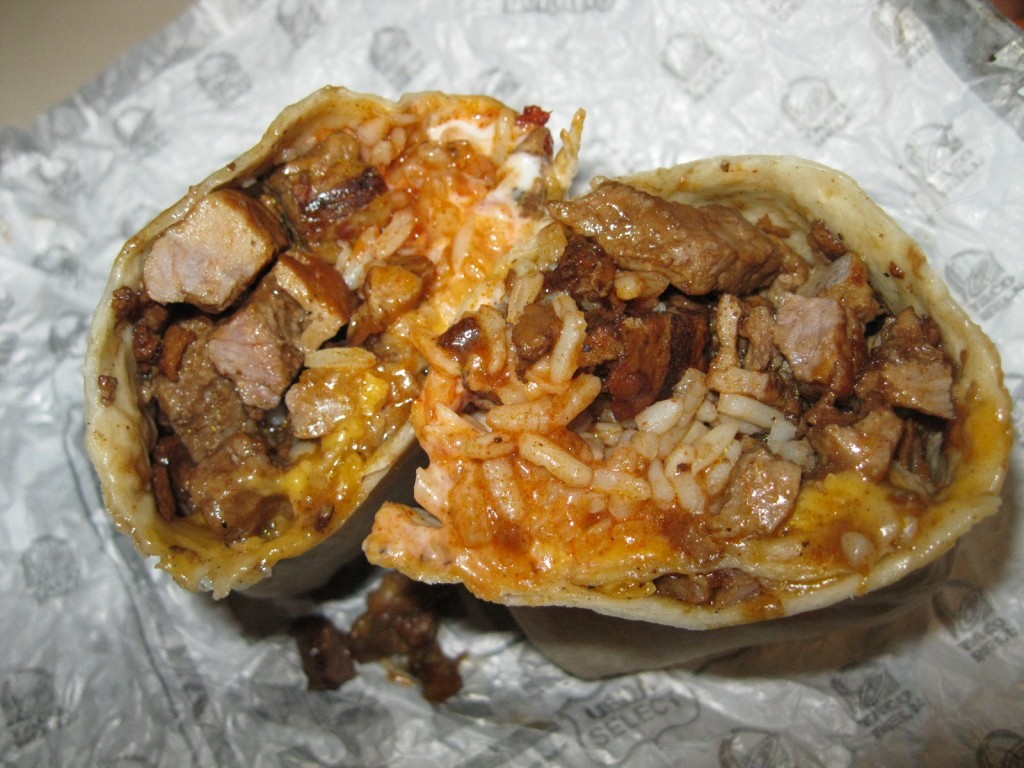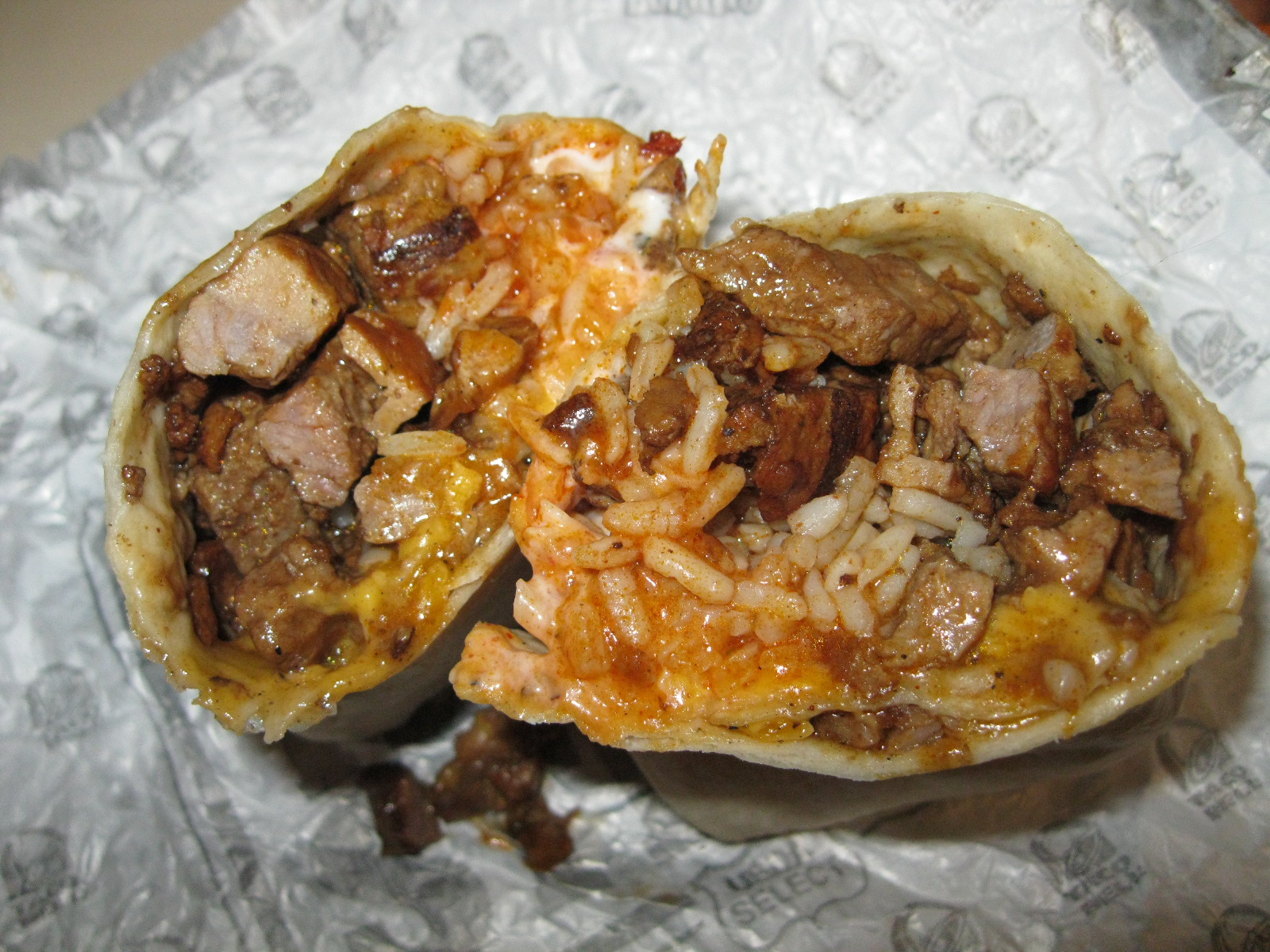 The quesadilla was also sampled by the Junk Food Betty Division of Product Analysis and Unreasonable Judgement. Long story short, it's the burrito with less rice and more cheese., and I'm sure you're blown the Hell away by that. Both are $5 for a quad* of steak, or $4 for a double* of steaks. Given the prices, for $5 I'll ravage their dollar menu or, better yet, head out of Blandsville and over to Chiptole or a local Mexican joint.
Score: 2.5 out of 5 disappointing vacations to Blandsville
Price: $4.99 for Quad* Steak, $3.99 for a double* steak
Size: 1 quad*
Purchased at: Taco Bell #004989
Nutritional Quirks: 26 "bypasses" of fat