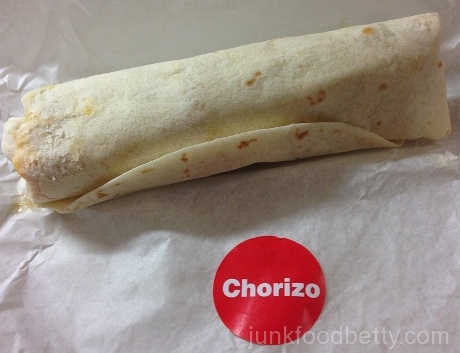 [Please enjoy this guest review from Robert – Not Bob, a valued sometimes-contributor to Junk Food Betty who had the privilege (or curse – read on to determine) of being in a test area for this new product. Thanks, Robert!]
In the five (!) years since Junk Food Betty first graced the information superhighway (Congrats, by the way), I've almost certainly read more about, and spared more thought for, fast food than I probably had in all my previous years combined. That's a bit of a mixed blessing, obviously, but it has amused me, and on occasion, I've even learned a few things.
One of the things I've learned is that the Dallas/Fort Worth, Texas area is a seething hotbed of fast food test-marketing. For that reason, I find myself, once again, submitting a guest review, this time for McDonald's Chorizo Breakfast Burritos. Well, that and the fact that your JFB host isn't one to eat an egg, regardless of how it's gussied up.
For those not in the know, there are actually two very dissimilar food items called "Chorizo". One is a hard, cured European sausage, made from pork and Spanish paprika. The other is a fresh Mexican sausage made of God only knows what.
Chorizo con Huevos, which is Mexican chorizo and eggs, is a breakfast staple of taquerías, and is commonly rolled into burritos or breakfast tacos. However, it's long been conspicuously absent from the fast food breakfast lineup. Even nominally "Mexican" fast food chains like Taco Bell, not one to shy away from mystery meat, has kept it out of their breakfast burrito offerings. I'm guessing that this is because chorizo tends to be spicy, and not spicy in a way that's anything like the pickled jalapeño flavor that pretty much forms the basis of the typical fast food consumer's idea of "spicy". It has a pretty unique taste and texture, and is not very similar at all to familiar breakfast meats like bacon or ham.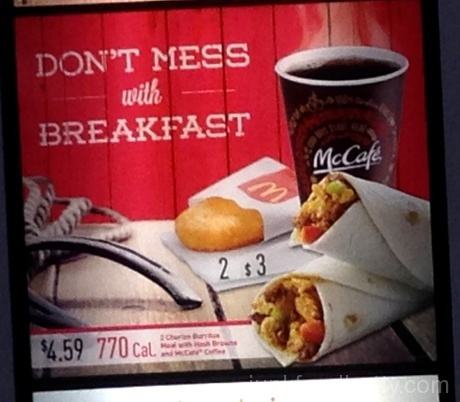 A quick look at the sign advertising the chorizo burritos also confirms that whoever designed it has little familiarity with chorizo. In the burritos pictured you can clearly see chunks of yellow egg and chunks of something red, which is presumably pretending to be the chorizo. As anyone that's had it can attest, that's not the way chorizo and eggs look. When you cook chorizo and eggs together, they basically become one homogenous mass. Perhaps that's another factor that's kept it off most breakfast menus. When Americans look at their meat and eggs, they want to see identifiable meat chunks, rather than a pile of eggs that just look like someone got confused with the dye at Easter.
Let's take a look inside the real burritos.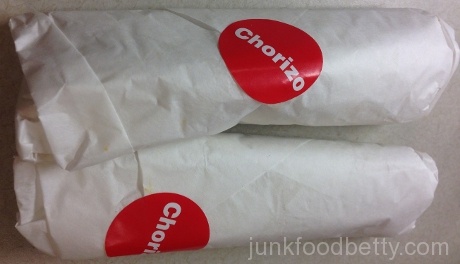 As I had two burritos to work with, I cross-sectioned one, and unrolled about the other.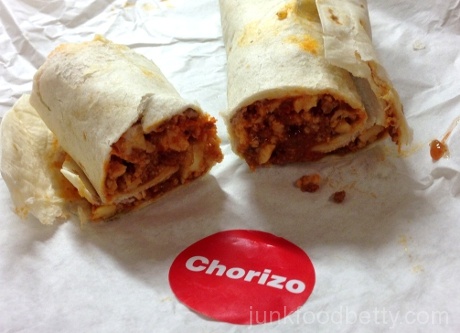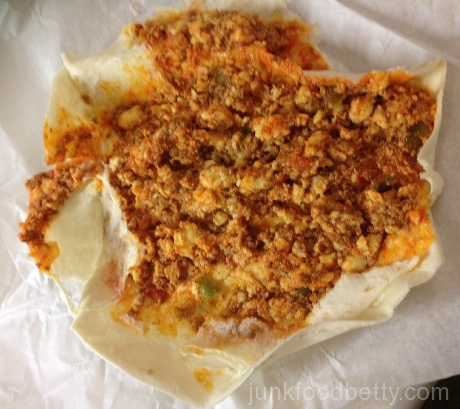 As you can see, these bear little resemblance to what was pictured, but we all know that that's the norm with fast food advertising. Anyway, there's not much to look at here. Chorizo and egg mix, a few red and green pepper bits and a flour tortilla. The strong odor of chorizo seemed pretty promising and, once tasted, I had to admit, these weren't bad at all. The tortillas themselves left a bit to be desired – the ones you get at taquerías tend to be more flavorful and are typically pan fried before use – but the chorizo y huevos inside tasted exactly like it should. And, for two for $3, seems like a pretty decent breakfast deal.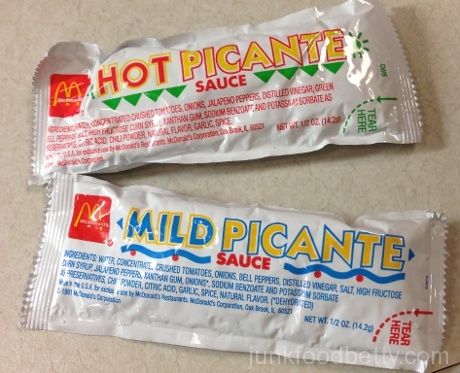 Along with the burritos I received 4 packets of McDonald's Picante Sauce, two mild and two "hot". Do not be tempted to put these on your chorizo burritos. Place them in the nearest trash receptacle. I tasted the "hot" and it was thoroughly vile. Putting ketchup on your chorizo burrito would be unforgivable, but would still be a better choice than McDonald's Picante Sauce. If you do want to put some sauce on your chorizo burritos, that bottle of Tapatío in your file cabinet drawer or those old packets of Taco Bell "Fire Sauce" in your glove box are both much better options.
I do know of at least two taquerías in the path of my morning commute that offer chorizo and egg burritos that are about the same size, and are slightly better, and are slightly cheaper, so I probably wouldn't make McDonald's version a regular purchase. However, if I found myself in a taquerías-free zone (yes, even in Texas that can happen) and wanted a breakfast fix, I could definitely see getting them again.
McDonald's Chorizo Burrito

Score: 4 out of 5 pork salivary glands
Price: $3.00
Size: 2 burritos
Purchased at:McDonald's #35172