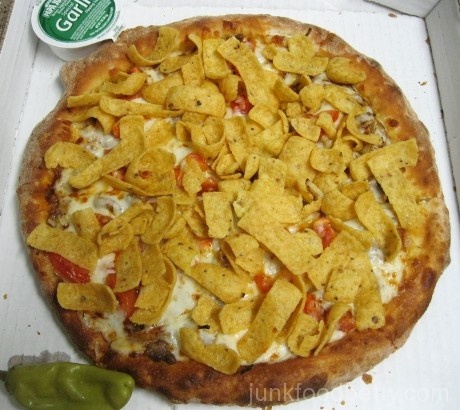 I wasn't aware of the existence of Frito pie until I was an adult. I always considered it somewhat of a Midwestern delicacy, although Wikpedia tells me its influence reaches to the southern and southwestern states.
I always considered this to be somewhat of a simple-minded dish, until I once cooked up a dish of cream cheese, Cincinnati-style chili, and shredded cheese. Dip some Fritos in there and taste the delicious combination of four simple ingredients.
That said, much like many other menu items that now exist in the fast food world, one food does not necessarily translate well into another. Several other restaurants – I'm thinking specifically of Sonic and Taco Bell – have incorporated Fritos into their menus, mostly consisting of "here's a general menu item and then we threw some Fritos on or in it".
…Which is exactly what happened with Papa John's Fritos Chili Pizza. Actually, that's not entirely fair. Papa John's at least tried to stay somewhat true to the spirit of Frito pie – the pizza consists of cheddar cheese, Roma tomatoes, beef and onions, all on a bed of chili sauce. Oh, right, and Fritos. Duh.
Upon bringing Papa John's Fritos Chili Pizza into my home, it was immediately filled with the smell of warm Fritos. I wouldn't want a scented candle of this fragrance, but it was actually quite pleasant.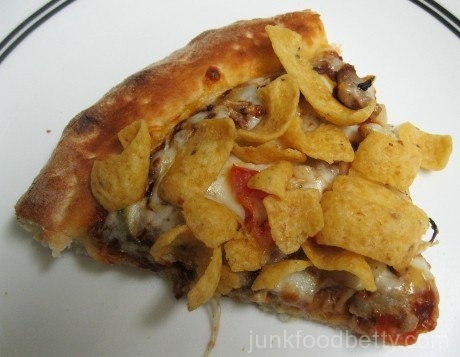 The Fritos were obviously put on after the pizza came out of the oven, as they were not at all soggy and looked fresh out of the bag. There certainly were a lot of them, too – I've never seen any other pizza topping given this much coverage. Of course, you're just chucking a few cents' worth of corn chips on there, so why not?
A disadvantage to having the Fritos applied after cooking was that they didn't have the opportunity to stick to the rest of the toppings, which resulted in a lot of chips flying off the slices as I took them out of the box and again as I bit into them.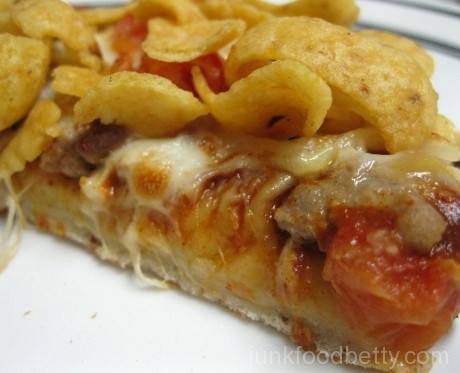 Because of the amount of Fritos and perhaps their strong flavor, a lot of the other toppings got overwhelmed by the chips. The beef seemed barely there, and I only remembered the onions were a topping because they added a different textural crunch than that of the Fritos, which obviously added a lot of crunch. Crunch that didn't really belong with the rest of the pizza. It was too jarring of a contrast.
Of all the toppings, the one that unexpectedly struggled through all the Fritos was the Roma tomatoes. They added a fresh flavor and a slight crunch that helped out the struggling pizza.
Don't think I'm forgetting about the chili sauce. It was actually the shining star of Papa John's Fritos Chili Pizza. It was pretty much everything you'd want to have on a pizza that's trying to represent Frito pie – it tasted a hell of a lot like Cincinnati chili, which is to say, thin, cheap, beanless, but yet somehow delicious.
After the Fritos, it was the first thing I tasted from the pizza, and I was surprised and pleased at the flavor. There wasn't even an overabundance of it, but just the little amount that was there delivered the flavor.
Papa John's Fritos Chili Pizza isn't gross, it's just dumb. Tossing a bunch of chips on top of a cooked pie does not a pizza make. In fact, I wound up taking the Fritos off the rest of my pizza and found it more enjoyable that way – the beef and the onions were able to come through and mix in with the chili sauce, which I really enjoyed.
The flavor and the texture of the Fritos amounted to nothing more than a distraction. They took me out of pizza mode. I just wish Papa John's would make chili sauce an option on their build-your-own pizzas, because it really saved this pizza and I'd love mix it up with some other toppings.
Papa John's Fritos Chili Pizza

Score:2.5 out of 5 Fritos flying everywhere
Price: $12.00
Size: Small
Purchased at: Papa John's #1355
Nutritional Quirk: Fritos.