Something old, something new, something borrowed, something red, white and blue.
…Okay, that was super lame. But it seems thematically appropriate for Taco Bell's new Quesarito and Dr. Pepper Vanilla Float Freeze. I moved a little while back and that really threw off my game, so I'm a little rusty. But I'm back! And here's a double review for you!
Taco Bell Quesarito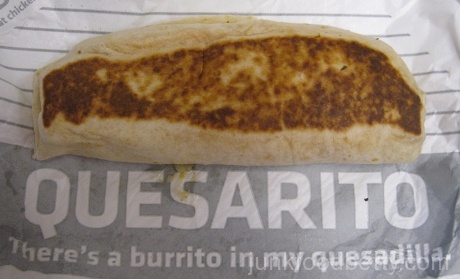 Here we have the something old and something borrowed. I think you can see where this is going. While the Quesarito is a new menu item, it has employed the classic Taco Bell technique of rearranging existing ingredients into a new configuration.
In case you couldn't figure it out from the name or the inside of the wrapper (kudos to Taco Bell for making a unique wrapper for the Quesarito, as a side note), this is a burrito snuggled inside a quesadilla.
In Taco Bell's own words, "The NEW Quesarito is the best of a quesadilla and burrito rolled into one! It's filled with seasoned beef, premium Latin rice, Chipotle sauce, reduced-fat sour cream, and then wrapped up in a grilled quesadilla loaded with melted cheeses."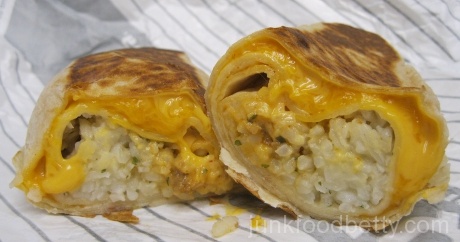 I did not have high hopes for the Quesarito. Upon unwrapping it, I was impressed with the grilling marks. Upon cutting in half, I said to myself, oh hell yes.
Look at those globs of melty, melty cheese. Eating with my eyeballs alone, I was already sold. If that looks like an oozing mass of grease and fat, you're right, and my heart sang at the sight. In a sort of choking, crying voice, but it sang nonetheless. I was expecting a sad, barely-visible layer of cheese hidden between two layers of too much tortilla, but I was so glad to be wrong.
There was another thing that there was also a hell of a lot of too – the Latin rice. In one of those classic cases of "who the hell made this?", there was rice throughout, but all the ground beef was in one half and all the sour cream was in the other. In fact, by pure coincidence, the lines were drawn pretty much exactly down the line where I cut it for the picture.
The rice actually had a bit of flavor to it – it seemed to be the same rice as their Cantina rice, which has hints of lime and cilantro.
But, seriously, how hard is it to evenly distribute the meat and sour cream?
What was evenly distributed was the Chipotle sauce, and for once, there was an actual hint of chipotle flavor there, nice and smoky. Holy shit. It also had a nice kick, and they didn't skimp on it. This paired great with the sour cream and with the gooey cheese. I'd actually like to see this as a sauce packet option in the future. I would put it on pretty much any Taco Bell item.
I want to give high praises to the Quesarito, in spite of the bizarre ingredient distribution, if just because of the surprising amount of cheese and the Chipotle sauce. However, soon after I got this Quesarito, I went and got another one, and on that one the cheese layer was almost non-existent, which really diminished the experience. So I have to knock it down a notch because, depending on who prepares your Quesarito, it's either going to be solid or it's going to be disappointing. It's all about the queso.
Taco Bell Dr. Pepper Vanilla Float Freeze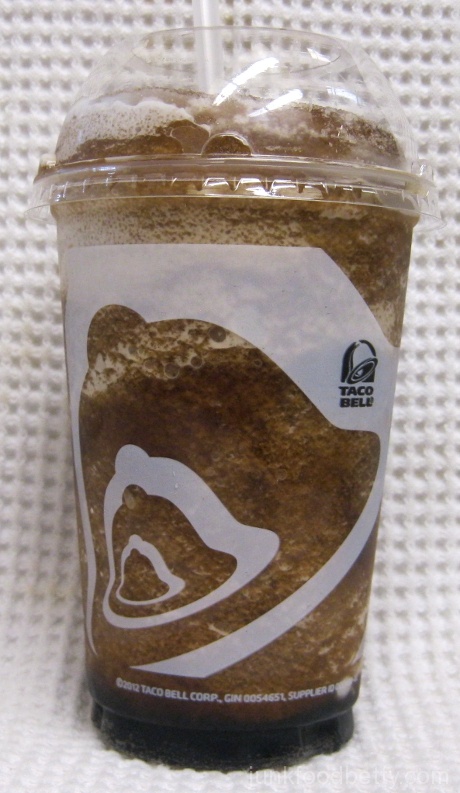 Here we have something new and something red, white and blue. The second part of that sentence may be confusing until you realize that Dr. Pepper Vanilla Float came out in grocery stores first, and their packaging looks like everything Americana threw up all over it.
Taco Bell took that drink and turned it into a freeze. If you ask me, this was a great idea; the soda itself is already designed to taste float-like, so freezing it should just add to that experience.
The original Dr. Pepper taste was a little toned down, allowing the vanilla taste to come through. I found the vanilla flavoring to be somewhat less artificial-tasting than some other vanilla-spiked sodas I've tried. Maybe it was the unique flavor of Dr. Pepper when combined with the vanilla, but I was impressed. This paragraph is dying for a synonym for vanilla.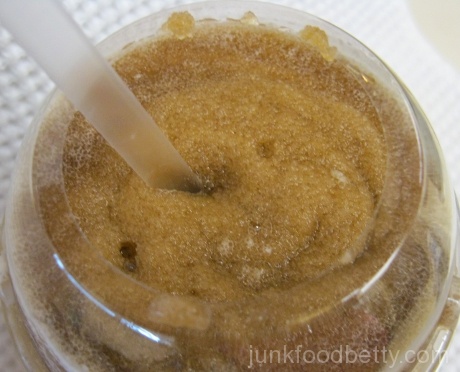 As for the float part, I really could taste a bit of floatiness coming through in the soda. Maybe it was the slushy-freeze element that helped that along, but there was a distinct creaminess to it that went beyond just vanilla flavoring. Maybe that's why I felt it stood apart from the plethora of vanilla sodas already on store shelves.
Nothing is going to replace an actual ice cream float, but Taco Bell's Dr. Pepper Vanilla Float Freeze is a pretty good substitute, especially if you like soda slushies. This is probably my favorite "commercial" vanilla soda creation I've had in a long time. Bald eagle stars and stripes fireworks Uncle Sam.
Taco Bell Quesarito

Score: 4 out of 5 oozing cheese blobs
Price: $1.99
Size: 1 Quesarito
Purchased at: Taco Bell #029492
Nutritional Quirk: I'm betting the amount of cheese you get in your Quesarito will vary the calories by like, 500 either way.
Taco Bell Dr. Pepper Vanilla Float Freeze

Score: 4.5 out of 5 "is there another word for vanilla?"
Price: $1.00 ("Happy Hour" price)
Size: Regular
Purchased at: Taco Bell #029492
Nutritional Quirk: A lot less calories and fat than a real ice cream float!