There was a time when Jones Soda was synonymous with weird food. Oh, sure, they were also one of the only current soda companies using pure cane sugar instead of high fructose corn syrup before it was cool to do so, but when I think Jones Soda, I think weird. And not just because of their Bacon Soda. Okay, a large part of it is because of Bacon Soda. But it goes back farther than that.
Sit down, kids, because I have a story to tell.
The year was 2004. Junk Food Betty was not even a gleam in my eye, but my heart already belonged to weird foods. It didn't take any amount of effort to learn about Jones Soda's Holiday Pack – it was all over the news and the Internet. Despite my crushing desire to try these sodas, which were Turkey & Gravy, Green Bean Casserole, Mashed Potato, Cranberry and Fruitcake, they were sold out immediately, and all I could do was read about them and sigh.
They did it again the next year, with some variations that were equally disgusting, but I was also not privy to that. There were a few more limited edition packs, the aforementioned Bacon Soda debacle, and a random Tofurkey & Gravy Soda year, but other than that, they've mostly stuck to Limited Edition Halloween flavors that are generally pedestrian or repeated over the years.
And then, out of nowhere – Limited Edition Peanut Butter and Jelly. I have many questions, like "Why now? And why not bring back those amazing Thanksgiving sets?" But really, I'm just giving thanks that Jones Soda is still keeping it weird, if only for a brief amount of time.
Here's the description from Jones' website: "PB&J…. The Jones Way! We took the popular kids sandwich and blended it up for our latest Limited Edition. Enjoy the flavor of Grape Jelly and peanut butter (and sleep well knowing we didn't use any actual Peanuts or come in contact with peanut materials). This Limited Edition tastes great, whether for Kids who enjoy Peanut Butter and Jelly sandwiches, or adults reminiscing of their childhood."
As someone with the mildest peanut allergy possible, I wouldn't lose any sleep over the inclusion of real peanuts, although I would be more intrigued if they were included. I'm assuming actual grape jelly was also not used, but apparently Jones doesn't care enough about people with life-threatening grape jelly allergies to mention that.
My mind was torn as to whether or not to pre-judge this soda as disgusting. On the one hand, peanut butter and jelly already has a sweet quality to it, and grape soda isn't that bad. So there was a chance that it wouldn't be that bad…right?
But on the other hand, it's peanut butter and jelly soda. So things could, indeed, go very badly.
The label itself is both simple and adorable. The peanut butter side (chunky style, by all appearances, which is a bit unsettling when you're about to be drinking the soda version of it) and the jelly side, moments before joining together in joyous edible copulation. I'm not making this sound any more appealing.
At least the color of the soda leans towards the jelly portion, a deep purple that suggests grape soda innocence. I appreciate that they didn't go with the unhealthy-poop brown color of peanut butter. Small favors.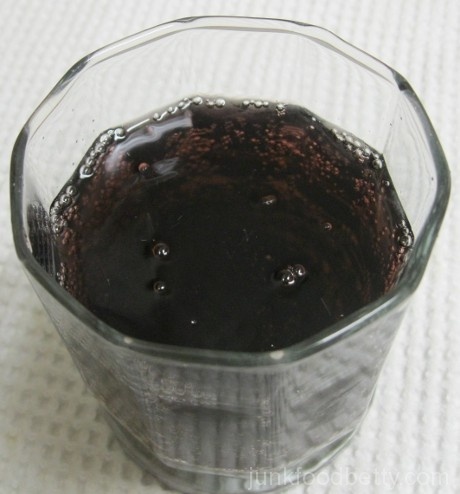 Man, I wish I'd saved a dinosaur Welch's jelly glass from my childhood, just for this occasion. Google it if you don't know what the hell I'm blathering about.
I should really learn to stop smelling potentially-gross things before I taste them, but I can't seem to help it. What my nostrils grabbed here was the unmistakable scent of grape jelly. Not grape soda. Grape motherfucking jelly.
And then I had to go and put it in my mouth, because I decided to start a website where I do that and then write about it.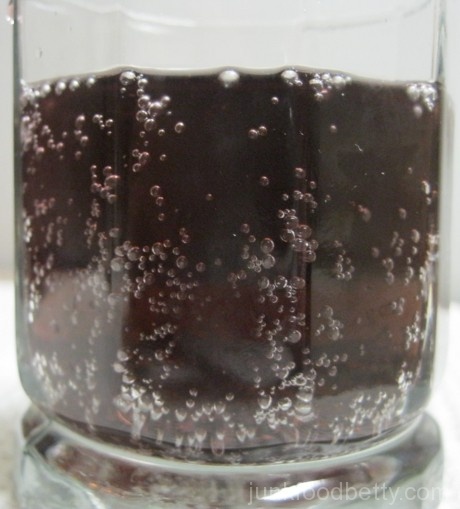 Oh my god, immediately came the peanut butter. It was there, and it was fucking letting you know it. There was a moment when it first hit my tongue where I was fooled into thinking, "oh, this is very grape soda-ish", and then BAM! Peanut butter takes over. Unmistakeable. My mouth was flooded with peanut butter, and then, after I swallowed, I got a grape jelly exhale out my nose. Oh my god, why is this happening.
And the peanut butter stuck around, too, just like real peanut butter sticking to your mouth. It doesn't go away. It just clings to my taste buds, tormenting me long after I decided that three gulps was more than enough to really establish the flavor of this soda for review purposes.
Oh my gosh, it's so bad, it won't go away, even as I write this and have already put the glass down, far away from me. It's not like good peanut butter, either. It's like that super cheap peanut butter you find in off-brand Halloween candies shaped like dismembered body parts.
The jelly part tasted like melted jelly, which is bad. Why is this so bad? That shouldn't be so bad, right? And yet, it is. I am actually making a sad face as I type this. It's involuntary. My mouth is sending sad signals to my brain, probably wondering what it did to deserve this. I'm sorry, mouth. I'm so sorry. It was wrong of me to do this and you didn't deserve it.
I really didn't expect Jones Peanut Butter and Jelly Soda to be this bad, but it is, it's so bad. I mean, I guess if you're like, super into peanut butter and jelly, it might not be horrible, but Jones took two flavors that are so right for each other and turned them into an abomination. And then they added carbonated water.
I thought this might turn out okay, but I was very wrong. My forehead hurts from furrowing my brow. I am not aging gracefully. Thanks, Jones Soda.
Jones Limited Edition Peanut Butter and Jelly Soda

Score: 0.5 out of 5 "I guess if I only exhale the grape jelly it's better"s
Price: $1.49
Size: 12 oz. bottle
Purchased at: Cost Plus World Market
Nutritional Quirk: It's been made very clear that this soda contains no peanuts but it won't leave my mouth whyyyyy