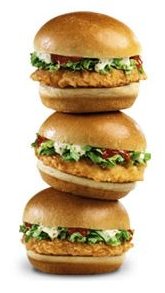 Amongst the junk mail that arrived in my mailbox recently was a coupon for buy one order, get one free for Jack in the Box's Mini Buffalo Ranch Chicken Sandwiches.  Free, you say?  Buffalo sauce and ranch, you say?  Don't mind if I do, Jack.
I'm glad I hadn't seen the commercial for these sandwiches, because if I had, I might have thought differently.  You can view it on YouTube here.  The song alone is supremely annoying, even compared to your average commercial jingle.  I mean, it's no freecreditreport.com, but I still wanted to strangle the woman singing it.  Lucky for her, I was soon distracted by the image of Jack dancing with cowboy midgets.  Just to reiterate that point, the Jack in the Box ball-head guy was dancing with some midgets dressed up as cowboys.
I've been on the Internet long enough to know where this is headed.
Before my brain starts melting out of my ears from thinking about that for too long, let's move on to the sandwiches. One order contains three sandwiches, because, as the name of the sandwich proclaims, they are miniature.  This is not the first time Jack in the Box has gone tiny-sized – they also have Mini Sirloin Burgers.  Their commercial, my research shows, also contains midget cowboys, but we're just going to leave that one alone.
I have a beef, pardon the pun, with the recent trend of fast food restaurants miniaturizing their burgers.  You can call them mini burgers, you can call them "Burger Shots" like Burger King does, but let's face it – they're Sliders.  Or Slyders, or whatever the hell.  White Castle introduced Slyders over 70 years ago, and for a long time, that was the only small hamburger most people knew about.  I live on the west coast, so I've never been to a White Castle, but I know people on the east coast, who say that you go to White Castle a.) because you are drunk and crave bad, greasy food, or b.) because you are hungover and crave bad, greasy food.  From what I have been told, there are usually regrets later on in the day.
It seems like recently, Slyders have become popular amongst the hip crowd.  Much like how it's now cool to buy a shirt that looks like it's already seen 100 wash cycles, it is now cool to eat the cheap, greasy burger of the proletariat.  Other fast food chains have noticed this, and probably thought, "Hey!  We can make small burgers, too!  Look at us, hipster college kids, we have Slid- I mean, mini burgers!"  I'm surprised they aren't rushing out to get licensed to sell beer so that they can make a Pabst Blue Ribbon/mini burger combo meal.  Their stores would be flooded with moppy-headed guys wearing girl jeans.
So I suppose you could sum up my problem with the influx of mini burgers by imagining an old woman shouting at the kids to get off my lawn.  I guess I'm just too old to appreciate national chains pandering to the trends of a younger generation, and I don't see the point in eating a bunch of smaller burgers when one larger burger would suffice.
But what about the food?  The wha?  Ohhh, the food!  Right.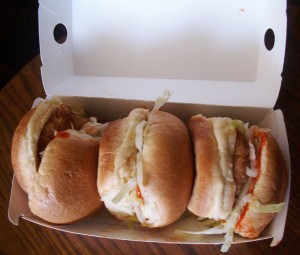 Well, they don't exactly look like the fluffy little guys in Jack in the Box's official picture up at the top there, but that's pretty much to be expected.  Let's check out the innards.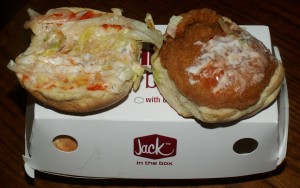 I see chicken, red sauce, and white stuff, so that's promising, right?  The lettuce looks a little sad and sparse, which is confirmed upon taking a bite.  I was hoping the lettuce would produce a nice, crunchy foil to the texture of the chicken and the softness of the bun, but that didn't really happen.  The chicken is acceptable; it sort of falls in the middle of the spectrum between the disturbing flavor of a chicken nugget and an authentic, breaded chicken breast.
The sauces are what I was hoping would be the real stars of the show.  The buffalo sauce is actually Frank's RedHot, which calls itself a hot cayenne pepper sauce, but does taste almost exactly like buffalo sauce.  I definitely got a hint of it as I ate the sandwich – I would have preferred a stronger presence, but I'm a saucemonger, and I'm assuming Jack's testing determined that most people don't want a wave of buffalo sauce flooding their mouth upon every bite.  The ranch manages to be even more elusive.  For those who know nothing about American bar food, ranch is traditionally served with buffalo wings, as a dip, to foil the heat of the sauce, which is why ranch is such a natural addition to this sandwich.  I can detect a hint of tangy ranch flavor, but it gets a little overwhelmed by the flavors of the buffalo sauce and the chicken.  They probably could have gotten away with omitting the ranch altogether, seeing as how there's not really enough buffalo sauce to require something to quench the heat, but the occasional tang is a nice little addition.
I could only put down two of the three sandwiches, but I have the small appetite of a dainty, proper lady, so three is probably just the right number for most people.  Overall, I was underwhelmed, but at the same time, hadn't really expected to be blown away in the first place.  The chicken is decent, the lettuce is sad, and the sauces are subtle, but present.  An average sandwich from a national fast food chain – what more can you expect?  If you're in a hurry and crave a little buffalo, then give them a try – at least until a regular-sized version comes out, in which case, fuck mini sandwiches.  Also keep in mind that they work out to over a buck a sandwich, and you can get a larger chicken sandwich for less off the value menu.   If you've got a little time on your hands, this would be a pretty easy sandwich to assemble at home, and it would probably be a lot more flavorful.
Score: 2.5 out of 5 hamburgers for the sandwich; 4 out of 5 Internet horrors for the commercial
Price: $3.89
Size: 3 mini sandwiches
Purchased at: Jack in the Box
Nutritional Quirks: Nothing too quirky here; just as unhealthy as you would expect a fast food chicken sandwich to be.