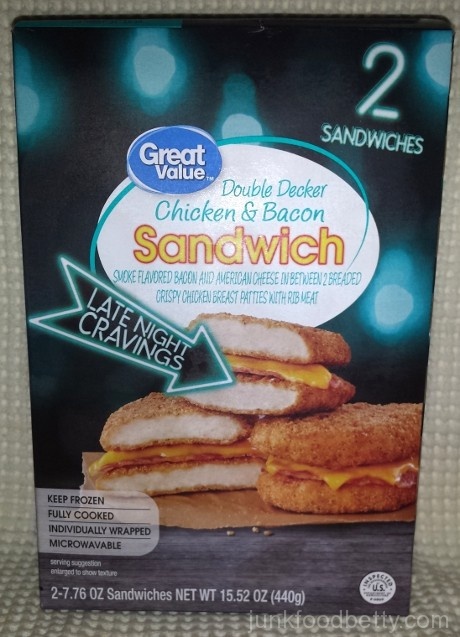 As we all know, there are times when life will kick you in the balls. I mean really just get in there hard, like your dick reverberates and even your taint feels it. That's how nard-kicking works, right?
It is at these times that you think this pain will never end, and there is no joy in the world. Well, dear reader, I want you to remember when you feel this way that there was a time, a time when you were a part of this universe, that Walmart sold a KFC Double Down Sandwich knockoff under their most generic of brands, Great Value.
I want you to always keep this information with you and call upon it in times of sorrow. This is a real thing that happened, while you were alive. And I ate it. My gift to you.
And look at that box design. "Late Night Cravings" and the overall design seem to invoke Jack in the Box's Munchie Meals, but ALSO completely plagiarizes an old line of Doritos Late Night flavors that included Tacos at Midnight, Last Call Jalapeño Popper and All Nighter Cheeseburger, the latter of which I reviewed waaaay back in the day.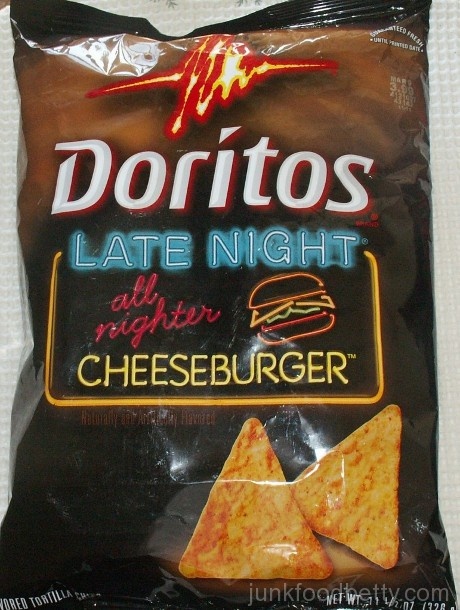 Psh, what was I thinking? Totally different.
Anyways, everything about this item thrills and horrifies me. The idea of someone mimicking the Double Down in frozen form seems clever and almost inevitable, but for Great Value to be the ones to do it? Great Value?! The mind boggles. And with zero fanfare whatsoever. In this zeitgeist of food as clickbait, Walmart just quietly put their Late Night Cravings line on shelves and walked away.
Oh yeah, there's more of these fuckers. Can you say Donut Cheeseburger? Great Value can. I can't even remember if my Walmart stocked those or if I only had eyes for the generic Double Down. Or maybe my brain couldn't handle the idea of eating a Great Value Donut Cheeseburger. I took the lesser of two evils…maybe?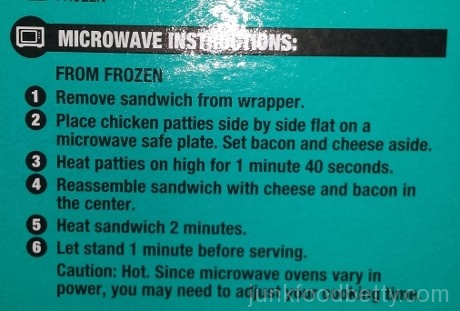 Since this whole line is obviously aimed at stoners and/or drunks, just like Munchie Meals, there are only microwave instructions for it. What surprised me, however, was that there were steps. C'mon, guys, who has time for steps? This is (generic) Hot Pocket-level food and should have been designed to be cooked accordingly.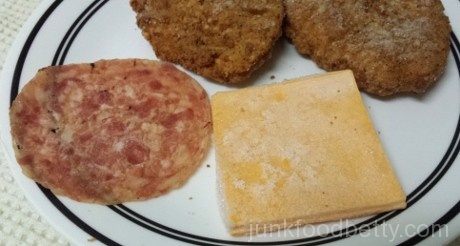 This did, however, give me a chance to inspect the ingredients of this sandwich. The chicken patties looked fairly okay even frozen, but can we talk about this "bacon", please? What the fuck is this? The cheese just looked like a bunch of Kraft American squares frozen together, but in what world is this weird, thin, floppy meat-disc bacon? It is not. Much like this generic sandwich, it is generic meat. I'd be more frightened, but it's so thin that I feel like it can't do too much harm.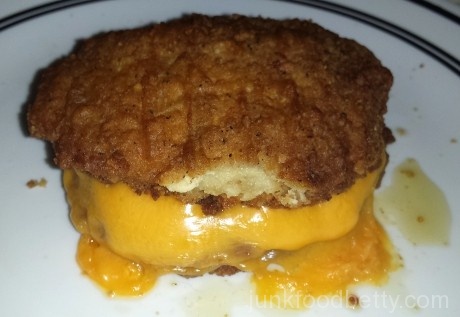 Not off to a great start in the looks department.
When I took the chicken out to assemble and finish cooking it, it was kind of soggy, which gave me worry. However, more cook time and a little bit of time to cool down make the chicken…buns firm up nicely. The breading was only crispy around the edges but it did have a little bit of flavor to it, which was more than I was expecting. What I was expecting was horror, obviously.
The quality of the chicken was about on par with name-brand frozen nuggets, which was also more than I was expecting. Somewhat rubbery with a couple of disturbing bits of gristle. At least the meat wasn't grey, right guys!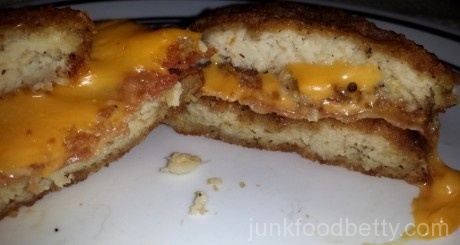 The cheese tasted simultaneously like plastic and nothing, which was right on par. It added a little bit of greasy lube into the mix, if that helps things. I guess it helped things? I'm eating a Walmart Double Down; I'm not sure anything I say is to be trusted at this point.
Floppy meat-disc did exactly what I wanted it to, which was nothing. Well, actually, it did add some artificial smoke flavor, which helped to make things a little more flavorful. But any texture this thin little meat thing would have added completely disappeared between two large hunks of chicken.
The Great Value Double Decker Chicken & Floppy Meat-Disc Sandwich does have one thing going for it, which is that it is quite filling. Each chicken bun has definite heft, and when you squish them together and add cheese, this is no snack – it's a full-on meal.
Oh, there's another thing it has going for it: like the Colonel, Great Value also has 11 secret herbs and spices, except the secret is that all of them are fucking salt. Two salty chickens, one disc of what might just be pure salt with Liquid Smoke added, and I'm pretty sure they salted the cheese, too. I love salt more than the next person, but this thing had me downing a good 50 ounces of water and coming back for more. Check the nutritional quirks below to see just how much salt.
Things could have gone so, so much worse with Great Value Double Decker Chicken & Bacon Sandwich. I wouldn't trust my ass with Great Value toilet paper, so trusting my mouth with this imitation Double Down was a real risk. In the end, it just wound up being a hefty salt bomb. Nothing too scary (as long as you didn't look at the bacon), but nothing particularly flavorful, either.
I will say this, though: hours later, it was still sitting in my stomach as a ball of unrest, judging me for the lifestyle choices that have led me to this point. Or maybe I was just so, so full of water.
Great Value Double Decker Chicken & Bacon Sandwich
Score: 0.5 out of 5 floppy meat-discs
Price: $2.98
Size: 2 sandwiches
Purchased at: Walmart
Nutritional Quirk: Get ready for 2,090 milligrams of sodium in your mouth from one sandwich. A real KFC Double Down had 1,380 mg and the Internet was losing its shit about how much salt it contained. At least you won at one thing, Great Value.