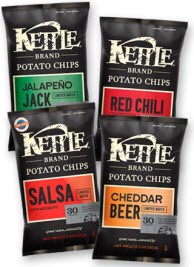 Happy 30th Birthday, Kettle Potato Chips! I realize I'm a little late. Consider this your belated birthday card. Pretend it says something "funny" about me being old and forgetful. Preferably with the word "fart" involved, because that's comedy gold in the world of greeting cards.
But this is not about me. This is about Kettle. You can read a little bit about the history of the company here, but here are the salient points: busted-up van selling chips and a picture of six people that shows definitive proof that Kettle Chips did, indeed, start in 1982.
Seriously, go look at that picture. We've got two guys wearing all white, one that looks like a professor of Sociology who has experimented liberally with LSD while the other is rocking a badass 'stache and probably drove a sweet '78 Camero with an extensive Zepplin cassette library in the center console.
The lone female in this picture looks like she's wearing a stylish cowgirl shirt. She probably makes a mean pot of chili. She's sitting comfortably close to a man wearing a knit cap before knit caps were cool and sporting an impressive beard. The familiarity of the two in the photo suggests they're a couple; he probably chops his own wood and shoots deer for food, not sport. Maybe he even mined for gold before mining for gold was the subject of 700 different Discovery Channel reality shows.
In the middle we have the very picture of early 1980′s youth – a magnificent mane, moppy and tow-headed, a wide smile on his face conveying optimism and a healthy work ethic. He appears to be wearing a rubber apron, which means he either shucks oysters after school to help out his family or they make him do all the chip frying because he's the low man on the kettle totem pole. If he played his cards right, he is probably very rich now.
Last but not least, we have Cool 80′s Dude. Everything about him, from that haircut to that stylish jersey shirt to that smug smile says, "Hey ladies." More interested in chasing tail than making chips, he was probably in charge of standing outside the van, flashing those pearly whites and using his obvious charisma to draw in sales.
I also hope their van had a kickass mural of a barbarian dude in a loincloth standing in front of a volcano, sword held high in the air, while two scantily-clad ladies cling to his massive, muscular thighs. The other side has a wizard summoning lightning from the sky while a unicorn rears up in glory.
In reality, the van probably just had a bunch of chipped avocado-colored paint and maybe the words "Kettle Chips" crookedly stenciled on the side in spray paint.
Enough picking the low-hanging fruit of mocking the way people looked in 1982. I'm lucky Kettle blessed me with that photograph, because their packaging is severely lacking in ridiculousness to make fun of. It's clean, it's simple, it's classy, and it's the same format for all four flavors. Kudos for that, Kettle, even though I'd have had more to work with if there was a panda doing an ollie over your logo or something. That's okay; we've got a lot of chips to check out, here.
A little blurb from Kettle:
There's a reason why timeless classics never go out of style, and why we'll forever covet dad's vintage cars and grandma's pearls. We're bringing back four of our favorite retired flavors to celebrate turning the big 3-0 this year: Red Chili, Jalapeño Jack, Salsa with Mesquite and Cheddar Beer. Our four limited edition flavors celebrate 30 years of what Kettle Brand® does best: coming up with innovative flavors and making great tasting products, naturally.
Well, these flavors must have gone at least a little out of style, considering they were all discontinued. And I'm not even gonna touch that "grandma's pearls" comment. Let's just look at the chips.
Kettle Brand Potato Chips Red Chili Limited Batch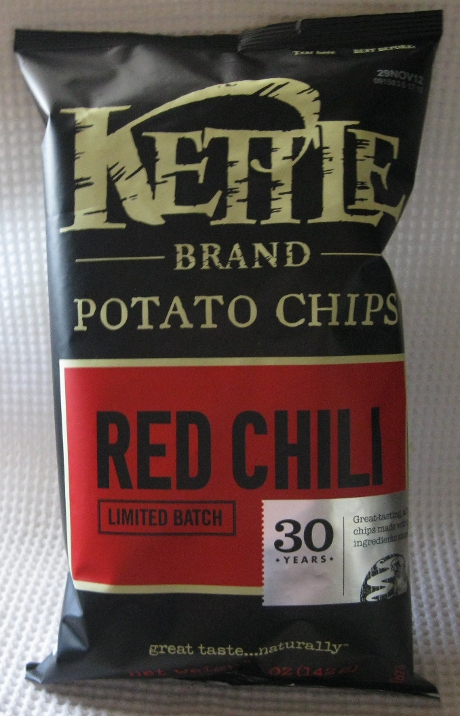 Kettle says:
Hold on to your time machine, because it's a blast from the past with this sweet and spicy flavor classic. Red Chili was our very first flavor produced in 1982, after Sea Salt, and marries the flavor of sriracha sauce with a sprinkle of cayenne pepper for a searing chili sensation that leaves just the right amount of heat on the tip of your tongue. We're sure this Kettle Brand® flavor favorite will set off a symphony of fireworks in your mouth.
I love that Red Chili was the second Kettle Brand flavor ever created. Most companies would go for salt and vinegar, or maybe cheese, but not Kettle Brand. Red Chili! With sriracha, no less! I've seen sriracha rise in popularity in recent years, even inspiring a popcorn collaboration with The Oatmeal. I guess you know you've arrived on the Internet when you get your own food product. Junk Food Betty Smothered Meat Patties, anyone?
Anyways, there was no Internet to go insane about foods in 1982, so I count Kettle using sriracha as an ingredient in their chips to be way ahead of the curve. Feel free to say something like "I was eating chips with sriracha before sriracha was cool" if you actually ate these Red Chili chips back in the day.
While there's not much to say about the nicely-designed front of the packaging of these 30th birthday chips, each bag has a cute little blurb on the back that I'd feel remiss if I didn't include them.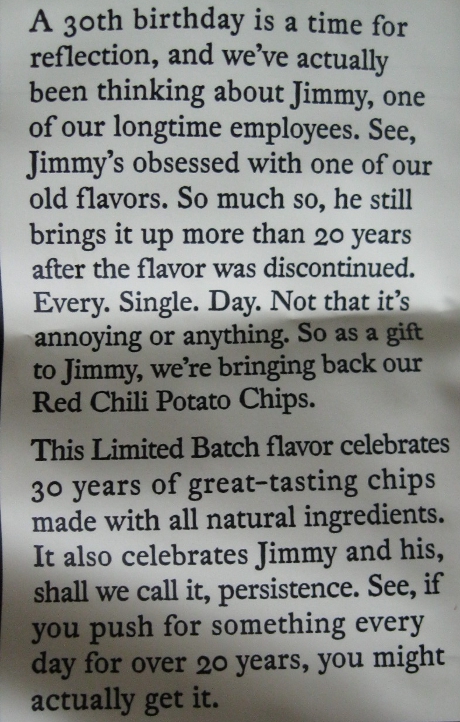 You go, Jimmy. You're an inspiration to us all.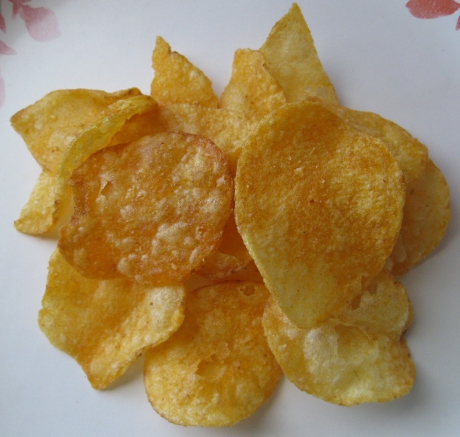 I tried the chips before I read Kettle's description of Red Chili, and while I guess my palate isn't refined enough to have immediately identified the sriracha, once I knew it was there, it explained how nicely Kettle Brand managed to capture the flavor of chilis.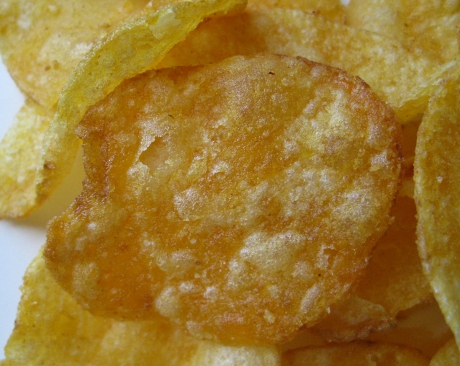 I've eaten a lot of "chili" chips in my day, and Kettle Brand Red Chili was among the best, in my opinion. Instead of just being generically spicy, there was the actual flavor of chili, not just the heat. In fact, the flavor came through even before the heat, which built nicely but didn't overwhelm. I'm glad they didn't actually "sear", as Kettle's description says.
I really was impressed by these chips, and am sad that they are a limited edition flavor. Perhaps someone will start an Internet petition and bring them back! Internet petitions always work, right? JIMMY, GET ON IT!
Kettle Brand Potato Chips Jalapeño Jack Limited Batch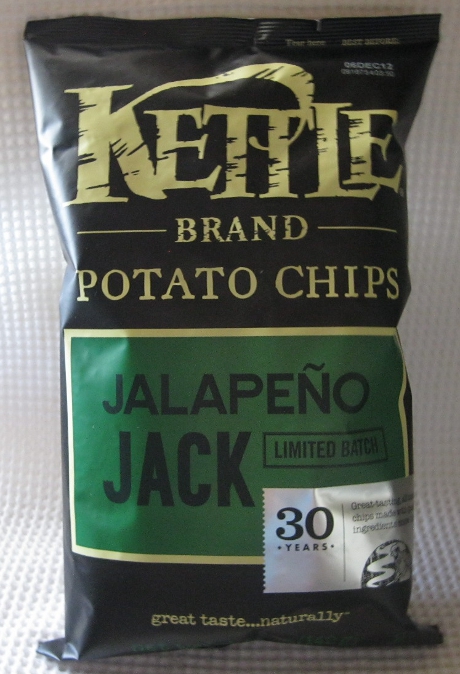 From Kettle:
Who needs the cheese slice when you have this Southwestern cheesy blend on a crunchy, perfectly cooked chip? The second oldest flavor in the collection, this 1989 classic has the same creamy flavor as Jack cheese but packs a fiery punch with peppercorns and jalapeño pepper that you can actually see.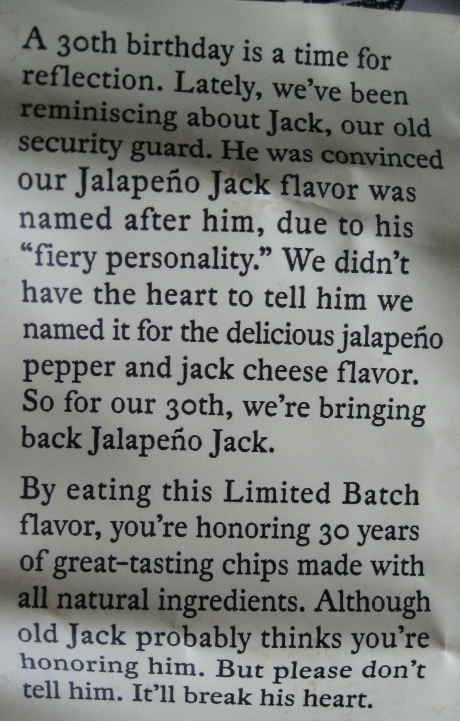 Jack is obviously an egomaniac, but I feel I've learned so much about him in these two little paragraphs that I really don't have the heart to tell him that his name is also a cheese. He also must not know much about cheese.
I came into Kettle Brand's Jalapeño Jack with the feeling that I'd be tasting something I'd tasted a hundred times before: spice + cheese. Woohoo. Furthermore, we're talking about Jack cheese, which has a mild taste that most chips render invisible by overpowering it with spice, or add a cheese flavor that doesn't taste anything like actual Jack cheese.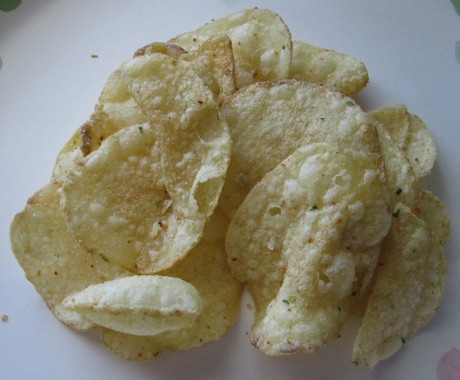 Without trying to sound overdramatic, this was possibly the first time I have ever actually tasted Jack flavor on a chip that claimed to have Jack flavor. I don't know what kind of dark magic Kettle used to achieve this, but it was wonderful to taste.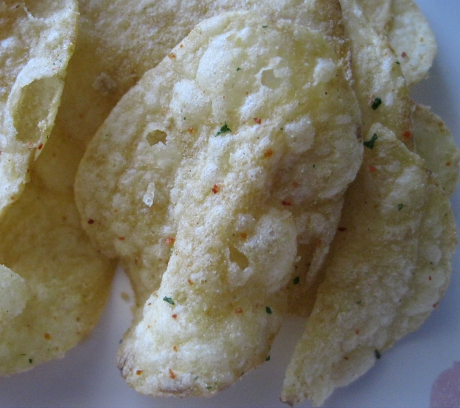 This feat is even more impressive when you consider that Jack's companion is jalapeño. Kettle taught jalapeño some manners – it politely let the flavor of Jack go first, and then came in soon afterwards to compliment it instead of overwhelming it. There was just the right amount of heat. I wouldn't go so far as to never buy jalapeño jack cheese ever again – I could give about a dozen answers to the question "who needs the cheese slice" that Kettle imposed – but these were some damn hell good chips. I found myself wishing once again that these weren't a limited edition flavor.
Kettle Brand Potato Chips Salsa with Mesquite Limited Batch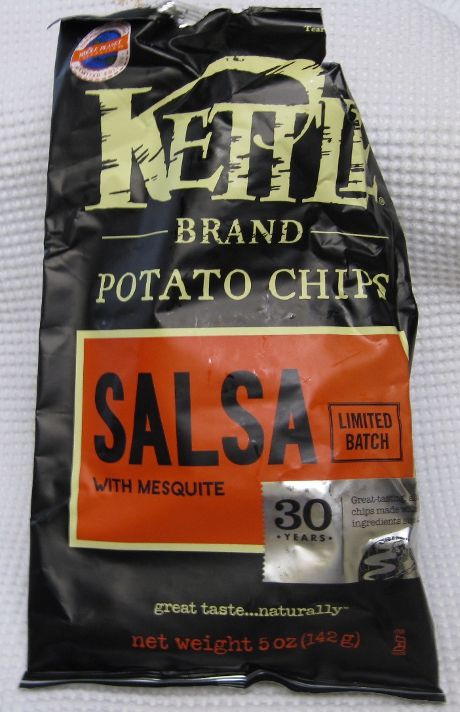 From Kettle:
We all know the chip is a vehicle for party dip, but our Salsa with Mesquite cuts out the middle man for a smoky-sweet salsa everyone can agree on! No chunks in this one-just the unmatched flavor combination of sweet tomatoes and bell pepper, with a sneaky and sultry mesquite smokiness. Launched in 1999, our fans have been pining for this zesty dip-on-chip ever since.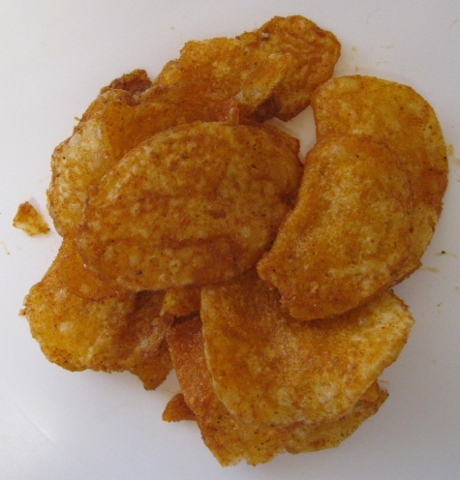 Much like with pepper jack cheese, I think we all know that a salsa-flavored chip could never replace actual chips and salsa. However, Kettle Brand does their best, and they do a pretty good job. I could definitely taste the tomato and onion flavors, and there was a bit of zip without really being spicy, which I guess I could attribute to the bell pepper.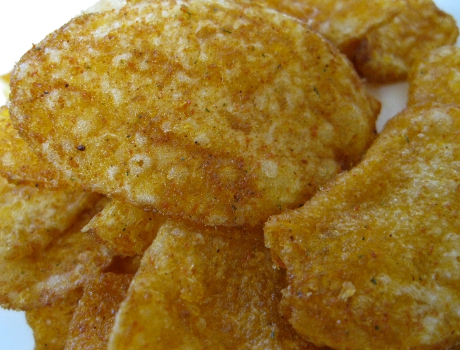 The mesquite flavor was a subtle finish. I wouldn't exactly call it "sultry" – in fact, please kick me if I ever describe a chip as "sultry" – but it was a nice touch.
Salsa with Mesquite is a solid chip, but I didn't exactly find anything surprising or groundbreaking about it. The taste delivered, but there's a lot of other chips out there with similar flavor profiles.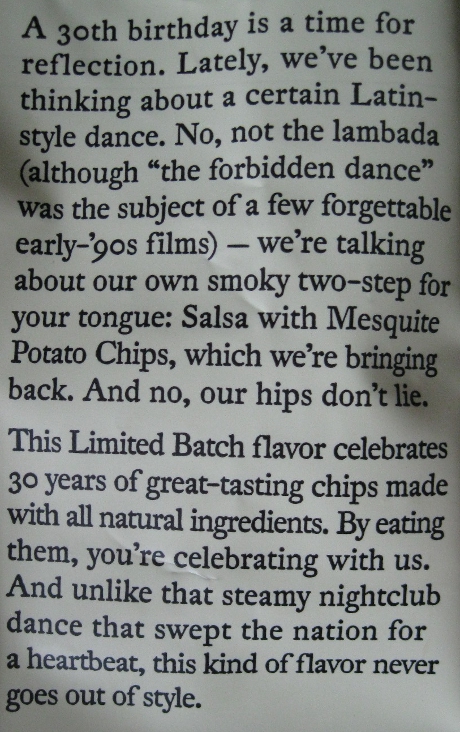 I could go without hearing the phrase "smoky two-step for your tongue" ever again. And the hips reference just made me cringe. I'd prefer to hear more about Jimmy and Jack.
Kettle Brand Potato Chips Cheddar Beer Limited Batch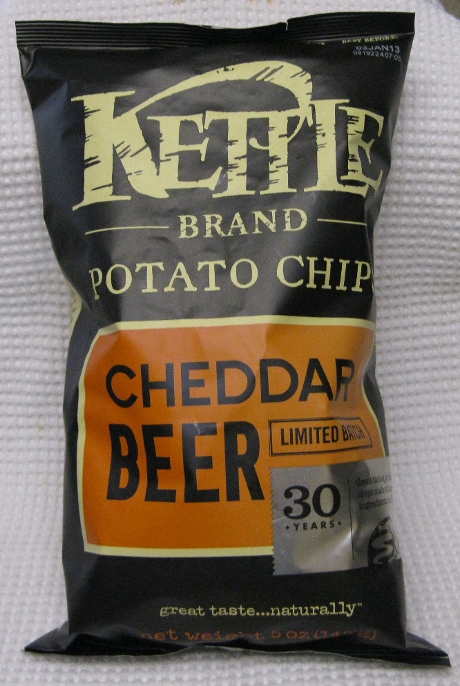 Go Kettle:
Who can resist the hearty flavors of the Midwest? Robust and malty beer notes are layered on this chip with extra sharp and tangy cheese for a perfect balance that goes down smooth. Smooth as a beer we think, but we'll let you decide. And we have to tip our hats to the fans on this one, who chose this flavor during our first People's Choice vote in 2005.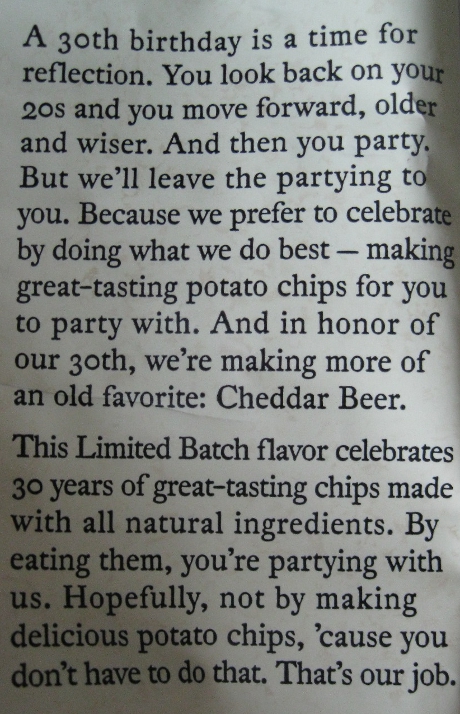 I love that Kettle chose to use the word "partying" when they obviously mean "getting super drunk off of kegstands, hitting on your best friend's girlfriend, and then puking over the banister". We all know what you mean, Kettle. And I wouldn't worry about the chips part – I don't think anyone considers making potato chips "partying". Then again, people build boats inside bottles for fun, so.
There's a reason you shouldn't let people on the Internet decide what flavor your next chip offering is going to be, and Cheddar Beer is a good example. I'm sure people saw "beer" and went "FUCK YEAH BEER CHIPS!"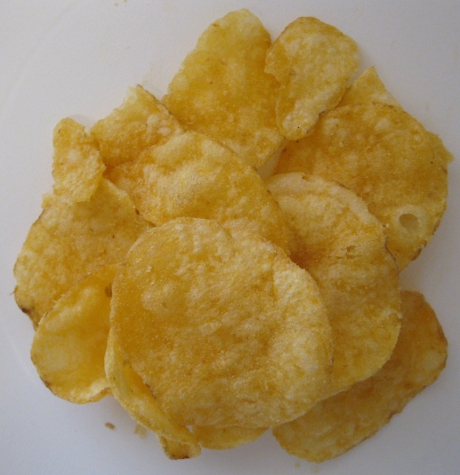 There's also a good reason these were discontinued, presumably not long after 2005. The chips started out with a pleasant although mild cheese flavor that would have made for a perfectly acceptable chip.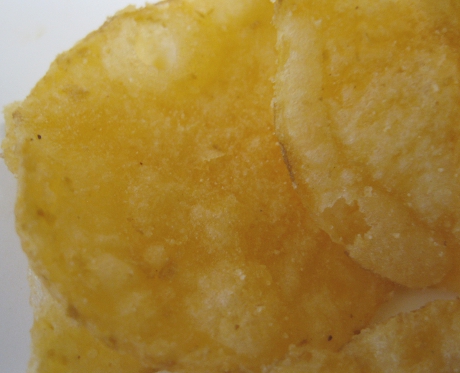 However, the cheese flavor soon gives way to an odd, bitter taste, that only resembles beer if you've been drinking some very crappy beer. I guess that keeps with the spirit of "partying", since frat parties aren't exactly stocked with the finest beers from the local microbrewery.
The bitterness stays long after the cheddar has disappeared, along with another, more subtle flavor, which I will blindly attribute to the ingredient "tortula yeast", which makes me think "tortuga yeast", which seems bad in any situation.
Kettle Brand Cheddar Beer Chips have at least taught me one thing, and that is that you should not make beer-flavored chips. This is one flavor I'd like to see kept retired.
All in all, I like that Kettle Brand Chips decided to trot out some old-timey flavors to celebrate their 30th birthday. It's a fine gimmick, the bag design is well-executed, and I love all the little blurbs on the back that tell a little story about the flavors. It makes me feel like Kettle is still being run by six people in a shitty van and not some giant, faceless mega-corporation. Whether or not this is true, I don't care. I had fun eating them, writing about them, and taking 700 pictures of them.
Kettle Brand Potato Chips 30th Birthday Limited Batch Red Chili, Jalapeño Jack, Salsa with Mesquite and Cheddar Beer

Score (Red Chili): 4.5 out of 5 "I knew sriracha before sriracha was cool" old hipsters
Score (Jalapeño Jack): 5 out of 5 egomaniacal security guards
Score (Salsa with Mesquite): 4 out of 5 unwanted honest hips
Score (Cheddar Beer): 2.5 out of 5  puking frat boys
Price: $14.99 (before shipping)
Size: 5 5 oz. bags (including Sea Salt; not pictured)
Purchased at: Kettle Brand's website
Nutritional Quirks: Sriracha! Yay! Tortuga yeast. Boo.