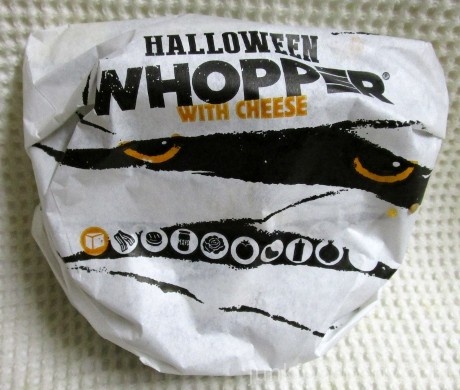 Burger King, YOU ARE THE BEST.
This is a sentence I have never said before, and possibly will never say again. Burger King has been soooo boring for years now, minus their Chicken Fries (which I inexplicably like) and their recent Red Velvet Oreo Shake (notable only for the amount of people who said "I thought I was going to die" after drinking it).
But for the next month, Burger King has won my heart. And all it took was some food coloring and a new wrapper.
In case you haven't been following along, Halloween is my favorite holiday. And I happen to like junk food. So my demand for Halloween-themed food has always been high. For the most part, however, fast food keeps out of the Halloween biz, minus the occasional pumpkin pie milkshake or whatever.
The one exception was Taco Bell's Black Jack Taco, released way back in 2009. And even then, they pretty much refused to associate it with Halloween, even though it was so obviously a Halloween taco.
Burger King isn't trying to be sneaky with this one. They've embraced the darkness, literally, with their A.1. Halloween Whopper. Which they also call the HA.1.loween Whopper, a much more creative name that they seem to have stepped away from, possibly because nobody could pronounce it.
Look at that packaging. LOOK AT IT. It's a burger wrapper made to look like mummy wrappings. Such a simple design, but so effective at making my heart explode with joy. You can tell the employees were instructed to wrap the Whoppers just so, so that you could see the mummy's eyes staring out at you at just the right angle. I want to buy a bunch of them and use them as window decorations instead of store-bought clings.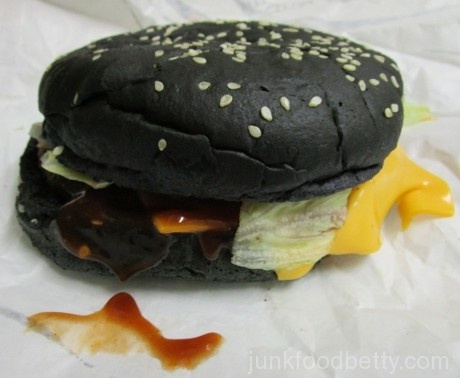 Of course, the real draw here is the burger itself. Look at that burger. LOOK AT IT. I'd seen a million pictures of the HA.1.loween Whopper online, but nothing quite prepares you for having it right in front of you, knowing that you're going to be putting that evil darkness into your own mouth.
As a fun aside, I asked for apple slices instead of fries with my burger and the person thought I wanted the apple slices on the burger. I hurriedly assured her that I did not. But it does prove that at Burger King, they really will make it your way.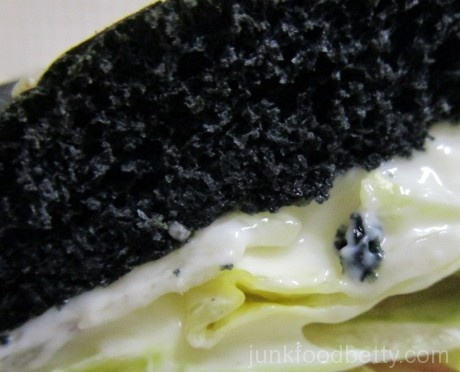 They claim that A.1. Sauce is baked right into the bun, but I took several bites of the bun alone and if there was any taste at all, it was merely the ghost of A.1. It tasted a little bitter to me, but I couldn't tell if that was real or if it was because I was eating black bread.
Speaking of what's in the bun, here's a highlight reel from the laundry list of ingredients: FD&C Red #40, FD&C Blue #1, Raisin Juice Concentrate, Worcerstershire Sauce, and FD&C Yellow #6. You know what's not listed? A.1. Sauce.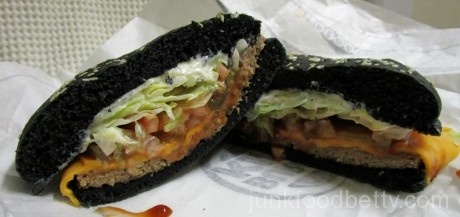 As for the burger…I mean, do you really care about the rest of the burger? It's a goddamn Whopper with A.1. Sauce on it. I guess the most interesting part was that they claim to use the Thick and Hearty version, but the sauce on the burger was anything but. In fact, the whole thing was messy as fuck, and it seemed like the Thin and Regular A.1. mixed with the mayo, resulting in watered-down flavor.
But at least as the mixed-up condiments ran down my hands, they looked kind of like blood. This is the kind of Halloweeny thinking you've got tap into to get that holiday spirit going while you eat a black burger in a mummy wrapper.
Oh, and the black bun had one last parting gift: I checked my mouth in the mirror right after eating the HA.1.loween Whopper, and my tongue was bright blue! I mean bright blue. Neon.

Actually, it might have one more parting gift – one similar to the Red Velvet Oreo Shake. But after looking at the bun and reading the list of food colorings in it, I'm prepared to not freak out if my Whopper says its final goodbye in a neon-colored way.
Burger King A.1. Halloween Whopper (aka HA.1.loween Whopper)

Score: 4 out of 5 neon blue tongues
Price: $4.99
Size: 1 burger
Purchased at: Burger King #17145
Nutritional Quirk:

In case I wasn't clear in the last paragraph, my poop might be neon blue. Just saying.