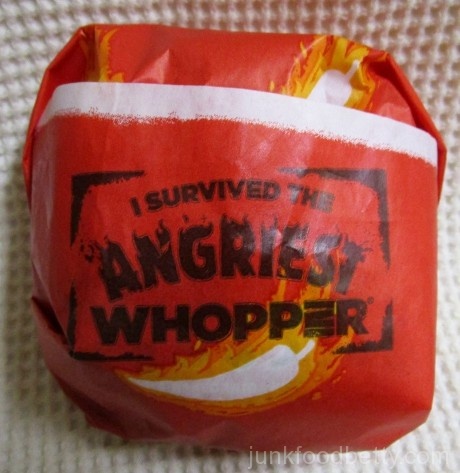 I remember trying the original Angry Whopper back in (what Wikipedia tells me was) 2008. This was before I had a website where I could share my views on fast food with the world, but that didn't stop my husband and I from reviewing it with each other, and the general consensus was "unimpressed".
We also pondered why the Whopper was angry, and was the whole burger angry? I declared that I would be disappointed if every ingredient wasn't angry. I want my iceberg lettuce angry, dammit. This conversation went on for several minutes. We have fun.
Now, eight years later, Burger King is at it again with its Angriest Whopper Sandwich. I feel like we skipped a rung. Where was the Angrier Whopper? I also feel like they've marketed themselves into a corner. If this is the angriest a Whopper can possibly get, and it's not spicy as hell, I guess we'll all just have to give up and go home.
That wrapper is making a lot of assumptions about a.) the current status of my health and b.) how impressed I'm going to be with the Angriest Whopper. Also, what am I supposed to do, pin my sauce-stained wrapper to my shirt as a badge of pride? Show it to all my friends?
Oh, I know what I'm supposed to do: post it to Instagram, where nobody can care, and without looking you in your pride-filled eyes.
Here's how Burger King describes the burger: "The Angriest WHOPPER® sandwich consists of savory flame-grilled beef, piled high with thick-cut bacon, American cheese, iceberg lettuce, tomatoes, angry onion petals, jalapeños, creamy mayonnaise and spicy angry sauce all layered between a red bun that has hot sauced baked in."
That's right, "hot sauced". Apparently Burger King was so busy dyeing their buns a violent shade of red that they forgot to hire a copy editor.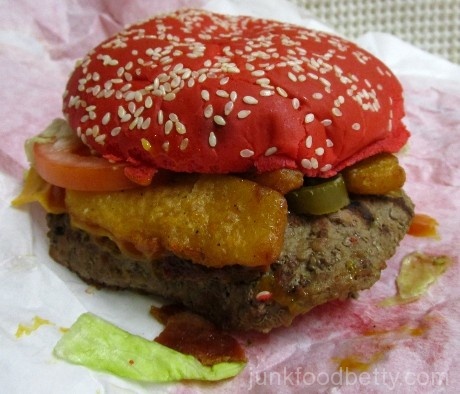 Here we see the Angriest Whopper in all its unnatural glory. The angry onion petals and jalapeños are readily apparent, which is nice.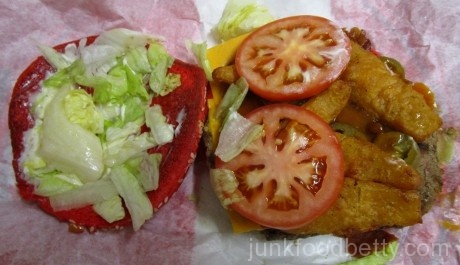 Here we see Burger King's notoriously shitty iceberg lettuce. I can actually see some green in there, which is a marked improvement from the usual BK sandwich. Also, good angry petal coverage, confusing tomato slice placement.
Of course, I had to try the bun on its own, to see if I could really taste any hot sauce(d). As it turns out, I actually could! It didn't have a distinct hot sauce(d) flavor, but there was definitely some spice in there. Color me impressed. Also, color my poop red. More on that later.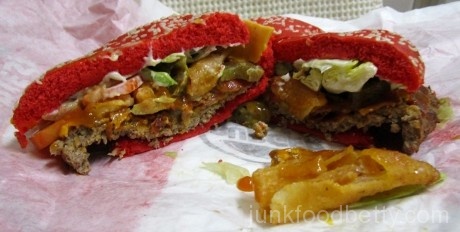 My Angriest Whopper got very angry when I cut it in half. Things were sliding out everywhere. There were casualties. However, this gave me the opportunity to try the angry onion petals by themselves, one of the few unique ingredients on this burger.
They did indeed taste spicy, but I couldn't tell if that was the petals themselves or the fact that they were already covered in angry sauce. Predictably, they were also very soggy, which is disappointing since they could have added a nice crunch.
Which brings us to the other unique ingredient, the angry sauce. There certainly was a lot of it, and it was pretty spicy, but there were several things that bothered me about it. First of all, it was also sweet. And it was more of a glaze than a sauce – it had the consistency and appearance of sweet and sour sauce.
The sweetness in the sauce really bothered me. There's no sweet in angry! There was a real opportunity to make a snot-inducing habanero sauce or something similar. I did get some sniffles, but that was about it.
As for the other ingredients: the bacon was crispy but not really necessary. The lettuce and mayo completely disappeared and were also unnecessary. The tomatoes were actually juicy and added a nice cooling factor. The jalapeños were your typical pickled variety and added to the heat.
And the cheese. The cheese! One pathetic slice of American?! Even the original Angry Whopper had pepper jack! American is a step down in angry level. It also added nothing of value to the burger.
Overall, Burger King's Angriest Whopper Sandwich was a messy disappointment. There was too much crammed into the burger, the cheese was lame, and the fact that the sauce was sweet really did make me angry.
Was it spicy? Yes, the copious amounts of sauce and the jalapeños did make for a pretty high level of heat for a fast food burger. But the sauce pretty much dominated everything. And it was sweet. Did I mention that?
I wish I could have tasted if the angry onion petals were actually angry or not. I'd like to see them as a side dish menu option as an alternative to onion rings. I would definitely order those with a side of ranch.
It was hard to tell if the hot sauced bun added any heat to the burger, but that brings me to an important Public Service Announcement:
Burger King seems to have a propensity for adding food coloring to their menu items that make the end result at best interesting and at worst, alarming. Yes, I am talking about your poopies. The Halloween Burger turned people's feces neon green, and the Red Velvet Oreo Shake sent some people running to their doctors, alarmed that they had a sudden case of "I am hemorrhaging blood out of my ass".
Given that nature doesn't make fire truck-red hamburger buns, I am expecting similar…results after having eaten the Angriest Whopper Sandwich. I'm not above resorting to poop humor in my reviews, but I'm including this in all seriousness in case someone eats this burger and then runs to the ER because they think they are dying. You are not dying. Your poops have just been dyed.
Unless you really are dying. I'm not a doctor. I'm just trying to help save some people some panic attacks and medical bills.
Burger King Angriest Whopper Sandwich
Score: 1.5 out of 5 red poopies
Price: $5.79
Size: 1 sandwich
Purchased at: Burger King #17145
Nutritional Quirk: 51 grams of regretted fat.