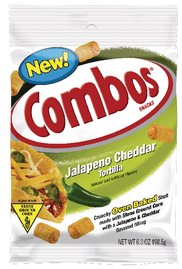 Combos have a special place in my heart. As a child, I was absolutely in love with their Pizzeria Pretzel flavor. Maybe it was the alliteration that captivated me. Who knows? There was just something about the salty pretzel combined with the tastes-nothing-like-pizza filling.
Sometime in my teens, Pizzeria Pretzel Combos disappeared, at least where I was living at the time, and I was heartbroken. I sat alone in my room, listening to The Cure, wondering what I had done wrong. Had I not bought enough to ensure their continued existence? Surely that could not be the case. As time went on, I eventually got over it, and Pizzeria Pretzels became nothing more than a distant memory, something I got misty-eyed about only after a few too many margaritas. I do the same thing when I remember my sordid love affair with Planters Cheez Balls. Prepare to be embarrassed if you ever take me to a T.G.I. Friday's.
They eventually brought them back, but by then, I was older, more mature. I had moved on to more sophisticated fare, like shoving my face into a bag of Flamin' Hot Funyuns.
…Okay, that is obviously a lie. Which is why, when I saw a bag of these new Jalapeño Cheddar Tortilla Combos, my mind harkened back to all the good times I had with Pizzeria Pretzel, and I knew I just had to get them. I haven't had Combos in many years; will I fall in love all over again? Will that crunchy outer shell and creamy, ever-so-artificial filling sweep me off my feet?
Before we get to that, I have something important to tell you about. You know, it's always nice when I pick up a fairly ordinary snack food and think, "What am I going to write about this to make it something more than just a description of what it tastes like?" And then there's something on the packaging or their website that makes my head explode.
Such is the case with the Combos website. I don't even know where to begin. Their home page can't decide if it's trying to look manly or Cold War-era Communist. In the middle of the page is "A Guide to Combivore Living". What? Combivore? I understand trying to create a catchy new word that will associate your product with something people enjoy (Chocl-O-Bots and Delect-O-Cons come to mind), but seriously Combos, you're trying way too hard. Combivore is a terrible, terrible word. Furthermore, there's only one kind of Combos that's even vaguely carnivore-related, and that's pepperoni. Pepperoni is a pussy. Steak beats pepperoni up at recess every day and takes its lunch money.
I just realized that "Combivore" sounds a lot like "combover". If you're trying to project machismo, Combos, invoking thoughts of a man's desperate attempts to conceal his dwindling virility by pasting the last few strands of his hair across his bald head is not the way to go about it.
There are so many more horrors, I can't even describe them all, or this post would be 700 paragraphs long, so we'll skip past the very obviously male-skewed marketing (in addition to "Combivore", there's a NASCAR promotion, a "Man Zone", and a contest to win the "Ultimate Mancation") and get right to the part that really made my head explode: the Combivore Tools section. It claims to have "blueprints for the Combivore lifestyle". What it really contains is the blueprints for madness. I can't even begin to describe these pictures, so I'll just show you: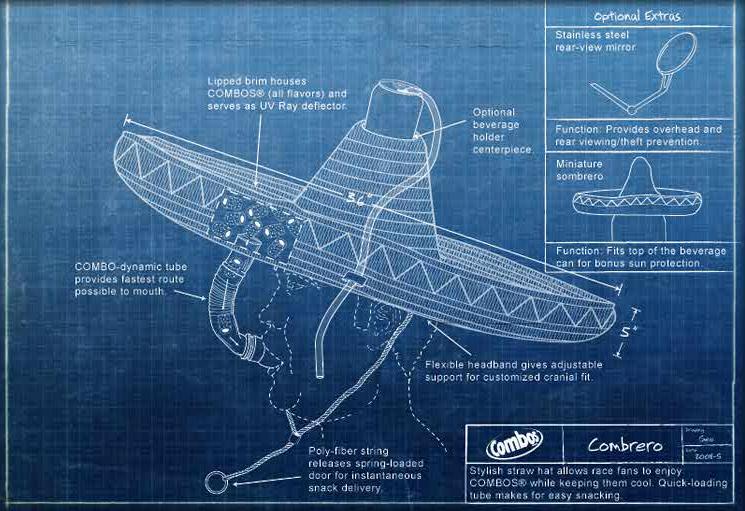 I appreciate that they illustrate the man wearing the Combrero as having giant jowls and probably weighing upwards of 500 pounds. Truth in advertising is so rare these days. The optional beverage holder is a nice touch. Wouldn't have to want to actually reach out to grab your beer to wash down all those Combos you are eating OUT OF A FUCKING HAT.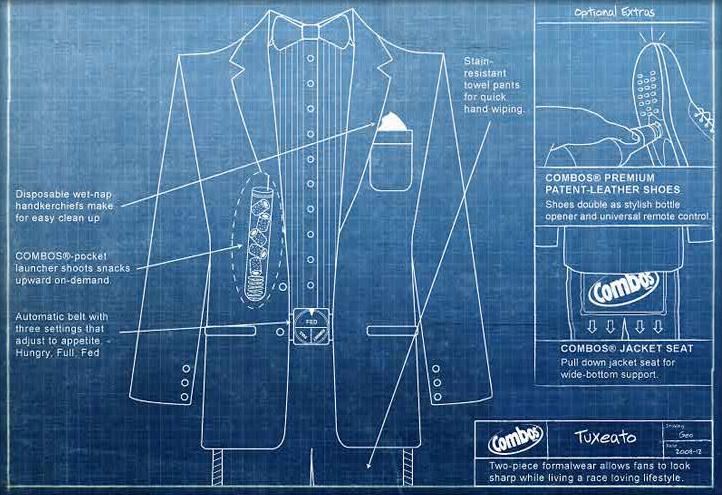 Nobody who is looking at this website has, or ever will, wear an actual tuxedo.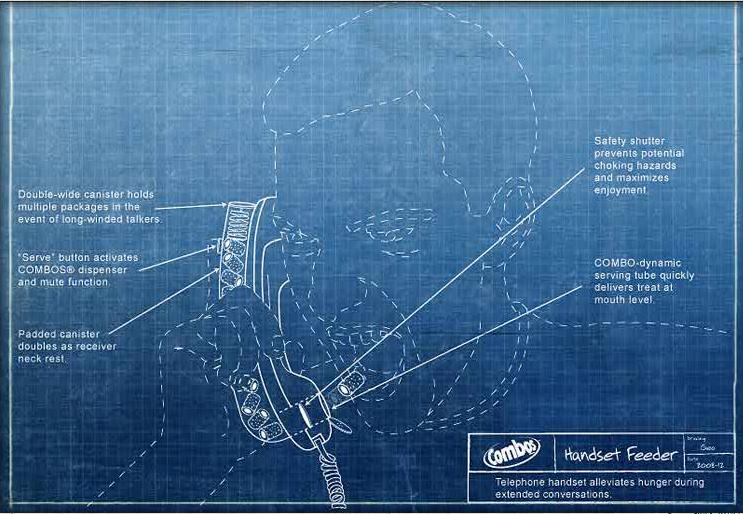 What is happening here? Is he yelling at the Combo? Surely he is not yelling at the Combo, unless he's saying, "GET IN MY FUCKING MOUTH!" I guess he's yelling at whoever is on the phone with him because their call interrupted his Combo eating. Except that's not a real phone, it's the Combos equivalent of those little plastic cell phones with the candy inside. This man is obviously insane.
Like I said: madness. I can't even look at this website anymore. You can view a few more blueprints for unraveling the very fabric of reality at the official Combos website.
In order to give Combos a shot at reclaiming my heart, I'm going to pretend that the Combos marketing team that made that website is Combos's crazy mother-in-law who collects Richard Nixon memorabilia and always smells like boiled cabbage. I have to visit her occasionally, but she lives in a special needs home far, far away, and I can pretend she doesn't exist most of the time.
So, let's see what you've got, Japaleño Cheddar Tortilla Combos.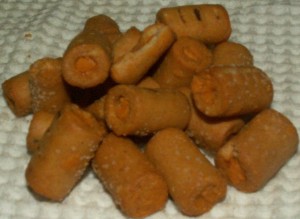 Well, yeah, those are Combos, all right. What you see is pretty much what you get – a somewhat-creamy filling surrounded by a tubular shell of, in this case, crunchy tortilla. They smell strongly of artificial cheese flavoring. Anyone with half a brain and a desire not to die at age 30 of cardiac disease would find this smell mildly repulsive. It's an innate warning sign, like the bright coloring of poisonous animals – stay away. Here there be danger. But I obviously have some sort of defective gene, since I find the smell kind of attractive. Fortunately, I'm sure evolution will step in at some point and ensure that I never procreate and infect the gene pool with my inferior survival instincts.
In spite of the strong cheesy smell, it's actually the jalapeño that hits you upon first bite. These things are actually spicy! I was expecting the usual cheddar cheese Combos flavor with maybe a hint of bite on the back end, but the jalapeño just bursts in and takes over the joint. The flavor is somewhat akin to the juice that pickled jalapeño slices soak in. It's hard to even tell what the cheese tastes like, but from what I can tell, it's a lot like Cheddar Easy Cheese. If that gives you no frame of reference because you've never eaten cheese out of a can, then fuck you. Get off my website.
As I mentioned before, I haven't had Combos in a long time, but if my memory serves correctly, the shell tastes exactly like a Combos cracker shell. Which is to say, it tastes like nothing. There's absolutely nothing tortilla-esque about them. Honestly, I think they just slapped the word "tortilla" on the package and just used regular ol' cracker shells. The front of the package really wants to tell me about how they've used stone ground corn, so I guess that's the difference? Regardless, I probably couldn't tell them apart in a blind taste test. It's not to say they are bad – they just aren't anything more than a solid, handleable vessel for the filling.
Did I mention these are spicy? It hits you right away and lingers well after you've finished eating them. Jalapeño Cheddar Tortilla Combos really aren't fucking around.
On the scale of "how bad for me is this junk food product", Combos just strikes me as being quite low on the spectrum. They just taste wrong. It's just impossible to eat them without feeling like the guy wearing the Combrero, which is to say, wondering what you are doing with your life and taking your eyes off the tv for one second to contemplate the very real possibility of dying alone and nobody finding your body until the neighbors report a funny smell two weeks later. When you eat Cheetos, you feel like you're indulging in a snack food craving. When you eat Combos, you feel like you've made some very poor life decisions.
So, did Jalapeño Cheddar Tortilla Combos reclaim my heart? Well, judging from the numbness that's radiating down my left arm, I guess you could say they have, in a way.
All that aside, they are very spicy!
Score: 2.5 out of 5 hamburgers
Price: $2.29 (yeesh, seriously?)
Size: 6.30 oz. bag
Purchased at: Circle K
Nutritional Quirks: If you eat the whole bag at once, which is what I used to do as a child, you will be consuming 840 calories.  Dude, seriously, put the Combrero down and go get a Big Mac or something.