If you don't live in the southwestern region of the United States, you may have never heard of the Sabritas line of potato chips. Originally its own brand, it is now a subsidiary of Frito-Lay, and controls a large share of Mexico's snack market. In Arizona, Mexican snacks are widely available in national chain stores, and one of my local convenience stores has a whole section of Sabritas chips.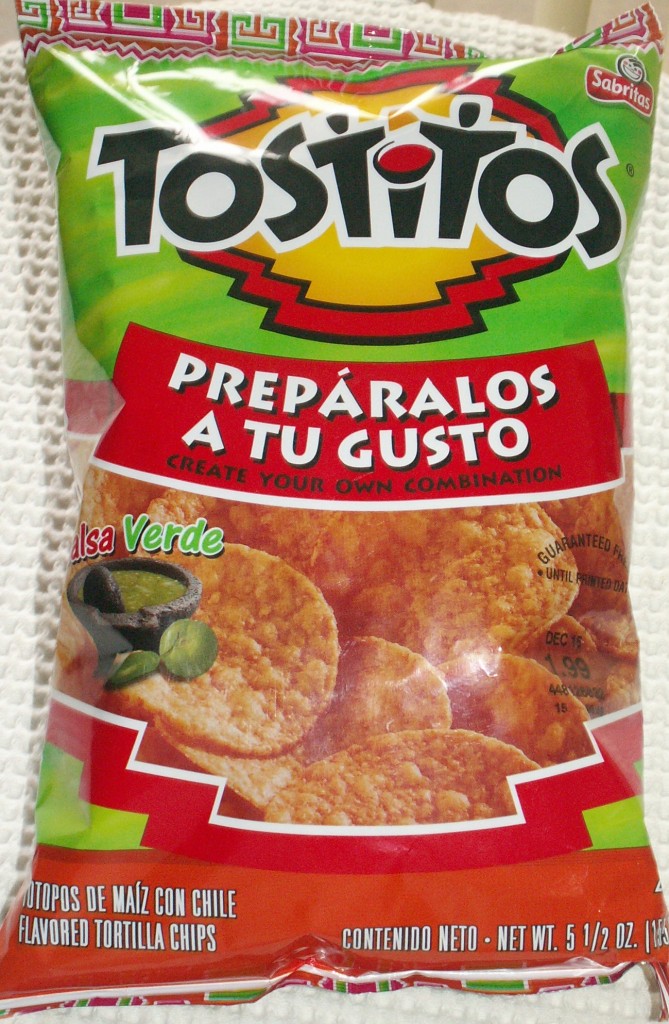 I have to admit, I didn't really do my in-store research when I bought these chips. When I saw the festive and very Mexican front of the bag, and saw that I could create my own combination, I thought things might get interesting. For you gringos, "prepáralos a tu gusto" doesn't really translate into "create your own combination", but instead roughly translates into "prepare to your liking (or loving, literally)". Those two years of Spanish in high school are really serving me well. They get even more lax down in the bottom left corner, where "totopos de maíz con chile"(Corn tortilla chips with chile) becomes "flavored tortilla chips". Us gringos can't handle anything more descriptive than "flavored".
I thought that maybe there would be some flavor packets inside, a la Doritos Flavor Shots, which would be fun to mix and match, adding to the already salsa verde-flavored chips. However, I was in for a surprise when I got home: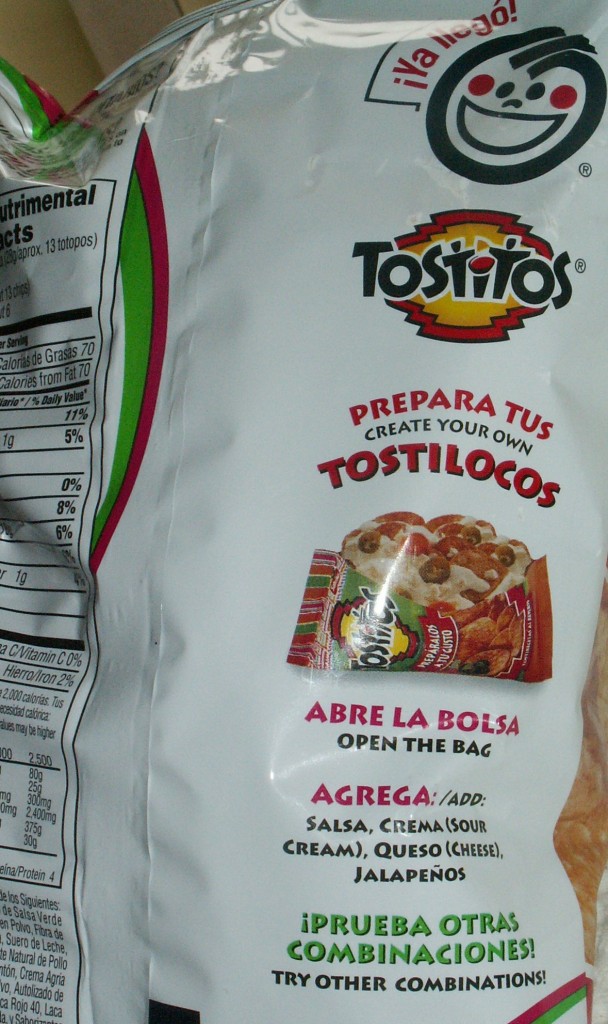 What the fuck, Tostitos? Instead of including everything I'd need to create my own combination, they are expecting me to take these home and turn them into nachos? What's the point of that? Furthermore, who would even do that? You buy a bag of chips at the convenience store, you're probably stuffing your face as you drive to work, not going home to make some sad nachos in a bag. No, seriously, who would do that?
The answer: Mexicans. I saw the phrase "tostilocos" on the back of the bag and thought that Tostitos was trying to make their own catch phrase, like Combos' ludicrous "combivore" campaign. I got excited, thinking I could salvage this review with some screenshots from a ridiculously themed Tostitos website. I was in for a big surprise when I consulted my friendly neighborhood search engine.
Tostilocos are a very real, very Mexican thing. According to my extensive Internet research, in Tijuana (and possibly other parts of Mexico, I'm not sure), there are street carts set up all around the city, selling these tostilocos. They do basically what the back of the bag says: they take a bag of tortilla chips, slit it open along the side, and fill it with whatever you want. From what I've read, some of the most traditional ingredients include peanuts, jicama, cucumber, tamarind or tamarind candy, a liberal lime juice, and even pork rinds, as I read in this blog. I don't want to use anyone's pictures without permission, so here are some links to tostilocos-related items.
The back of the bag has some very different suggestions for additions to your tostilocos: salsa, sour cream, cheese and jalapeños. After my learning experience, I'd love to try some traditional tostilocos, but coincidentally, I have zero of the ingredients for that and all of the ingredients listed on the back of the bag, so I guess I'll go with that.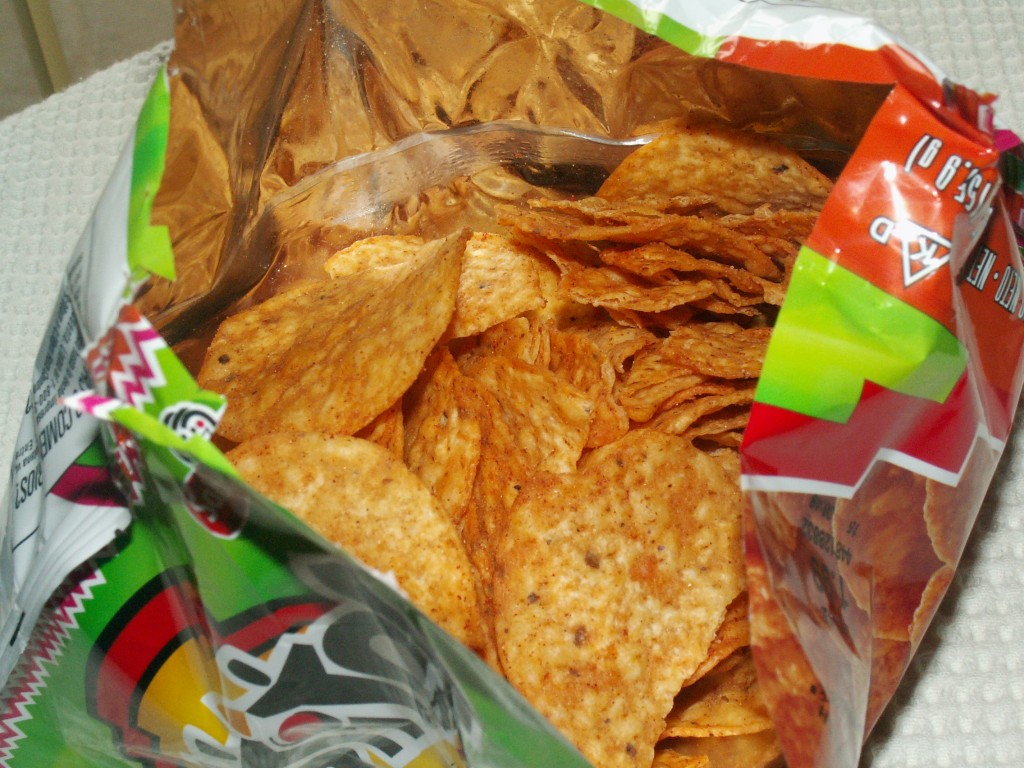 Cutting open the bag was easy, and I was happy to see that it stood up on its own. I decided to try the chips by themselves, before I went tostiloco and added all the ingredients. The chips themselves are actually pretty good; they come in the traditional Tostitos round shape and have a pleasant cheesy/spicy flavor with a bit of peppery bite on the back end. I wouldn't say it tastes exactly like dipping a tortilla chip into a bowl of fresh salsa verde, but the chile flavor is there. I would feel just fine buying a bag of these to tear open in the more conventional manner to shovel into my face during a road trip, or just sitting my lazy ass down in front of the tv. But the real point of these, chips, apparently, is to go tostiloco, and who am I to disobey the back of a bag of chips.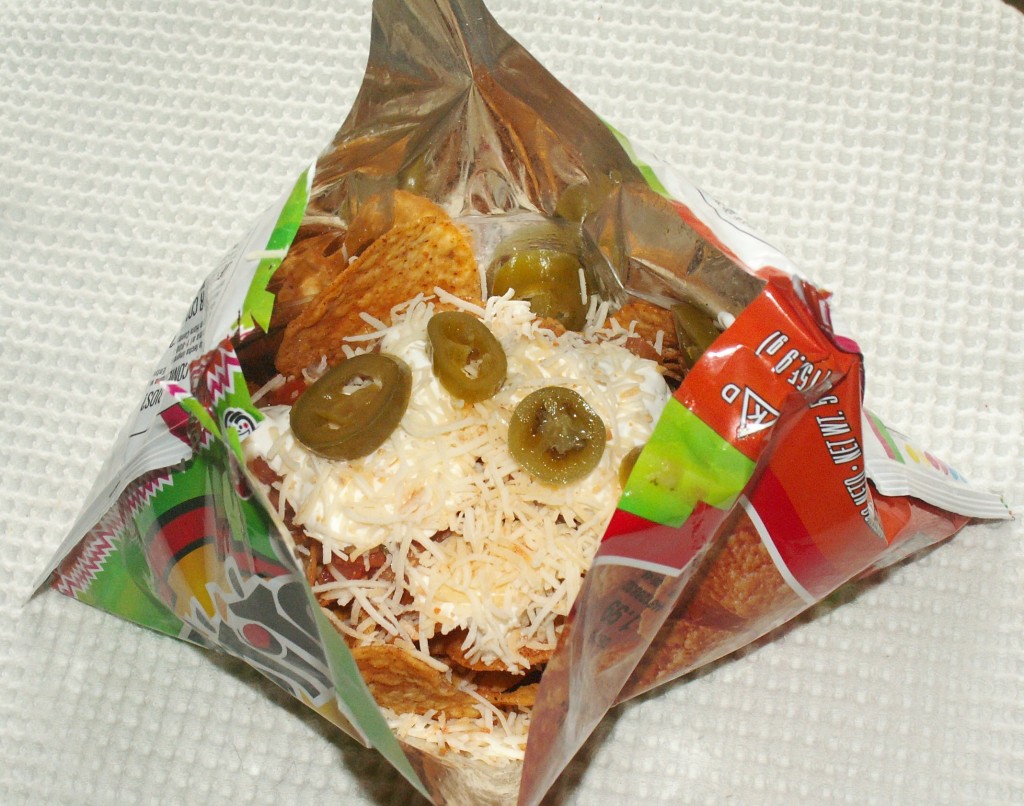 After I added all the ingredients, the weight of the bag of chips increased about threefold. I felt like I was hefting a real meal, not just an absent-minded snack. The bag held together wonderfully, still standing up like a trooper after I added all the ingredients. For the sake of open journalism, I'll list all of the specific ingredients I added: Table Top medium salsa, Daisy sour cream, Sargento Artisan Blends Authentic Mexican (Queso Quesadilla, Asadero, Queso Gallego, Manchego and Anejo Enchilado), and Embasa Nacho Sliced Jalepeños.

It's a little unwieldy to eat. I have tiny, delicate, feminine hands, and even so, I found it difficult to really dig into the bag without getting my knuckles and fingers covered in salsa juice and sour cream. As I move the bag around, my carefully constructed toppings begin to redistribute themselves, covering all the chips and ensuring that my hands will never be clean again. I hope they give out napkins at the tostiloco carts in Mexico, because otherwise there's a lot of people walking around with sour cream and salsa hands, terrorizing the local children who are just trying to sell you chicle.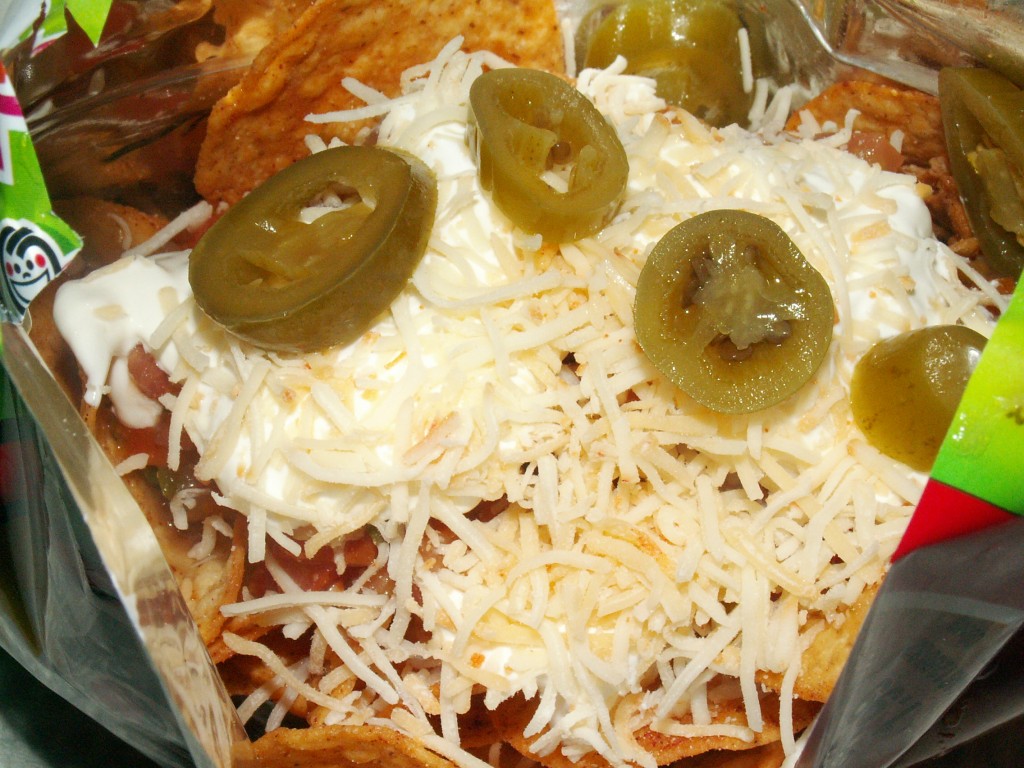 At the end of the day, my tostilocos are nothing more than half-ass nachos made in a bag of Tostitos. There's nothing not to enjoy about the combination of tortilla chips, salsa, sour cream, cheese, and jalapeños, but it's really nothing to write home about. My chips got a little soggy after a while, but that's okay, since my hand was coated with all the toppings by then anyway, so I didn't mind just mushing the chip and putting it in my mouth, as I have no dignity. Soggy tortilla chips are not that great, but they were a little more acceptable with all the toppings on them. As I write this review and continue to shovel tostilocos into my mouth, I notice that I'm getting a little full. I looked on the back of the bag, and it says that there are six servings of chips in this bag. How are you supposed to do that, exactly? Chuck your sad, slit-open bag of Tostitos into the fridge to eat soggy mush with a spoon later? I guess I should have invited over five friends so we could have a tostilocos party. Nothing says wild and crazy times like a small bag of chips I bought at a gas station and some shit I found in the back of my fridge.
The salsa verde flavor of the chips adds a nice compliment to the toppings, but you could substitute just about any spicy-flavored tortilla chip to get the same effect. I'm willing to bet that the tostilocos that they make in Mexico have a much more interesting and varied flavor than the ones recommended on the back of the bag. As it stands, with just a little more effort, you could make some real nachos at your house, on a real plate, without having to become the dreaded sour cream hand monster with a bag full of mess.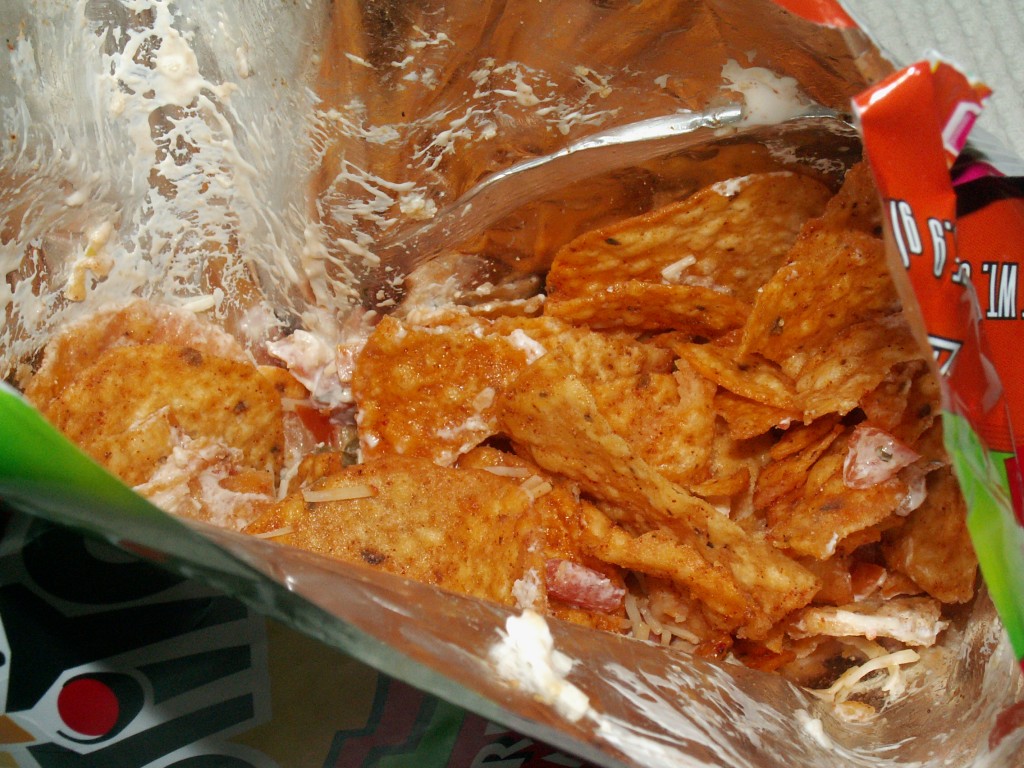 Score: 3 out of 5 niños selling chicle for the chips alone; 2 out of 5 napkins for the tostilocos
Price: $1.99, not including toppings
Size: 5 1/2 oz. bag
Purchased at: Circle K
Nutritional Quirks: There may be six servings in a bag, but if you make tostilocos, whatever you don't eat then is lost forever.