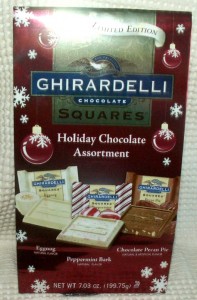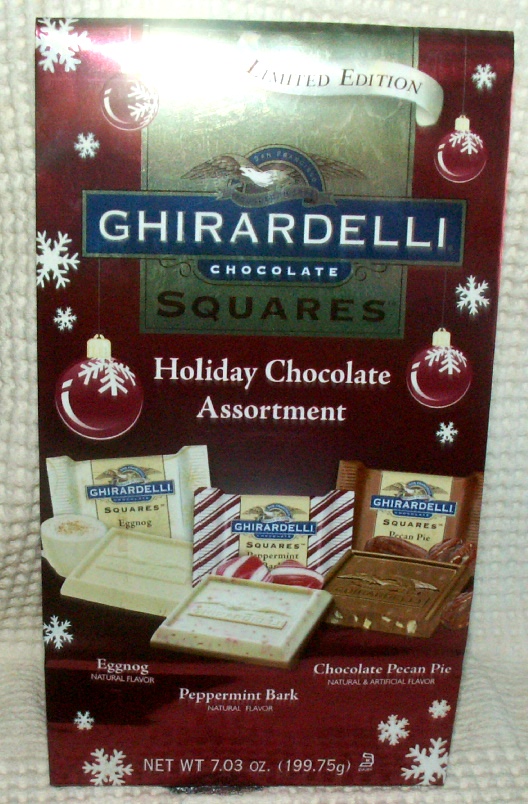 Aaaand we're back. Just in time, too, since I have a holiday-sensitive item to review today.
I found this package of Limited Edition Ghirardelli Chocolate Squares Holiday Chocolate Assortment at a Borders book store while waiting for a cashier to appear so that I could pay for a birthday present. I guess they've got a solid business model going – make someone wait ten minutes to pay for a dying form of media, and eventually they'll grab an impulse buy. Good job, Borders – literature may be dead, but chocolate and coffee bars will live on forever.
It helped that the package was shiny and full of holiday cheer, with red and gold and snowflakes and ornaments and promises of chocolates that taste like eggnog. I'm not a huge fan of chocolate, but Ghirardelli makes some tasty sweets.
They make some heavy promises on the back of the package: "This season, take time to slow down and feel yourself melt with each bite. Savor the complex symphony of intense velvety chocolate combined with delicious seasonal favorites – festive peppermint, creamy eggnog, and rich chocolate pecan pie. Let the rich flavors surround your senses. Enjoy as the chocolate pleasure lingers."
I feel like I just had sex with the back of a pack of chocolates. Goddamn, son. Money well spent on whatever marketing team Ghirardelli paid to come up with that description of their chocolate. I'm sure millions have been spent on the study of how people react to words that are bolded. Apparently I need to slow down and melt while experiencing intense chocolate that surrounds my senses. That all seems kind of contradictory. Nothing left to do but see if these chocolates will make me…quietly orgasm, or something.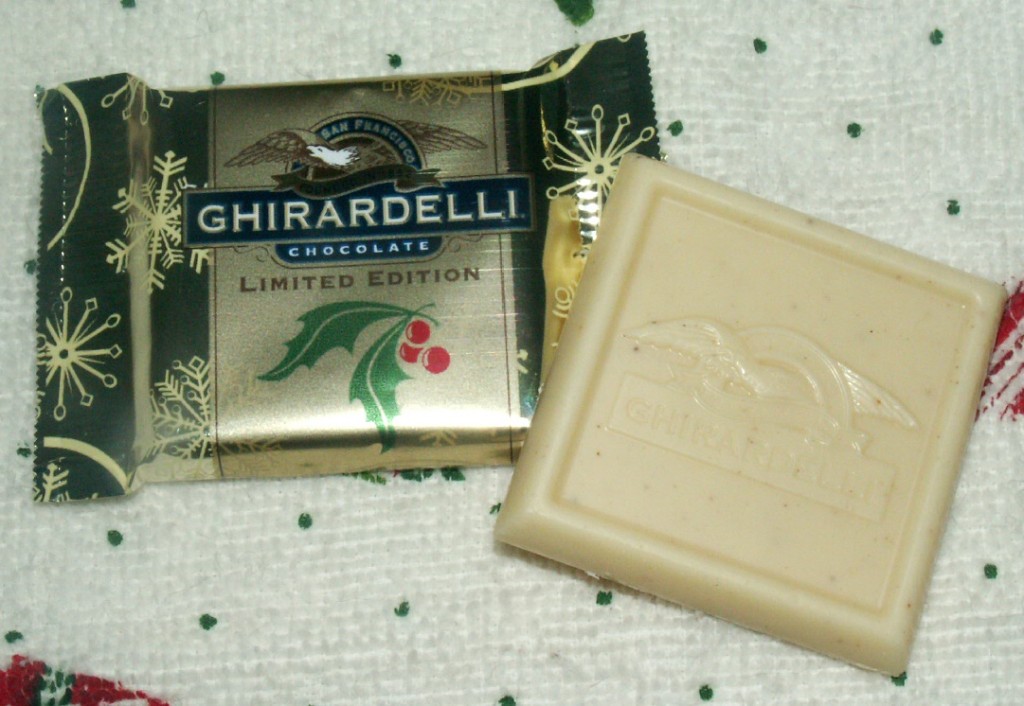 Eggnog
I had a minor autistic freakout when I pulled these out of the bag, because the front just said "Limited Edition Chocolate". I thought I had been ripped off. Fortunately, it did indicate on the back that these were, indeed, Eggnog. I don't know why this one said it on the back while the other two proclaim their flavors on the front, but whatever. Eggnog was the flavor I was most looking forward to, so I was glad that they were there.
Unfortunately, my renewed excitement quickly faded away when I actually tried the chocolate. I couldn't find any eggnog flavor anywhere. No nutmeg, no cinnamon, no distinctive eggnog taste. The chocolate was creamy, but that's what I'd expect from any Ghirardelli product. In fact, if it hadn't said Eggnog on the back of the wrapper, I would have thought it was white chocolate, but even a little more muted than regular white chocolate. I would have never guessed that it was supposed to be eggnog.
Saddened that I had been robbed of the experience of tasting delicious eggnog chocolate, I moved on.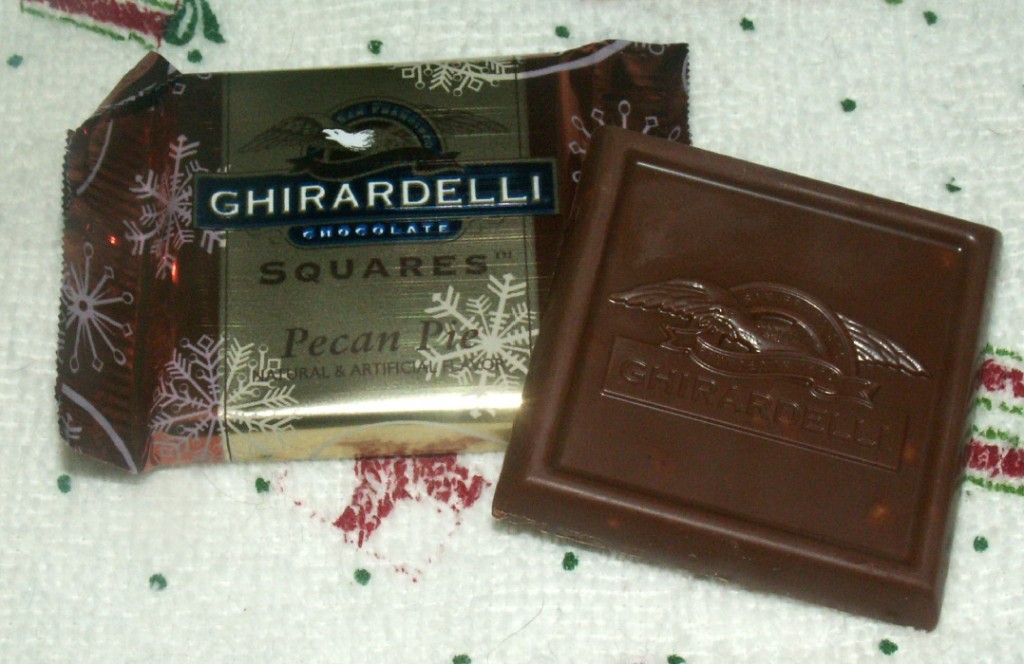 Pecan Pie
Ghirardelli actually did a pretty good job of making a chocolate that tasted like pecan pie. The pecans were plentiful and added a nice crunch. It's sort of like a Mr. Goodbar on steroids – the chocolate is smooth and tasty, the pecans tasted delicious, and the chocolate had a very prominent taste and aroma of what seemed like a mixture of toffee, molasses, and maybe even some bourbon.  Mmmm, chocolate booze.
I have to say, the Pecan Pie square was one of the most complex chocolates I've ever had. The depth of flavor is really quality and everything plays together well. Nothing gets overwhelmed. The delicious milk chocolate, the pecans, the complex mixture of flavors that make up pecan pie filling, they were all perfectly married into that one chocolate square. While I was expecting to love the Eggnog and go "eh" at Pecan Pie, quite the opposite has occurred. I don't crave chocolate often, but this would be one of my top picks to reach for if I was in the mood for chocolate. Good job, Ghirardelli.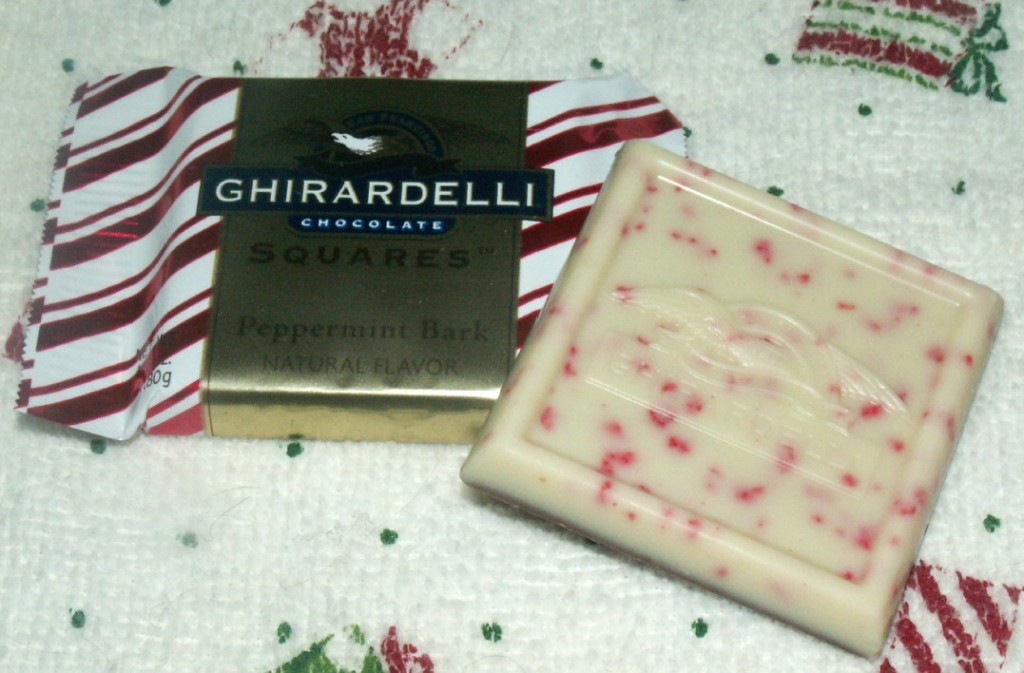 Peppermint Bark
This is definitely the most Christmasy of the three candies. When you open the wrapper, you're hit with that strong candy cane peppermint smell that screams presents and blinky lights and ornaments. It looks fun, too. The little pink flecks let you know that there's really candy canes inside! My inner child hops up and down.
What I wasn't expecting, but was a pleasant surprise, is that Peppermint Bark has a milk chocolate base. Let's face it, it's hard not to nail mint and chocolate. They go together like buffalo wings and ranch sauce. I think Ghirardelli steps it up with the crushed candy canes inside, though. They add a fun crunch and intensify the peppermint flavor. Peppermint Bark tastes a lot like an upgraded version of Andes Crème de Menthe chocolates – you know, the ones with the green stuff sandwiched in between two layers of chocolate. But Ghirardelli's chocolate is of a higher quality and the peppermint is more intense and tastes more like real candy cane than just simulated mint. I realize that candy canes themselves are made out of artificial mint flavoring, but it's…different. It's candy cane!
Well, two out of three ain't bad. I'm sad that I didn't get to taste eggnog in chocolate form, but the Pecan Pie really surprised me and the Peppermint Bark was nothing but Christmas fun. I would put these out beside the homemade chocolate chip cookies and the bowl of red-and-green M&Ms. I'd just cross the "Eggnog" off the wrappers and write "Snowflake" or something instead. Then people would just think it was white chocolate and not be all disappointed like I was. Snowflakes and white chocolate don't really have anything to do with each other, but that's okay. It's keeping with the Christmas theme. Limited Edition Ghirardelli Chocolate Squares Holiday Chocolate Assortment are a solid addition to your holiday festivities.
Oh, and by the way – Merry Christmas!
Limited Edition Ghirardelli Chocolate Squares Holiday Chocolate Assortment
Eggnog Score: 2 out of 5 disappointed elves
Pecan Pie Score: 4.5 out of 5 happy chocolate-loving reindeer
Peppermint Bark Score: 4 out of 5 minty fresh snowmen
Price: $8.99
Size: 7.03 oz. bag
Purchased at: Borders Books and Music #0069
Nutritional Quirks: Contains corn flakes.  Wait, what?