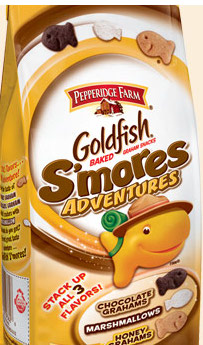 I know it's hard to believe, but I remember a time, way back in my youth, even before I knew what the Internet was, when Goldfish Crackers were simple: you had your iconic cheddar, maybe the plain kind (but really, who eats those), and I seem to vaguely remember seeing a pretzel variety, although I don't know when they arrived on the team. Everybody ate cheddar Goldfish; it was a brown paper bag lunch staple.
However, Pepperidge Farm is not immune to the contagious madness that continues to spread amongst big name snack manufacturers. As I grew older, Goldfish crackers slowly faded out of my life. For this reason, I was generally unaware that Pepperidge Farms had succumbed to the madness, until I was walking down the cracker aisle one day. I stopped in my tracks, mesmerized and somewhat horrified. A rather generous section of shelves, from top to bottom, was filled with all kinds of crazy Goldfish flavors. "Flavor Blasted"? "Xplosive Pizza"? "Blazin' Buffalo Wings"? What the fuck is going on here? I expect it out of Doritos, or even Mountain Dew, but you, Pepperidge Farm? I respected you. You make Milanos.
Now would be a good time to start mocking their website, but let's face it – Goldfish, whether classic or XTREME, are made for kids, and thus, their website is designed to be silly and ridiculous. I mean, come on, it's got a whole section devoted to assuring parents that it's a safe site for their kids to play on, and even goes so far as to create "Ad Nooze", which warns kids that there's an ad that's designed to sell you something. I can't mock something that disgustingly wholesome.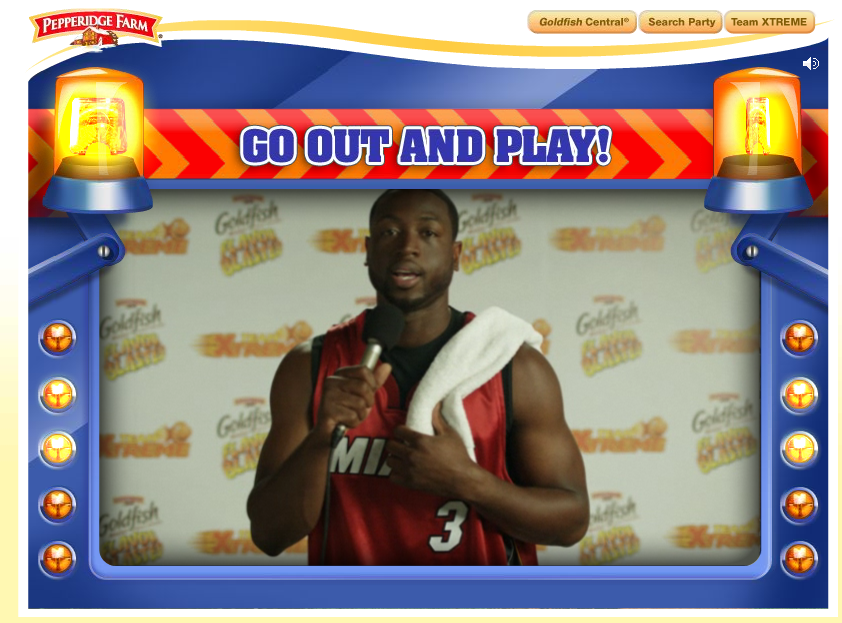 I will say though, that after I'd had the site open but dormant for a little while, going about my business elsewhere, some basketball player named Dwayne Wade suddenly popped up on the screen, scaring the shit out of me by yelling at me to stop clicking around on the Goldfish website and go outside and play, goddammit. He didn't say goddammit, of course, but he was pretty serious. I almost ran out of my apartment, frantic to find the nearest basketball court. But then I remembered I have no pants on. And I don't own a basketball. Sorry, Dwayne Wade; it's too late to save me. Good luck with the kids, though.
He also told me to "put down the remote", which makes me wonder what kind of crazy gadgets professional basketball players use to navigate the Internet.
With so many strange flavors to choose from, you may be wondering when I'll stop blathering and actually tell you what I'm reviewing. Well, that makes you stupid, because it's in the title of the fucking article. Good friggin' gravy, try to keep up, here. Anyways, today I'll be talking about Goldfish S'mores Adventures, which is not a cracker at all, but rather a baked graham snack. You know, like Teddy Grahams. Except fish. If everything I've learned from Animal Planet is accurate, you should definitely keep your graham bears and your graham fish separated. Trust me, it wouldn't end well for Finn and his friends. Oh yeah, I forgot to mention, some of the different flavors are characters. I won't even bother going into that right now.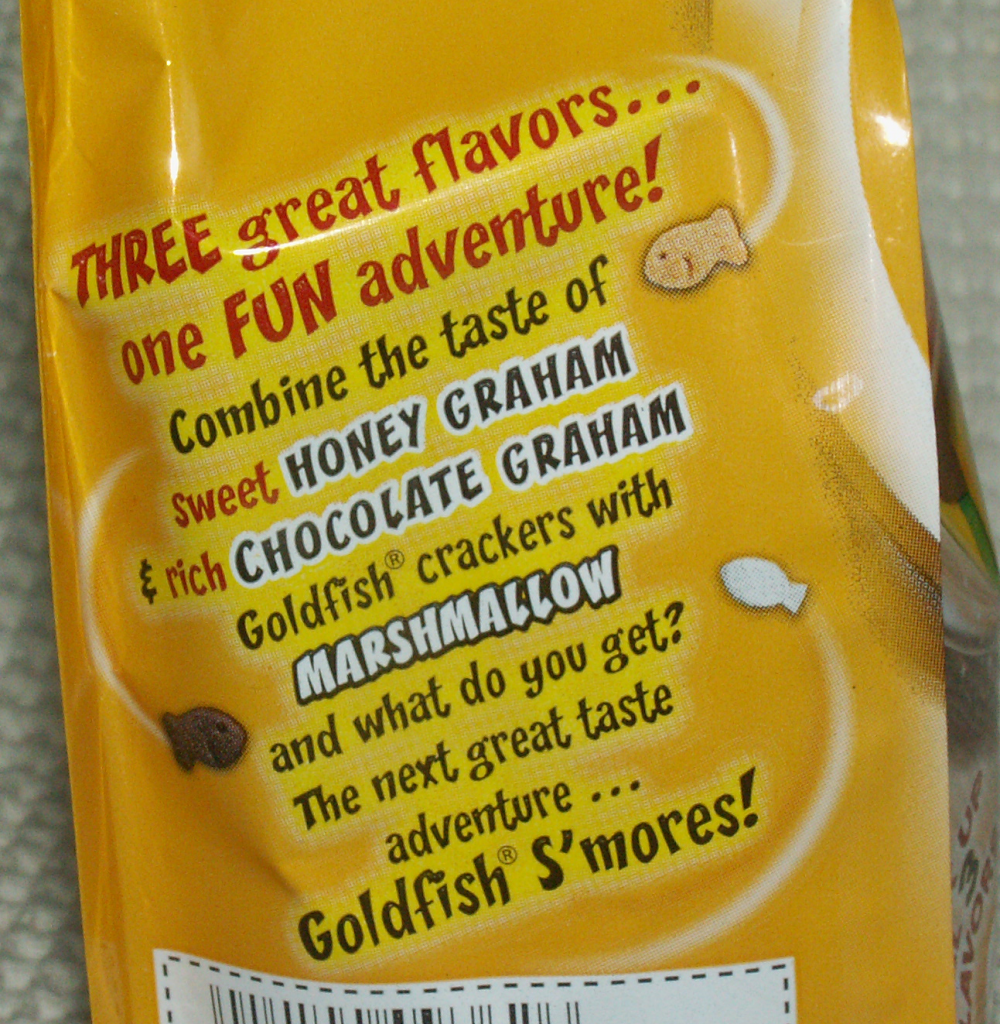 I chose S'mores Adventures, a seemingly tame flavor in comparison to some other options, a.) because the bag said "new" on it (unlike the stock photo up top), although it seems they came out maybe mid-2009, and b.) because Bob, sometimes JFB contributor, reacted to the idea of Goldfish s'mores snacks like they were an abomination, and affront to nature, something that should be put down like a rabid dog. I'm not really sure why this is – they're graham, chocolate, and marshmallow crackers. What could go wrong?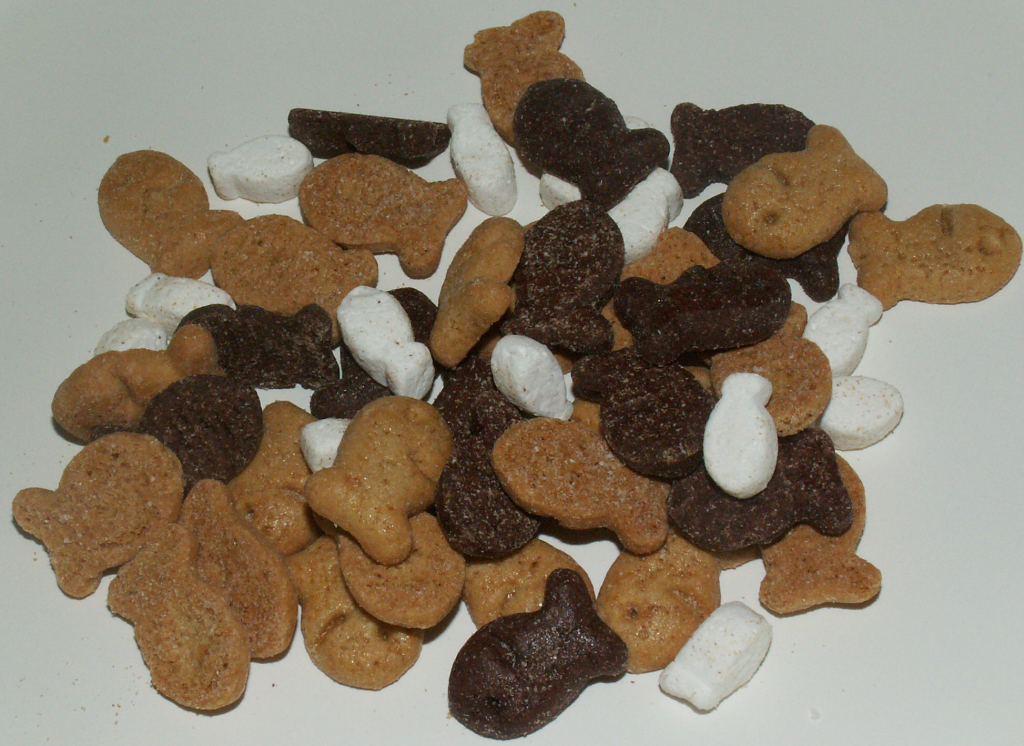 Awww, they look…kind of weird, actually. The graham Goldfish look just like a regular Goldfish cracker, smiling, always cheerful. I hadn't really given any thought to how the marshmallow part of s'mores was going to fit in here. A red light should have gone off in my head when I wrote the words "marshmallow crackers". That is not a phrase that should exist. Now that I see them, they look like they belong in a box of bizarre Lucky Charms. They're about 50% smaller than the graham fishies, and their faces are blank; emotionless. I'm a little more trepidatious now. Trepidatious is not a word.
Never one to disobey the bag, I tried all three at once, which is obviously the point of the snack. It's called "S'mores Adventures", not "Graham and Chocolate Crackers with Strange White Things Adventures".
True to my above comment, the marshmallow fish disintegrated immediately and tastelessly upon impact with my molars, just like Lucky Charms marshmallows do. I don't feel the need to go any further about that, since I believe every person ever born has tried eating a dry Lucky Charms marshmallow. It is just something that happens. Human nature.
With marshmallow out of the picture, honey and chocolate duel it out for flavor dominance in my mouth. Chocolate wins, but just barely. The two flavors marry nicely. Imaging shoving a honey and a chocolate graham cracker into your mouth at the same time. That is what it tastes like, and that is exactly what I did. Goldfish S'mores Adventures has liberated me by telling me I can shove two different flavored graham crackers in my mouth at the same time. The underground double-flavor-graham-cracker eaters out there can come out of hiding. It's okay now. Pepperidge Farms says so.
But hey, we're not done yet – we haven't looked at the back of the bag!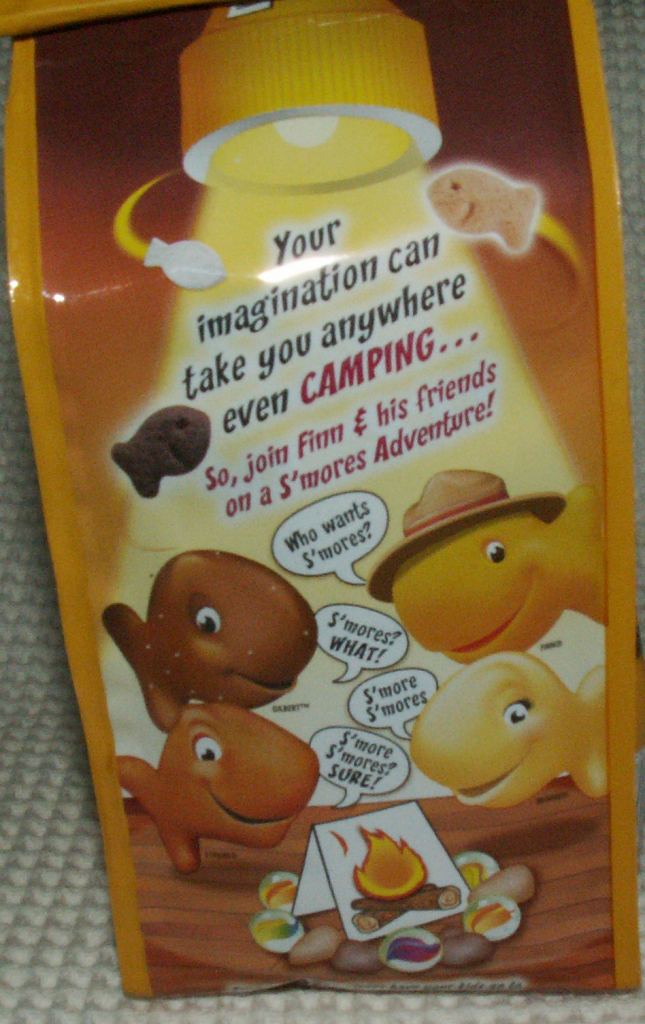 EVEN CAMPING?! HOLY SHIT! Fuck all those faeries and unicorns and pirates and buried treasure and astronauts and shit, your imagination can take you CAMPING! Just imagine, camping…your dad can't figure out how to put the tent up, so he takes it out on your mom, who starts crying…the hard, hard ground, every rock sticking into you through your inadequately insulated sleeping bag that leaves you shivering all night long…all the insects, mosquito bites, strange, ominous sounds…walking through poison ivy so you can take a dump leaning against a tree covered in fire ants…CAMPING!
Oh yeah, and I guess sometimes you make s'mores when you're camping, too. Adventures!
Here's some of the characters I mentioned earlier, trying to emulate Abbott and Costello and instead sounding like retards. Finn gets special mention and a hat, because he's cheddar, and everybody knows that cheddar Goldfish rule, Flavor Blasted be damned. Pretzel guy on the left is called Gilbert. I don't know what he does, or why he is named Gil- oh wait, I just got the joke. Awwww. Good one, Pepperidge Farm. You got me.
Now that I've wised up to they're tricks, I'll introduce you to Brooke, the parmesan cheese Goldfish on the right. You can tell she's a girl because she has eyelashes. Little know fact: female goldfish have eyelashes, but the males lack them. Isn't nature amazing? I don't know what parmesan cheese has to do with femininity. Probably just figured they'd throw in a chick to get feminists off their backs.
Lastly, there's X-Treme, who doesn't get a pun in his name, because he is TOO XTREME. Obviously, he represents the Flavor Blasteds. More like Flavor Bastards, am I right? I don't know which weird-ass flavor he actually is, but he appears to be raising his non-existent eyebrow suggestively. I find it X-Tremely unsettling.
Down at the bottom ya gotcha fake fire. Remember, this is imaginary camping. No real fire allowed. Around the fake bonfire, there appears to be several magical orbs, indicating that the Goldfish are about to engage in some sort of ritual. Possibly Wiccan, possibly Satanic. I'm not sticking around to find out.
I think Goldfish S'mores Adventures is actually a pretty clever idea. At the very least, it's something original in concept, and the idea of taking different flavors of Goldfish and putting them in your mouth all at once must appeal to kids. Kids eat that shit up, no pun intended. If you can make a food product change color, be a color it's not supposed to be, or come with simple instructions, it's guaranteed that kids are going to have to have it. While the idea is solid, the execution falls apart pretty quickly. Obviously, they've addressed all of the ingredients of a s'more, but two graham crackers and a Lucky Charms marshmallow do not a s'more make. There's no way you can give Goldfish the flavor of gooey melted chocolate and marshmallow. I don't think anything pre-packaged could accomplish that task. But Goldfish tried, and while they failed, they still got two flavored graham crackers and a marshmallow…thing that makes me reminisce about eating all the dry Lucky Charms marshmallows first and then being disappointed by a cereal bowl full of oat pieces. So, there is that.
Note: If you want to see a little bit of weird, check out Goldfish's Wikipedia page.  It's a wonderful, sloppy mess.