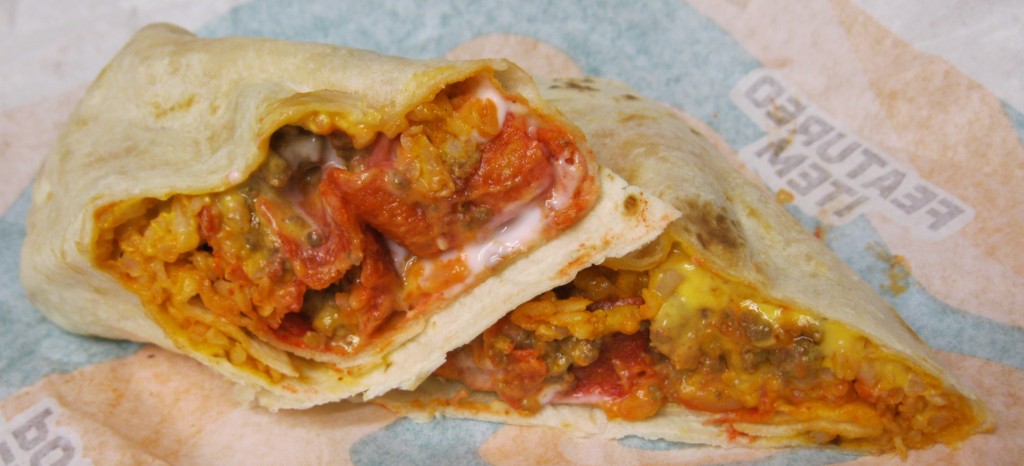 I first heard about this yesterday from a Tweet made by Fast Food Maven. I thought it nothing more than funny, but apparently it's become kind of a Big Deal in the media, so I figured I should bring it up here.
Some lawyers at Beasley, Allen, Crow, Methvin, Portis & Miles (their business cards must have very small font) are filing a lawsuit against Taco Bell, alleging that Taco Bell uses binders and fillers in its meat and that the "meat" itself actually contains only 35% real meat. Taco Bell, of course, is refuting this. Their website lists the ingredients of their seasoned beef as " Beef, Water, Seasoning [Isolated Oat Product, Salt, Chili Pepper, Onion Powder, Tomato Powder, Oats (Wheat), Soy Lecithin, Sugar, Spices, Maltodextrin, Soybean Oil (Anti-dusting Agent), Garlic Powder, Autolyzed Yeast Extract, Citric Acid, Caramel Color, Cocoa Powder (Processed With Alkali), Silicon Dioxide, Natural Flavors, Yeast, Modified Corn Starch, Natural Smoke Flavor], Salt, Sodium Phosphates. CONTAINS SOYBEAN, WHEAT."
Hm.  Can't imagine that anyone would think there's fillers in there!
Let's be honest, Taco Bell's regular patrons are neither surprised or alarmed by these allegations. As a Taco Bell regular myself, I've known any time Taco Bell used the word meat in text that it should have quotation marks around it. In fact, I think all this talk about Taco Bell is making more people crave a fourthmeal rather than be outraged. I could go for a Meximelt, myself.
Update: Taco Bell is handling this in just the right way – with a sense of humor.  They recently Tweeted a link to Stephen Colbert's take on the situation.  I particularly enjoy the phrase "beef-adjacent".
On January 27, Taco Bell posted a YouTube video featuring Taco Bell's President, breaking down exactly what goes into their seasoned ground beef. Furthermore, they sent out what I guess you could call a press release with the title, "Thank you for suing us."
Taco Bell knows their customers.  They know, just like I do, that Taco Bell patrons don't really give a shit.  They're turning this lawsuit into a laughingstock, and I'm laughing right along with them. Way to go, Taco Bell!