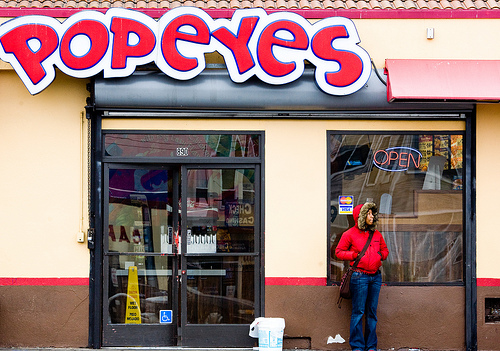 I am a big fan of dipping foods into other foods, so the announcement that Popeyes Chicken is adding three new flavors to their line of "Signature" dipping sauces makes me happy (and hungry).
In addition to the already existing BBQ, Ranch, and Mardi Gras Mustard Signature Dipping Sauces, Popeyes is adding Bayou Buffalo, Sweet Heat and Blackened Ranch to the lineup. Here's the breakdown:
Bayou Buffalo: "A cayenne pepper hot sauce blended with butter, celery and Cajun seasonings."
Sweet Heat: "Sweet honey dipping sauce kicked up with Louisiana hot sauce, vinegar and a special blend of peppers."
Blackened Ranch: "Traditional buttermilk ranch dressing mixed with onion, garlic, a blend of peppers (white, black and red) and Blackened seasoning."
As a bonus, throughout the month of September you can get three Handcrafted Tenders with the purchase of an eight piece or greater box or family meal at regular price.
Oh, you're sneaky, Popeyes. What better vehicle to try out their new sauces than some free chicken tenders?
Sources: RestaurantNews.com, Popeyes