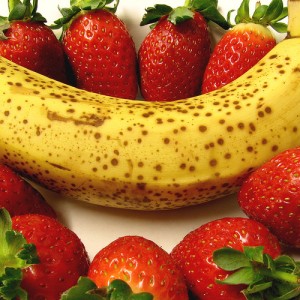 I've had Carl's Jr.'s Hand-Scooped Ice Cream Shakes before. They're actually quite good and taste very authentic. But shakes are pretty standard at a fast food restaurant, whether they taste like a real shake or a cup full of foamy chemicals. (I'm looking at you, McDonald's, even though you've switched to your Triple Thick Shakes.)
Carl's Jr. is taking a new spin on the ol' shake routine by introducing the Strawberry Banana Smoothie Hand-Scooped Ice Cream Shake. And they're getting a little carried away in the process. No, I'm not talking about the fact that it took them eight words to describe one beverage. I'm talking about the promo email that arrived in my inbox:
"IMAGINE STRAWBERRIES, BANANAS & ICE CREAM HAVING A 3-WAY"
Okay, well that's a little disturbing. Fruit and ice cream doing it…not my kind of fetish, thanks. But there's more: "That's right, everyone. Carl's Jr.® just turned a fruit smoothie into a shake. Someone better call the awesome police, because the Strawberry Banana Smoothie Hand-Scooped Ice Cream Shakes™ are here."
OH SHI SOMEBODY CALL THE AWESOME POLICE! Okay, I admit, I kind of like that one. But they're getting a little overenthusiastic about the whole smoothie/shake transformation. It's not that revolutionary. "Strawberry banana milkshake" brings up about 217,000 results in Google.
Carl's describes the shake as "Creamy, hand-scooped ice cream, blended with real milk and strawberry banana syrup, and then finished off with whipped topping."
Doesn't sound too bad. I do take issue with one other statement in the email, however. "Hey, you gotta get your fruit somehow. Might as well enjoy it." Last I checked, "strawberry banana syrup" was not a fruit. Is that what's up with the whole smoothie angle? Are they trying to make people believe this shake is healthy?
For what it's worth, Strawberry Banana Smoothie Hand-Scooped Ice Cream Shake contains 770 calories, 35 grams of fat, 24 grams of saturated fat and 84 grams of sugars. Enjoy your "fruit"!